1) Today, global energy giant BP (BP) wrapped up its three-day investor event, in which it "said the relentless growth of oil demand is over, becoming the first supermajor to call the end of an era many thought would last another decade or more."
This is a big deal, as this Bloomberg article highlights: BP Says the Era of Oil-Demand Growth Is Over. Excerpt:
Oil consumption may never return to levels seen before the coronavirus crisis took hold, BP said in a report on Monday. Even its most bullish scenario sees demand no better than "broadly flat" for the next two decades as the energy transition shifts the world away from fossil fuels.

BP is making a profound break from orthodoxy. From the bosses of corporate energy giants to ministers from OPEC states, senior figures from the industry have insisted that oil consumption will see decades of growth. Time and again, they have described it as the only commodity that can satisfy the demands of an increasing global population and expanding middle class.

The U.K. giant is describing a different future, where oil's supremacy is challenged, and ultimately fades. That explains why BP has taken the boldest steps so far among peers to align its business with the goals of the Paris climate accord. Just six months after taking the top job, Chief Executive Officer Bernard Looney said in August he'd shrink oil and gas output by 40% over the next decade and spend as much as $5 billion a year building one of the world's largest renewable-power businesses.

That's because he suspects oil use may already have peaked as a result of the pandemic, stricter government policies and changes in consumer behavior. BP's energy outlook shows consumption slumping 50% by 2050 in one scenario, and by almost 80% in another. In a "business-as-usual" situation, demand would recover but then flatline near 100 million barrels a day for the next 20 years.
Here's the key chart: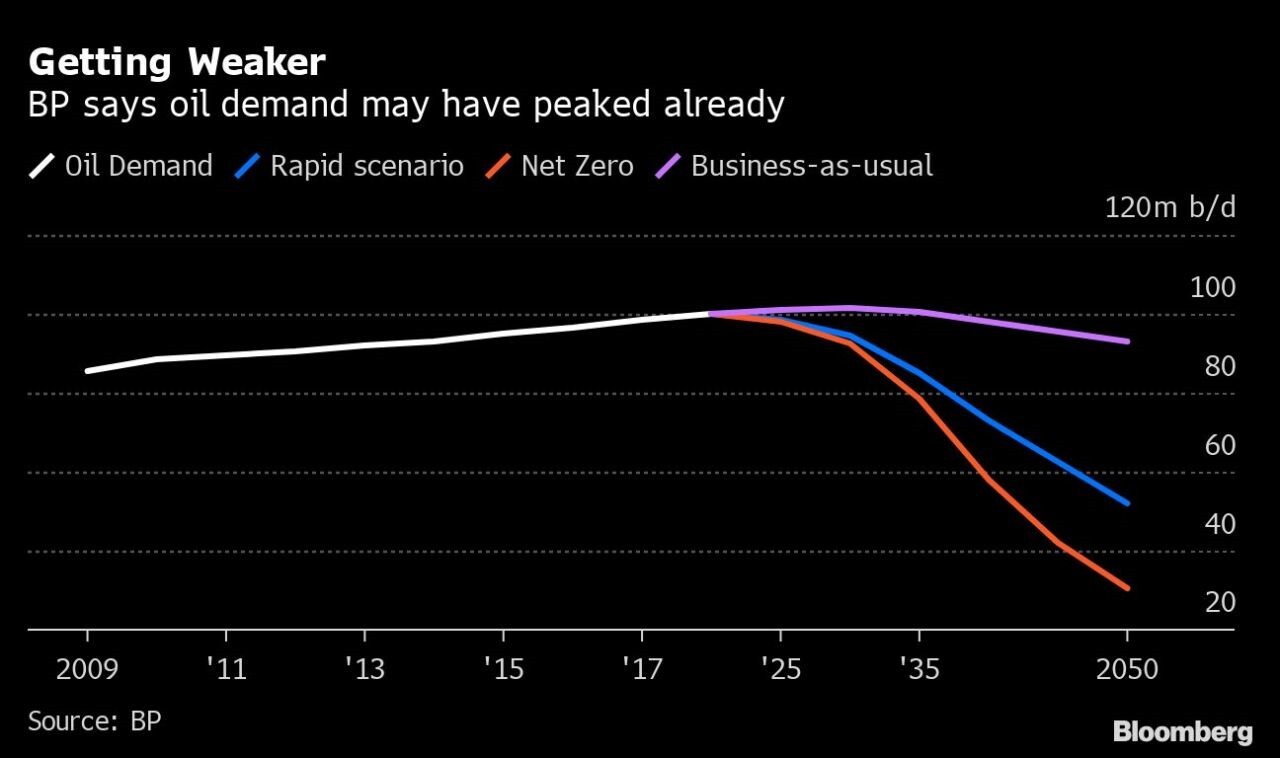 2) BP's forecast led me to revisit my February 3 e-mail, in which I warned my readers that fellow oil titan ExxonMobil (XOM) was "a classic value trap":
After reporting earnings on Friday morning, energy giant ExxonMobil fell 4% and is now trading at a nearly 10-year low.

Buying the stocks of blue-chip companies when they've fallen out of favor has been one of my most profitable investment strategies over the past two decades: Berkshire Hathaway (BRK-B), McDonald's (MCD), Apple (AAPL), Home Depot (HD)... the list goes on and on.

I've rarely invested in the energy sector, but the one time I really backed up the truck and made a lot of money was buying energy giant BP in summer 2010 after its stock fell by 50% in the aftermath of the Deepwater Horizon disaster.

So I was feeling a little bit of excitement as I dug into ExxonMobil to see if its stock might be a similarly attractive opportunity...

Unfortunately, I was disappointed. I didn't like anything I saw in the financials and, worse yet, the company is trying to hide its deteriorating condition.
I then analyzed ExxonMobil's financials, exposed its misleading disclosures to investors (a frantic attempt to put lipstick on a pig), and concluded:
In short, ExxonMobil looks like a classic value trap – a melting ice cube that doesn't come within a country mile of covering its dividend, which it will likely eventually be forced to cut (though not for a few years I suspect)...
With the stock down another 40% since then and having recently (and ignominiously) been booted from the Dow Jones Industrial Average after more than a century, I decided to take another look.
It didn't take me long to see that things have gone from bad to worse. The chart below shows how the company's operating cash flow over the past decade has deteriorated so much that it has gone from comfortably covering capital expenditures plus the dividend, to not covering both, to over the past year, not even covering capital expenditures ("capex") alone!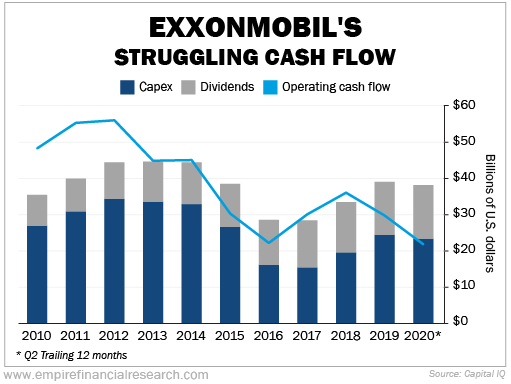 How has ExxonMobil funded these deficits? By taking on more and more debt, as you can see in this chart: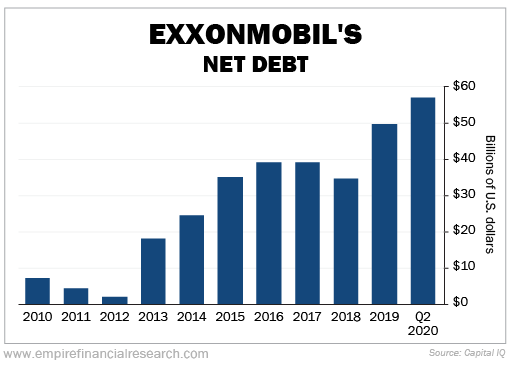 In conclusion, my message to investors hasn't changed: ExxonMobil's stock is a classic value trap. Don't be tempted by the high dividend yield (currently 9.6%) – the company doesn't come within a country mile of generating the cash flow to cover it, so it will eventually be forced to cut it.
Below are additional articles about ExxonMobil and the industry...
3) The Humbling of Exxon. Excerpt:
Perhaps no company has been humbled as profoundly by recent events as Exxon, the West's largest oil producer by market value and an industry paragon that sets the bar not just for itself but for its competitors. And the pandemic isn't primarily to blame; the culprit is just as much the company itself.

The coronavirus has laid bare a decade's worth of miscalculations. Exxon missed the wild and lucrative early days of shale oil. An adventure in the oil sands of Canada swallowed billions of dollars with little to show for it. Political tensions doomed a megadeal in Russia. Exxon ended up spending so much on projects that it has to borrow to cover dividend payments. Over a 10-year period, Exxon's stock has declined 10.8% on a total return basis, which includes dividends. The company's major rivals all posted positive returns in that period, except for BP, which had the Deepwater Horizon spill in the Gulf of Mexico in 2010. The wider S&P 500 Index has returned nearly 200%.

The oil business is all about how much you produce, how low you get your costs, and how well you capture resources for the future. Exxon produces about 4 million barrels a day – essentially the same as 10 years ago, despite repeated vows to push the number higher. Meanwhile, the company's debt has risen from effectively zero to $50 billion, and its profit last year was a bit more than half what it was a decade ago. Once the undisputed king of Wall Street, Exxon today is worth less than Home Depot, which has less than half the revenue.
4) Exxon Downsizes Global Empire As Wall Street Worries About Dividend. Excerpt:
Ill-timed bets on rising demand have ExxonMobil facing a shortfall of about $48 billion through 2021, according to a Reuters tally and Wall Street estimates, a situation that will require the top U.S. oil company to make deep cuts to its staff and projects.

Wall Street investors are even starting to worry about the once-sacrosanct dividend at Exxon, which in the 20th Century became the world's most valuable company using global scale, relentless expansion and strict financial controls.

Exxon weathered a series of setbacks last decade and under Chief Executive Darren Woods sought to return to past prominence by big bets on U.S. shale oilfields, pipelines and global refining and plastics. It also bet big on offshore Guyana, where it discovered up to 8 billion barrels of oil, six years of production at its current rate.

But Exxon's ability to finance that global expansion is no longer assured. This year the company borrowed $23 billion to pay its bills, nearly doubling its outstanding debt. In July, it posted its first back-to-back quarterly losses ever. It faces a full-year $1.86 billion loss, according to Refinitiv, excluding asset sales or write downs.
5) Is Big Oil Still a Big Deal? Excerpt:
Exxon's departure from the Dow is just one symptom. The oil majors' opportunities and reputations are in decline everywhere...

Oil just isn't what it was to the U.S. economy and, with much of the shale boom driven by small independent oil and gas companies, Big Oil is even less important.

It is not just in the U.S. that Big Oil faces headwinds. Its opportunities and reputation are in decline worldwide.

The oil majors, including Royal Dutch Shell (RDS-B), BP, and Total (TOT), operate in a world where they are often denied access to prime prospects. They're kept from investing in key areas of low-cost production, such as Saudi Arabia, Iran, Venezuela and Russia, by local laws or the risk of sanctions. In other areas, they face contract terms that make investment unattractive.

It's not just the lack of opportunities to discover and develop big, new oil fields. The companies are facing the need to reinvent themselves in a world where their core product is coming under increasing pressure from consumers for its impact on climate change and local pollution. And the long, hard slog of trying to turn themselves into producers of sustainable energy has only just begun.

Exxon's removal from the Dow may not signal the end of Big Oil, or even that its end is near, but it is reflective of the industry's failure so far to adapt.
6) And finally, what a total disgrace! Big Oil Is in Trouble. Its Plan: Flood Africa With Plastic. Excerpt:
Confronting a climate crisis that threatens the fossil fuel industry, oil companies are racing to make more plastic. But they face two problems: Many markets are already awash with plastic, and few countries are willing to be dumping grounds for the world's plastic waste.

The industry thinks it has found a solution to both problems in Africa.

According to documents reviewed by the New York Times, an industry group representing the world's largest chemical makers and fossil fuel companies is lobbying to influence United States trade negotiations with Kenya, one of Africa's biggest economies, to reverse its strict limits on plastics – including a tough plastic-bag ban. It is also pressing for Kenya to continue importing foreign plastic garbage, a practice it has pledged to limit.

Plastics makers are looking well beyond Kenya's borders. "We anticipate that Kenya could serve in the future as a hub for supplying U.S.-made chemicals and plastics to other markets in Africa through this trade agreement," Ed Brzytwa, the director of international trade for the American Chemistry Council, wrote in an April 28 letter to the Office of the United States Trade Representative.

The United States and Kenya are in the midst of trade negotiations and the Kenyan president, Uhuru Kenyatta, has made clear he is eager to strike a deal. But the behind-the-scenes lobbying by the petroleum companies has spread concern among environmental groups in Kenya and beyond that have been working to reduce both plastic use and waste.

Kenya, like many countries, has wrestled with the proliferation of plastic. It passed a stringent law against plastic bags in 2017, and last year was one of many nations around the world that signed on to a global agreement to stop importing plastic waste – a pact strongly opposed by the chemical industry.
Best regards,
Whitney