1) The tight job market is one of the contributors to the highest inflation we've seen in 40 years.
This is generally a bad thing, but there are some silver linings – one of which is that it's leading employers to expand the universe of people they'll consider for higher-skill, higher-paying jobs, as this heartening Wall Street Journal story describes: Blue-Collar Workers Make the Leap to Tech Jobs, No College Degree Necessary. I think this will prove to be a massive, important, wonderful long-term trend. Excerpt:
As the labor market reorders, more Americans are making the leap from blue-collar jobs and hourly work to "new collar" roles that often involve tech skills and come with better pay and schedules.

More than a tenth of Americans in low-paying roles in warehouses, manufacturing, hospitality and other hourly positions made such a switch during the past two years, according to new research from Oliver Wyman, a management consulting firm that surveyed 80,000 workers world-wide between August 2020 and March 2022. Many of the new jobs are in software and information technology, as well as tech-related roles in logistics, finance and healthcare. New data from the Current Population Survey and LinkedIn also suggest the pandemic has helped catapult more workers into more upwardly mobile careers.

Tech job postings have boomed over the past two years as work, shopping and other aspects of daily life have gone more digital. At the same time, millions of Americans quit their jobs, with some sitting on the sidelines and others finding new ones with higher salaries. Companies have struggled to hire all the talent they need, so many have dropped prequalifications like prior work experience or a four-year college degree.

Those pandemic shifts kicked in as broader macroeconomic forces were already creating new job-market opportunities and pressures. The percentage of retirees in the U.S. population has climbed sharply over the past decade and ticked even higher in the Covid-19 era, with millions of baby boomers leaving the workforce. Declining immigration has added to shortages, particularly in tech, healthcare and other fields that depend heavily on foreign-born employees. Thousands of businesses are in the thick of a digital revolution that is requiring them to fill new roles and adapt existing ones to integrate more data and automation.

Altogether, these forces have led to a giant shock to the workforce. "I don't think we've seen a talent transition of this magnitude, really, since the disruption of World War II," said Ana Kreacic, chief operating officer of Oliver Wyman Forum, the consulting firm's think tank, which conducted the research. Back then, the wartime economy created new opportunities, including for women, and the GI Bill funded the higher education of millions of returning soldiers and launched them into the middle class.
2) I find Tesla (TSLA) CEO Elon Musk endlessly fascinating, which is one of the main reasons why I created a Tesla-focused e-mail list, which anyone can subscribe to by simply sending a blank e-mail to: [email protected].
Musk did a 55-minute interview at the TED conference on Thursday (Elon Musk talks Twitter, Tesla, and how his brain works – live at TED2022) in which he commented on "his bid to purchase Twitter (TWTR), and gets honest about the biggest regret of his career, how his brain works, the future he envisions for the world and a lot more."
Here's an index if you want to skip around:
1:22 Tesla Texas Gigafactory interview clip
11:34 Elon Musk live at TED2022
11:48 Twitter, free speech, and open-sourcing the algorithm
27:40 Tesla and short sellers
32:02 If you could go back in time and change one thing, what would it be?
33:44 Electric vehicles, manufacturing, and sleeping on the floor of the Tesla factory
38:04 "At this point I think I know more about manufacturing than anyone currently alive on Earth."
39:15 Elon's "Master Plan" and accelerating a sustainable energy economy
42:36 Saturday Night Live, Asperger's, childhood, and how Elon's brain works
46:48 "I was absolutely obsessed with truth."
49:23 Philosophy, the meaning of life, and the "why" of things
51:43 What the future will look like
52:37 "We want to do our absolute best to make sure the future is... something you can look forward to and not feel sad about."
3) This WSJ article has some good advice for retirees: The New Tax Playbook for Draining Your 401(k) in Retirement. Excerpt:
Putting money into a 401(k) is simple. Taking money out often requires an exit strategy.

The tax breaks baked into retirement accounts don't last forever. Retirees or their heirs eventually must start draining their balances by taking annual withdrawals known as required minimum distributions or RMDs, triggering tax bills.

The rules for RMDs changed recently and could change again soon, reshaping the way people plan for retirement and expanding opportunities for some retirees to reduce future income taxes.

Last week, the House of Representatives voted to delay the age at which people must start taking money out of most retirement accounts to 75, from 72. If the bill, which currently has bipartisan support in the Senate, becomes law, it would mark the second time in three years that Congress raised the required distribution age. That move is a boon to those who can afford to sit on nest eggs longer to allow for more tax-deferred growth.

Yet complicating the picture is recent IRS guidance that requires many who inherit retirement accounts to drain them faster – over 10 years instead of a lifetime.

The changes have sparked confusion around the rules for spending down accounts, said Ed Slott, an IRA specialist. But they also expand opportunities to use certain strategies "to reduce complexity and taxes," he added.
4) My family and I (minus my middle daughter, who couldn't get time off work) recently spent 10 days in Rwanda, the 15th country I've visited in the past 15 months – and one of only two I'd never been to before (the other was Ecuador).
The highlight of the trip was spending an hour (that's all that is allowed) with the mountain gorillas made famous by American primatologist and conservationist Dian Fossey, who was the subject of the 1988 movie, Gorillas in the Mist, which was nominated for five Academy Awards.
After nearly going extinct, thanks to Fossey's brave efforts (she was murdered in her hut in 1985 because she fought to protect the gorillas) there are now roughly 880 of these magnificent animals, all of whom live in mountain jungles in Rwanda, Uganda, and Congo. (None have survived in captivity... The ones you might have seen in a zoo are western lowland gorillas.) Here's a 60 Minutes segment about them: Saving Rwanda's mountain gorillas.
In 1992, after I quit my job at Boston Consulting Group and before I started at Harvard Business School, I backpacked around South Africa, Zimbabwe (where I got thrown in jail – see my e-mail about this here), Kenya, and Tanzania – plus I took a one-week trip across Uganda to see the mountain gorillas in Congo (then called Zaire).
Here's a picture of me back then and from my recent trip: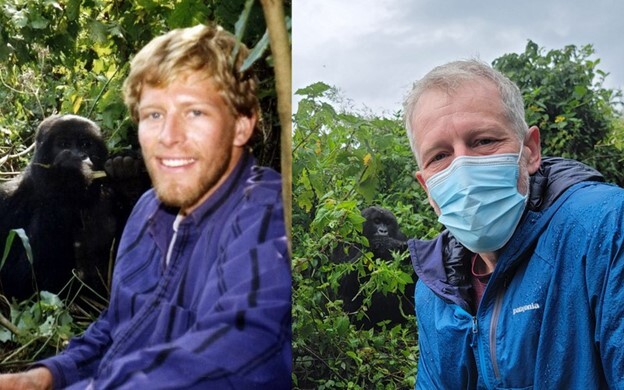 I know, I know, I haven't aged a day, right?
Below are more pictures from our recent trip. First, we met up with a team of guides, trackers, and porters and hiked a little over an hour through a lot of mud to find the gorilla family.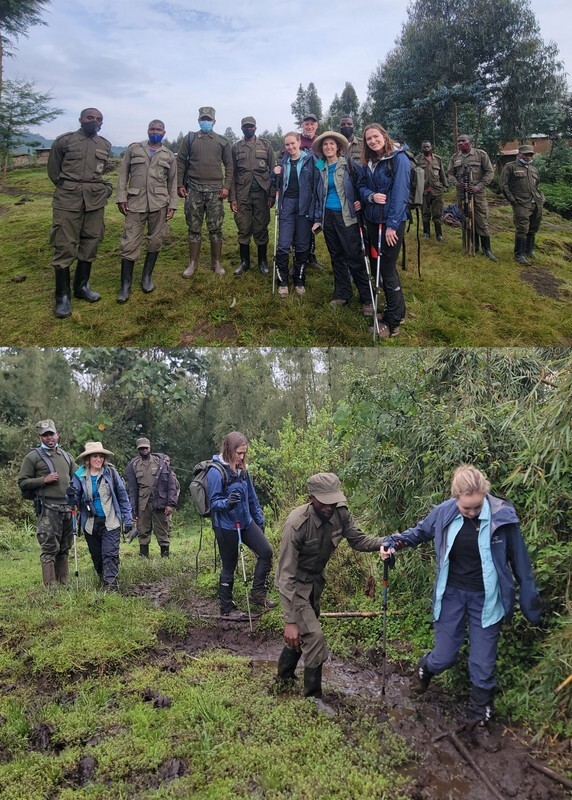 Most of the time, we were about 10 feet away, but a few times the gorillas came much closer to us. As you can see, we had to wear masks to reduce the chances of giving the gorillas COVID (we also had to be tested the day before). The babies were so cute, and the silverback was magnificent!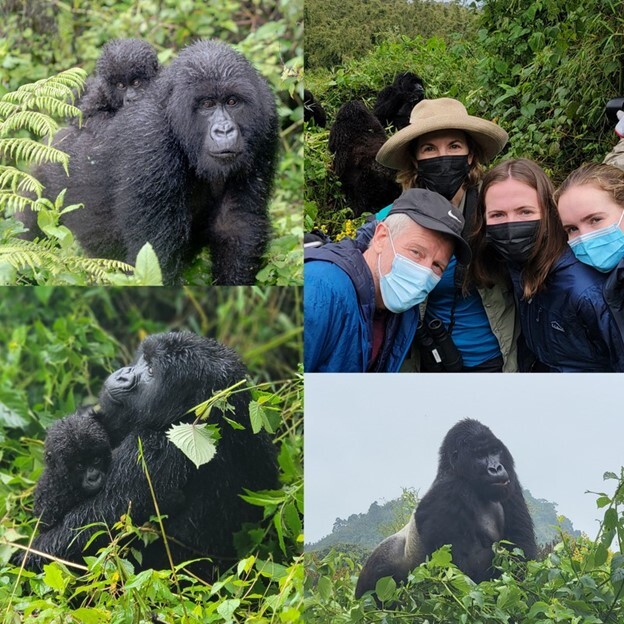 I highly recommend this once-in-a-lifetime experience!
There are also many other things to do in Rwanda, which is very safe, clean, and well-organized. It's truly amazing how this country has recovered from the horrific genocide in 1994.
I'll share more about our trip in future e-mails... Stay tuned!
Best regards,
Whitney
P.S. I welcome your feedback at [email protected].