1) Is a 58% annual return really possible?
A 25-year study from Cambridge Associates recently concluded that one asset class outperformed portfolios made up of stocks and bonds by a very wide margin...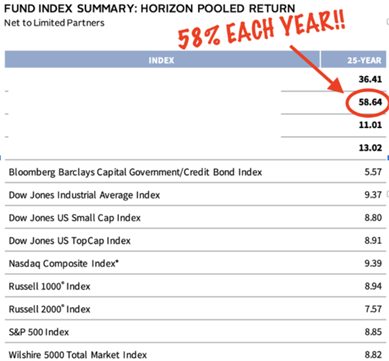 The secret?
Be sure to tune in on Tuesday, March 28 at 1 p.m. Eastern time to find out. I'll introduce you to a man who specializes in this asset class... And he'll reveal everything to you in our exclusive interview. Check out EmpireBackdoor.com for more details.
2) In my January 4, 2022 e-mail, I highlighted my 12 stocks to avoid, which I labeled the "Dirty Dozen."
All but one of them quickly crashed... But then, inexplicably, they rebounded to the point that on this exact day one year ago, they were only down an average of 6% since January 4 versus a 7% loss for the S&P 500, as you can see in this table: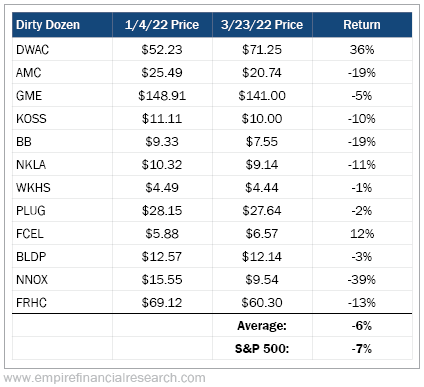 This led me to write the following in my e-mail the next day:
My take: while I think this growth stock rally might have legs, what's happening with the Dirty Dozen is a classic "dead-cat bounce"... so avoid these stocks at all costs, especially the three worst: Digital World Acquisition (DWAC), AMC Entertainment (AMC), and GameStop (GME).
A year later, these stocks are down an average of 60% versus a 12% drop for the S&P 500, with nine of them losing more than half their value: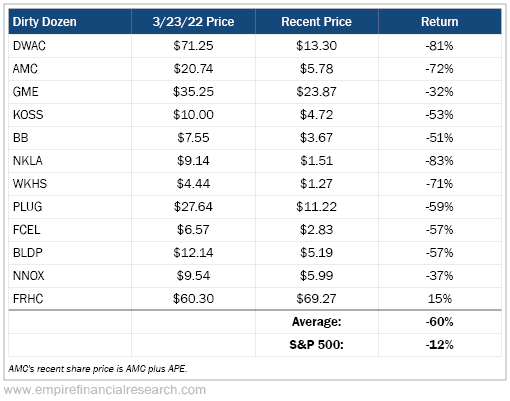 I continue to recommend avoiding every one of these dogs, with one exception...
---
Recommended Link:
| Elon Musk is creating Tesla Automotive's biggest competition. He's just launched Tesla Energy Ventures that will deal in "PVAB" energy. As Musk recently said: "I expect [PVAB] to be roughly the same size as Tesla's automotive business." According to global energy research agency Wood Mackenzie, Tesla's energy business is already growing faster than its car business. Unfortunately, Tesla Energy Ventures is not yet publicly traded. But there is still a way to get in to the PVAB energy space right away. Click here for more details. | |
| --- | --- |
---
3) Video game retailer and former (current?) meme stock GameStop has "only" fallen 32% in the past year, making it the second-least-awful performer among this motley group, thanks to a 35% rally yesterday after the company reported better-than-expected fourth quarter earnings: GameStop Surges After Reporting First Profit in Two Years. Excerpt:
GameStop soared as much as 53%, heading for its biggest gain in two years, after reporting a surprise profit in the fourth quarter and beating analysts' estimates for revenue.

Net income was $48.2 million, the first profit in two years, and compared with a loss of $147.5 million a year earlier, the Grapevine, Texas-based video game retailer said in a statement Tuesday. Net sales totaled $2.23 billion in the three months ended Jan. 28, beating analysts' projections of $2.18 billion.

"GameStop is a much healthier business today than it was in the start of 2021," Chief Executive Officer Matt Furlong said on a call with analysts. "We have a path to full-year profitability." The company didn't offer an outlook for 2023.

Shares surged to as high as $27 as trading opened in New York on Wednesday. Very few analysts currently cover the so-called meme stock, which has fluctuated wildly over the past two years.
I have to tip my hat to management: It has done an excellent job stabilizing a sinking ship, as evidenced by the strong fourth quarter. Not only was net income $48 million, but thanks mostly to reducing inventory from $915 million to $683 million year over year, the company generated a phenomenal $338 million of operating cash flow during the quarter versus only $11.6 million in capital expenditures.
While much of yesterday's pop was likely due to short sellers getting squeezed and rushing to cover their position, there has been a material improvement in GameStop's prospects. Enough to justify a roughly $7 billion market cap today? Probably not, so I don't think the stock is a buy... But it's no longer a good short, so I'm removing it from my Dirty Dozen.
4) I can't believe I whiffed on including Bed Bath & Beyond (BBBY) in my Dirty Dozen...
To my credit, it was in my 25-stock "Short Squeeze Bubble Basket" that I named in my January 28, 2021 e-mail, which nailed the top of the meme stock bubble almost to the hour. Here's how that basket has performed: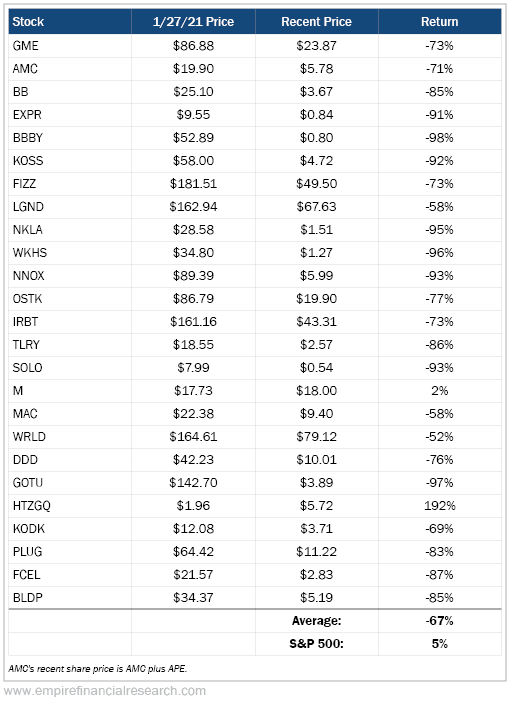 Note: I removed Hertz from the basket in my May 13, 2021 e-mail.
But when I selected my 12 least-favorite stocks among this group for the Dirty Dozen, I inexplicably left BBBY off the list. Oh well, at least I warned my readers about this stock more than a dozen times since it briefly became a meme stock and spiked over $20 last August (archive here).
5) While I'm updating my readers on past calls...
In five consecutive e-mails from November 1 through November 7, I laid out the bull case for Meta Platforms (META), which has risen 120% from around $90 per share to roughly $200 per share.
While Meta was the favorite, I was bullish on other tech giants... which is why we wrote the following to Empire Financial Partnership members in a monthly e-mail on November 7:
We're particularly bullish on tech giants, which have, on average, been cut in half and collectively lost nearly $5 trillion in market capitalization from their peaks, as this table shows:

These are seven of the greatest businesses of all time, which you can now buy for far less than investors were enthusiastically paying roughly a year ago. As a group, we think they will far outperform the S&P 500 going forward.
Since then, these seven stocks are up an average of 41% versus 4% for the S&P 500, with every one of them outperforming the index: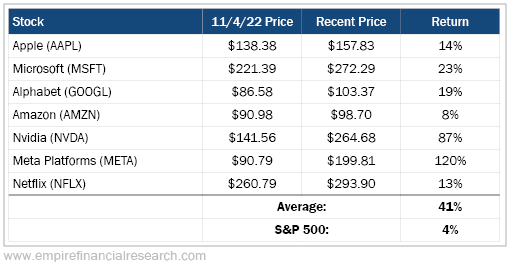 6) Mark Rober, who has a huge following on YouTube, recently visited Rwanda, which he loved – he said it's now his second-favorite country after the U.S. (I loved it as well when I visited last year to see the mountain gorillas – see my pictures here and videos here.)
Rober was there to show how an American drone company called Zipline is using its planes to quickly deliver medicine all over the country.
In the second half of the video, he also shows how the company is delivering packages to U.S. homes – something Amazon (AMZN) has long promised but failed to do.
It's amazing what Zipline is doing!
Here's the video: Amazing Invention – This Drone Will Change Everything.
Best regards,
Whitney
P.S. I welcome your feedback at [email protected].