► When Travis Kalanick co-founded Uber (UBER), he had a lot more in his sights than just being a tech-enabled taxi company…
While the business was founded on ride sharing, Kalanick's ultimate vision was much broader. Not content to just expand into food delivery with Uber Eats, Uber fancied itself a potential disruptor of any business that moves people or things from place to place. But the big idea at Uber – the futuristic business plan that sparked imaginations and often investor enthusiasm – was autonomous vehicles ("AVs"): self-driving cars.
The Kalanick long-term vision was a world in which car ownership was on the decline and cities were not only filled with citizens shuttling around in Ubers, but self-driving ones. This Jetsons-esque future offered with it the promise of a much more profitable company as the need to pay gig workers to drive the cars – a major expense for the business – would drop away.
In the most bullish scenarios, Uber would transform from a services company – limited in its margin potential by the need to either pay drivers or own cars – to a software company. This would mean margins could explode as Uber sold the same code over and over again to vehicle manufacturers looking to embed AV technology into their products… and not just cars – but all vehicles – as evidenced by Uber's 2016 purchase of self-driving truck startup Otto.
Kalanick saw the quest to conquer AV technology as mission critical to Uber's long-term survival. As he told Business Insider in a 2016 interview…
I think it starts with understanding that the world is going to go self-driving and autonomous…

What would happen if we weren't a part of that future? If we weren't part of the autonomy thing? Then the future passes us by basically, in a very expeditious and efficient way.
When asked how he could compete in AVs with tech giants also pursuing the space – such as Alphabet's (GOOGL) Google – with relatively limitless financial resources, Kalanick responded that Uber had no other choice…
If we are not tied for first, then the person who is in first, or the entity that's in first, then rolls out a ride-sharing network that is far cheaper or far higher-quality than Uber's, then Uber is no longer a thing.
For Kalanick, success in AVs was an existential matter of survival.
Kalanick would end up pushed out of the company he founded in 2017 following a storm of ethical issues related to corporate culture and sexual harassment. But new management similarly embraced self-driving cars as core to the Uber long-term business plan.
When Dara Khosrowshahi took over as CEO, he spoke of Uber becoming the "Amazon of transportation." Last year, he wrote in his introductory letter for the company's initial public offering ("IPO") filing (emphasis added)…
What began as "tap a button and get a ride" has become something much more profound: ridesharing and carpooling; meal delivery and freight; electric bikes and scooters; and self-driving cars and urban aviation.
There it was… In the first paragraph of Khosrowshahi's letter introducing the company to the public markets was the phrase "self-driving cars."

Last week, the dream died at Uber as the company announced it had sold its AV division ATG to competitor Aurora Innovation…
Uber is transferring ATG's assets into the AV startup, which is backed by Amazon (AMZN) and prominent venture capital firm Sequoia Capital. Uber will receive no cash for ATG – in fact, it will invest $400 million into Aurora. In exchange for the ATG assets and the cash, Uber will own a 26% stake in Aurora, which has stated that its first priority is AV trucks… although self-driving "robotaxis" of the type Uber would eventually use are in its development pipeline, just father back.
And the sale of ATG wasn't the only deal that Uber pulled off last week… It also sold air-taxi division Elevate to Joby Aviation, which is developing a vertical take-off and landing passenger aircraft that will run on electric power. As part of the deal, Uber will invest $75 million into Joby (on top of a previous $50 million investment). The companies also struck a deal to cross-market their respective services to consumers.
These two deals complete a string of divestments for Uber. Earlier this year, Uber led a funding round for scooter and electric bike sharing startup Lime, and sold the startup its micromobility subsidiary Jump. Then in October, Uber sold a $500 million stake in its Uber Freight division to an investor group… But in this transaction – unlike the ones involving ATG, Elevate, and Jump – Uber maintained operational control of the business.
As a result of these transactions, Uber has gone from an "everything transport company" to one that offers ride sharing and food delivery, with a little side venture into freight.
And these days, with lower ride-sharing demand due to reduced travel and commuting, Uber's best prospects lie in its food-delivery division. Revenue soared 125% at Uber Eats in the third quarter as ride-sharing revenue plummeted 53% – only a minor improvement from the second quarter's 67% drop in ride-sharing revenues.
With the recent divestments and the ascendancy of Uber Eats while ride sharing struggles, Uber is more than anything a food-delivery company. Uber just closed on its $2.65 billion purchase of rival delivery company Postmates, which will only serve to reinforce the importance of its food-delivery operations.

What Uber isn't – and has never been – is a company that makes money…
From 2016 through the time of its IPO last year, Uber operations lost a cumulative $10 billion. It's the poster child for what I like to call "profitless prosperity": racking up big revenues yet failing to earn a dime. Investors tolerate – in fact, they even embrace (especially lately!) – profitless prosperity when they see a credible story that with just a little more size and scale, profits will follow revenues.
The problem with Uber is that in the time period that it lost the $10 billion, it took in more than $79 billion for rides. How much bigger does it have to get to pay for its technology and overhead? How much scale does it need? And where will cost cuts come from when the internet is full of stories that many gig workers can barely make a living driving for the company?
Since going public in May 2019, Uber has racked up nearly $4 billion in additional operating losses. While the pandemic has certainly thrown the company a major curve ball, in its best quarter in 2019 – well before the pandemic – Uber still lost nearly $600 million in earnings before interest, taxes, depreciation, and amortization ("EBITDA").
Even in a market extremely tolerant of losses today in service of profits tomorrow, the losses in the non-core divisions seemingly became too much. I'm guessing that management realized the company needs to make money someday… and the timing of that "someday" is probably getting closer rather than farther away.
So Uber doubled down in food delivery – the business with the best current prospects – by buying Postmates, and at the same time dumped three loss-making divisions while maintaining exposure to them through minority investments.
Uber management got pragmatic, which meant letting go of some big aspirations.

With the dream of being a market leader in AVs off the table, Uber needs to buckle down and focus on getting food delivery profitable…
I'm still a skeptic that Uber can make money any time soon.
In terms of ride sharing, while the company is dominant with roughly two-thirds of the global market, I'm just not sure it's a great business. With almost $11 billion in 2019 revenue in ride sharing, I'm not sure why that business isn't at scale yet in terms of fixed costs… and I'm not sure how variable costs will come down until we have widespread self-driving cars, which is still years away.
As of October, Uber's U.S. ride-sharing business was down 64% year over year. The pandemic will end eventually and ride-sharing demand should recover, but it may not recover to 100% of what it was. Some amount of working from home will likely stick, and people's travel habits may be altered over the longer term.
I like the food delivery business a lot more… but profitability there isn't a lay-up, either. Uber Eats operates around the world, and margins vary significantly in this business depending on local competition. In South Korea, for example, where food delivery is a duopoly and incomes are high – these operations are profitable. And early in its life as a public company, Grubhub (GRUB) had operating margins approaching 20%… but increasing competition from the launch of Uber Eats as well as the growth of DoorDash (DASH) and Postmates drove the company into a money-losing position beginning last year.
For several years, the U.S. has been one of the least profitable food-delivery markets in the world because four competitors – plus a bunch of smaller regional players – were beating each other up with promotional pricing. Now, four big players have consolidated to three… and the U.S. market could become more profitable, but we're in wait-and-see mode as the Uber Eats/Postmates deal just closed, and we have yet to learn how European acquirer Just Eat Takeaway (TKWY.AS) will run Grubhub.
The path to profitability for Uber Eats in the U.S. is still cloudy because of competition, even with the underlying demand being so strong.
I have no idea when and if Uber will ever make money, yet here it sits with a roughly $95 billion market cap. The stock hit an all-time high earlier this month, and has generally been on a tear since its election day triumph in California's Proposition 22 battle…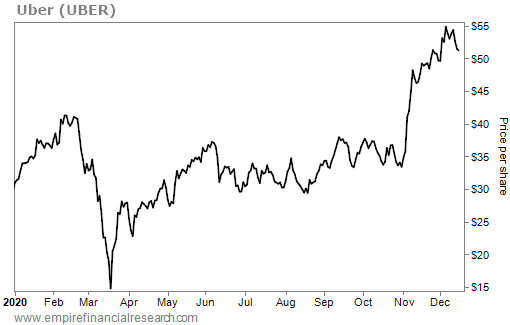 While I applaud Uber management's decision to narrow the focus, I still have no interest in buying this stock… and I reiterate my previous call to avoid UBER shares, especially after the recent big run.
As my colleague Enrique Abeyta has often said, "with thousands of stocks in the market, why pick the lousy ones that don't make money like Uber?"

On the other hand, the disruptive technology of AVs is a big trend…
My colleague Whitney Tilson has been following developments in this sector. It's part of what he's calling "TaaS" (Transportation as a Service)… and it has the potential to mint fortunes for investors in the coming years. You can find out more about it – and learn the name and ticker symbol of his favorite TaaS stock – in this free presentation.

In today's mailbag, reader reactions to last week's essays on fintech company Stripe and WarnerMedia's decision to go day-and-date to HBO Max with all its 2021 films…
Does Uber's move to focus on the businesses of today rather than those of the future make sense to you… and does it make you more or less interested in the company? Are you using food-delivery services more this year, and if so, which app do you prefer? Let me know by sending an e-mail to [email protected].

"I'm old. Still like using checks. But this last year, I have almost fully converted to using Venmo for renters paying rent, deposits, etc. I noticed this trend (of one=me), then decided to invest in PayPal (PYPL). So far, so good. Thanks for your publication." – Erika S.
Berna comment: Erika, I'm also a long-term PayPal bull… I wrote about it in the August 17 Empire Financial Daily.

"Great summary on Stripe. The part on PayPal… I know people who got ripped off using PayPal to buy from a private party and didn't get what they wanted or got nothing and wound up S-O-L!! They in turn went back to credit card payment, as that method had some safeguards in place … of course, any type of transaction potentially contains a bad apple. So, trust is the Capital T! P.S. – thanx for an enlightening letter !!" – Ralph R.

"Great article — how do we invest in Stripe?" – Cheri C.
Berna comment: Cheri, good question. I addressed the issue of investing in pre-IPO startups in the September 25 Empire Financial Daily mailbag, which you can read here.

"If you didn't have the service already, does WarnerMedia's decision to send its 2021 films immediately to HBO Max tempt you to subscribe?
"Yes, just to see Wonder Woman
"Is anyone a fan of the service already?
"Don't currently have it
"Will anyone miss movie theaters if they end up shutting down permanently in large numbers?
"I personally won't miss sitting next to 100 of my best friends while seeing a movie and climbing over all of them to use the restroom. We have a 75-inch 4K television in a comfortable living room. I can use the restroom when I like, and we can make our own popcorn and snacks. My boyfriend is a movie theater buff though and would miss them terribly (just like he does drive-ins). He would probably still go to the bitter end, but he won't miss spending a lot of money taking the whole family." – Kristine B.

"Hi Berna, The one constant that will remain is the simple fact that NOTHING aids the early days of dating more than sitting in the dark inches away from the desire of one's dreams… a neutral non-threatening environment where the endorphins are flying all over accompanied by vivid Technicolor and thumping Dolby sound… how could anyone call an end to that!!" – S.C.
Berna comment: Good point, S.C.! And I'm sure I'm not the only one for whom your comment brought back some teenage memories…
Regards,
Berna Barshay
December 15, 2020