► I don't spend a lot of time personally investing in financials...
Back when I worked at hedge funds, my most frequent forays into the financial sector were on the short side – betting stocks would go down. I found I occasionally had an edge in diving into the details, scouring the footnotes for definitive signs of something being wrong.
On the long side, I didn't find that I brought much of a differentiated viewpoint, so I tended to focus more on sectors where I thought I could find an edge, like consumer, media, Internet, and industrials.
Even though I don't pull the trigger on buying banks with great frequency, I believe it's important to keep an eye on what the big banks are saying...
The biggest banks touch businesses in every sector, consumers at almost every tier of wealth, and even municipal, state, and federal governments. This reach gives the banks a unique view on the state of the economy. That can help inform how to think about the outlook for companies operating in an array of non-financial sectors.
We heard from the biggest banks over the last week, and what we heard was pretty darn bullish. Not only did we see big earnings beats from Bank of America (BAC), Citigroup (C), Goldman Sachs (GS), JPMorgan Chase (JPM), Morgan Stanley (MS), and Wells Fargo (WFC)... They also doled out optimistic outlooks when it came to not only their own near-term prospects but also those of the broader economy.
Here are some of the takeaways...

The consumer is healthy, and spending seems to be picking up...
Looking at payments initiated from consumers and small business (including credit and debit cards, person-to-person payments, ACHs, wires, and checks), the data from Bank of America shows that spending is up from pandemic levels – and from pre-pandemic levels...

Source: Bank of America
CEO Brian Moynihan indicated Bank of America is seeing an acceleration in consumer spending.
Over at Wells Fargo, consumer credit card spending was up 18% in the third quarter versus 2019 levels, and 24% versus 2020 levels. Unsurprisingly, the one category that has not fully rebounded to 2019 spending levels is travel, which remains down 8% versus 2019 levels.
Debit card spending was also up every week of the third quarter at Wells Fargo. Notably, in the week ending October 1, debit spending was up 14% versus 2020 levels and 26% when compared with 2019.
This is an important data point, as many forecasters were predicting that consumer spending would slow as federal stimulus payments expired in September. This late-September data point when paired with an unexpectedly strong September retail sales number last week puts some of those concerns about a sharp falloff in consumer spending to rest, at least for now.
JPMorgan saw a similar trend with its consumer clients. Credit and debit spending by the bank's consumer customers was up 24% versus last year, although flat versus the second quarter. Home lending originations also set a record – what a shock... people are buying houses! It was also the second-biggest year ever for auto loan originations, also not a tremendous surprise given what we have been hearing from the auto dealers.
At Citigroup, card spending was also strong, up 20%.
Despite the increases in spending, balances are up at the banks. Wells Fargo CEO Charlie Scharf commented on the earnings call...
We continue to see that our customers have significant liquidity and consumers are continuing to spend. While lower than the peak in March, our consumer customers' median deposit balances continued to remain above pre-pandemic levels... up 48% for customers who received federal stimulus and 40% higher for those who did not receive federal aid.
Putting it all together, it adds up to a healthy consumer. As Wells Fargo's Scharf noted...
Consumers' financial condition remains strong with leverage at its lowest level in 45 years and the debt burden below its long-term average.
This continued strength in consumer spending looks to be a derivative of the low 4.8% unemployment rate paired with the oft-discussed wage inflation we are seeing.
While inflation can be a risk to economic growth, after so many years of wage stagnation, the wage inflation may prove to be a net positive for economic growth, particularly when the gains are most dramatic among lower-wage hourly workers, who are most likely to spend any incremental income gains.

Credit levels and performance are in check with consumers and corporations alike...
Credit outstanding to both consumers and corporations at Bank of America are well below peak pandemic highs...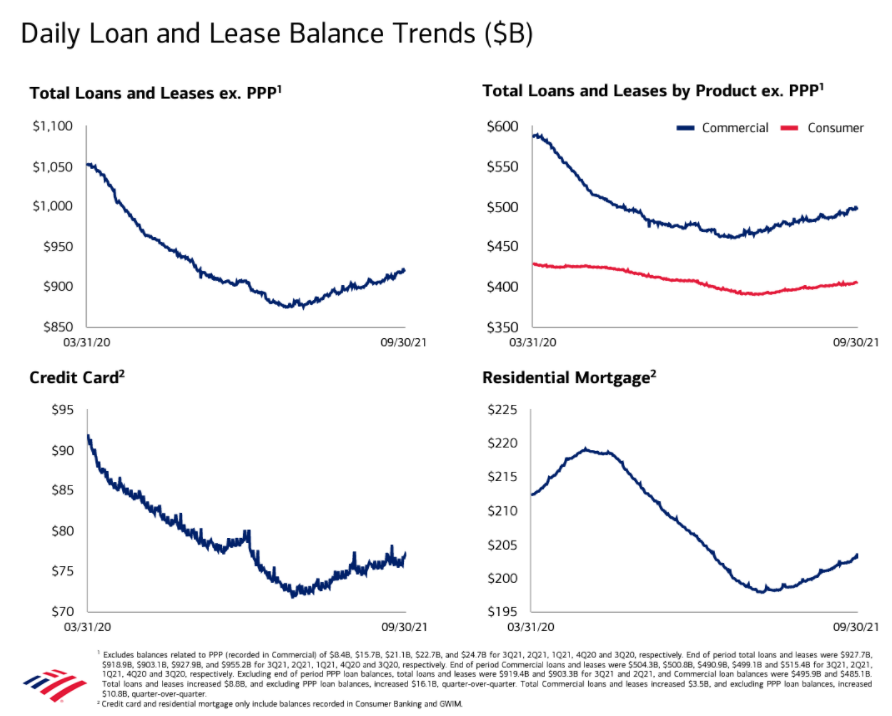 Source: Bank of America
Other banks show similar trends.
Not only are balances down, but so are default rates... At Bank of America, loan loss rates are sitting near 50-year lows.
As the pandemic moves into the rear-view window, several banks – including Bank of America, Citigroup, and Wells Fargo – released reserves they had taken early in the pandemic, anticipating loan defaults that never came.
The declining consumer loan balances are yet another sign of consumer health. However, the lack of loan growth at businesses could be read as a lack of confidence in the economy. But it's also possible that extremely frothy debt markets leave large private and public businesses with little reason to turn to banks for loans. Going to the public markets may be faster and carry fewer restrictive covenants.

Unsurprisingly, inflation is a hot topic...
JPMorgan Chase CEO Jamie Dimon addressed concerns over labor inflation as well as inflation related to the current supply chain difficulties that I wrote about on Monday.
He commented that the pick-up in inflation is not a surprise given the general state of the economy and didn't think it was unsurmountable in terms of operating the business. As he remarked...
I think it's unbelievable that we're getting out of this thing and have 4% unemployment. And you can have good growth with some inflation, and that's OK. I think the people are always focusing too much on immediate concerns. If you have inflation of 4% or 5%, we're still going to open deposit accounts and checking accounts and grow our business.
He did, however, warn that inflation could cause the Fed to taper sooner than expected.
When the Fed will pull back on its ultra-accommodative policy that has kept rates so low is one of the biggest questions facing the market. Ultra-low rates are the universal way to explain away concerns about the dramatic increase in equity valuations that we have witnessed.
The Fed will keep a close eye on how long inflation lingers at current levels – and if it can go higher from here. So far, the Fed has treated the recent spike in inflation as transitory and stayed the course on its loose monetary policy.
Whenever the Fed retreats from that position, things could get rockier for the stock market, so investors need to keep a close eye on inflation surprises as well as shifts in the Fed's attitude toward inflation.

Mergers and acquisitions ('M&A') activity is booming, as are the equity capital market desks that manage initial public offerings ('IPOs')...
The M&A business is red-hot. Over at JPMorgan Chase, M&A banking fees tripled in the third quarter. Citigroup had its best M&A performance in a decade. Bank of America and Morgan Stanley both reported records in M&A.
Wall Street operations on the trading side of the house were strong as well...
Securities lending departments were the one area where banks saw loans grow. With markets putting in strong performance so far in 2021, it looks like customers of the big banks have been increasingly piling on the leverage.
Trading divisions were a spot of upside surprise at the banks across the board, thanks to the buoyant stock market. Things are quieter in fixed-income trading.

So... what to do about the big bank stocks here?
I would say the easy money has been made in the big banks. There's no reason to go panic-running for the exits, but it's hard to imagine the next 12 months for the banks will be as good as the last 12 were.
Goldman's CEO David Solomon acknowledged on the call that things can't go on like this forever...
Obviously, these things will ebb and flow, but we have lots of flexibility in the context of the way we manage the businesses. And these businesses, I think, will continue to be strong performers even in different environments. They just might not perform at this level all the time.
While rising rates would help the banks with larger commercial banking businesses and big loan books, they also pose a risk to the markets and therefore the robust results that banks are enjoying in investment banking, M&A, and trading.
The Financial Select Sector SPDR ETF (XLF) is up a huge 36% year-to-date, dramatically outperforming the S&P 500's 21% return.
Some of the big banks have done even better: GS shares are up 56%... MS shares are up 47%... BAC shares are up 55%... and WFC is up 66%. Given the big gains and blowout earnings season, if I owned these stocks, I would probably take some profits here.
The good times for banks are likely to continue to roll for a few more quarters... but they won't forever.

In the mailbag, more reactions to the question of whether or not Chinese large caps are 'on sale' or too risky to touch...
Are you bullish or bearish on the economy? What are you seeing in your businesses and communities that make you feel that way? Are you among the masses who are spending 20% more these days than this time last year... and if so, what are you indulging in? Share your thoughts in an e-mail to [email protected].

"Sadly most governments have a negative impact on their country's natural riches. And they also hurt their businesses. Argentina and Venezuela are top examples, but the recent American delisting of shares like China Mobile is another example. It weakened U.S. markets (lower fees, less respect by foreign investors), lost liquidity for U.S. stockholders, and strengthened foreign exchanges like Hong Kong.
"So while the necessary anti-monopoly and anti-corruption moves in China are being misused by the Communist Party, it is unlikely that that government will kill its goose and I am a buyer of Alibaba (BABA) and Baidu (BIDU).
"As you said, positions should not be larger than you can lose. But with huge potential gains, you needn't invest very much to have a significant impact on your portfolio if successful. This principle also applies to investments in hi-tech, bio-pharma development, and natural resource exploration. Small holdings can become huge...
"And of course, I also believe in geographic diversification which means not having all my eggs in the American basket either." – Alfred W.
Berna comment: Alfred, I agree that position sizing can be as effective an approach to risk control as security selection. Some investment opportunities have attractive asymmetric return profiles... but usually the opportunity to have giant returns is paired with the risk of losing all your money.
You don't need to totally avoid these situations if you have a good feeling that the outcome will be to the upside, but it is wise to limit your losses with a small position. My colleague Whitney Tilson has had some good pieces this week about this portfolio management technique with regard to SandRidge Energy (SD).

"Enrique is right.
"China is at the stage right now where it will no longer permit the financialization of its economy. It wants its companies to grow in industrial terms, not in paper terms, meaning, it wants real physical assets representing the wealth of Tencent and Alibaba, not the amount of debt or the P/E ratio. Finally, China does not want its wealth extracted by Western investment bankers. It does not need to come under the control of Blackrock." – O.P.
Berna comment: I agree that with an economic cold war brewing, China is not eager to hand over big returns to American investment bankers and hedge funds.
Regards,
Berna Barshay
October 20, 2021