1) Picking up on where I left off in Friday's and yesterday's e-mails about my recent presentation to two groups of high-net-worth investors... After outlining my investment philosophy, I shared five big lessons. Here's the next one:

You can see that Bed Bath and Beyond (BBBY) had strong earnings growth through 2013 and, naturally, its stock followed. But then earnings started to decline and, other than a couple of meme-stock-related pops recently, the stock has inevitably followed downward as well.
The lesson here is clear: It's almost impossible to make money on a stock, no matter how cheap it appears, if the underlying business continues to decline... So beware of these value traps!
2) Speaking of which, in recent e-mails I've written extensively about three of my top stocks to avoid – Bed Bath and Beyond, Digital World Acquisition (DWAC), and AMC Entertainment (AMC) – all of which have fallen sharply.
Now let's take a look at GameStop (GME), another of the "Dirty Dozen" stocks I warned my readers about in my January 4 e-mail. (All 12 are down since then, with an average decline of 35%... That's more than double the 17% decline for the S&P 500 over the same time frame.)
GameStop reported second-quarter earnings yesterday, and the stock was up this morning, though it's still down more than 40% over the past three weeks.
Revenue was down 4%, but selling, general, and administrative (overhead) expenses rose 2.3%, so the net loss ballooned from $62 million to $109 million – the 12th quarter in the past 13 in which the company has lost money.
Worse, GameStop's cash flow from operations was negative $103 million, far below the prior year's negative $12 million. Take a look at the company's annual cash flow from operations going back to 1998: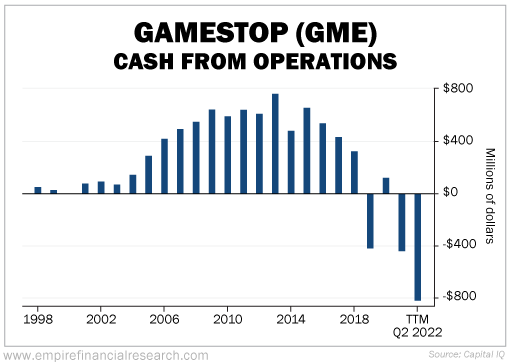 Now that's a grim chart!
But despite these chronic losses, GameStop – unlike Bed Bath and Beyond and AMC Entertainment – isn't in financial distress because it exploited clueless meme stock investors last year to issue stock and raise $1.7 billion. As a result, the company has $909 million in cash, offset by only $41 million in debt and $561 million in operating lease liabilities.
So GameStop isn't going away anytime soon, but I see little that will change its dismal trajectory. This is a classic "melting ice cube," which almost always means the stock will be a value trap.
That's especially true in this case in light of the company's absurd valuation of around $7.5 billion, equal to 1.2 times trailing 12-month revenues. For perspective, Best Buy (BBY), a solid company that generates tons of cash, trades for only 0.4 times revenue.
I think fair value for GME is, at best, 0.3 times revenue, which would translate into a 75% decline in the stock...
3) In yesterday's missive, Does Elon Musk Know How Mergers Work?, Bloomberg columnist Matt Levine does an excellent job summarizing how Elon Musk is attempting to weasel his way out of the contract he signed to buy Twitter (TWTR) for $54.20 per share. Excerpt:
But it seems completely obvious to me that Musk doesn't care about those magic words, and that he wants to get out of the deal for some combination of (1) the market went down and $54.20 per share looks pretty rich for Twitter, (2) the market went down and $44 billion looks like a big hit to Musk's own wealth, and (3) he wanted to buy Twitter on a whim and he's gotten bored by now. I have been saying this for months and I am bored of it and I'm sure you are too, so I am not going to rehash the point here.

Instead I will just point out that Musk's own statements – not the ones from his lawyers in court – suggest that he doesn't know what a merger agreement is. The first sign that he wanted out of the deal was back in May, barely two weeks after he signed the deal, when he tweeted "Twitter deal temporarily on hold pending details supporting calculation that spam/fake accounts do indeed represent less than 5% of users." No! No! No! As I said at the time:

"Temporarily on hold" is not a thing. Elon Musk has signed a binding contract requiring him to buy Twitter. Legions of bankers and lawyers and Twitter employees and special-purpose-vehicle promoters are working to fulfill his legal obligation to get the deal closed. "The parties hereto will use their respective reasonable best efforts to consummate and make effective the transactions contemplated by this Agreement," says the merger agreement. (Section 6.3(a).) He can't just put that "on hold."

If you were in the process of negotiating a merger, and then you got nervous that some element of the company's business might not be what you thought, you might put the negotiations "on hold." You might demand more information about the company's bot calculations, and you might stop negotiating other details of the deal until you got it. If the information wasn't what you wanted, you might walk away, or demand a lower price. All of these things are things that could happen before you sign a merger agreement. Not, generally, after...

I think it is clear that Elon Musk doesn't believe in binding merger agreements, and he changed his mind about buying Twitter and now wants his merger agreement to go away. And everything else – the stuff about bots, the stuff about the whistle-blower, allegations of covenant breaches and material adverse effects and fraud – is just lawyers trying to justify that...

It is relevant here, I think, that Chancellor [Kathaleen] McCormick definitely knows how merger agreements work. She is a Delaware chancellor. They do all the public-company M&A litigation. She has seen buyers who want to get out of mergers before, and she has seen Musk's claims so far.
4) I was delighted to see Frances Tiafoe win his match yesterday to become the first American in 16 years to make the U.S. Open semifinals.
I've been following him closely ever since I heard about him from my friend Bill Ackman of Pershing Square. Bill met Tiafoe eight years ago and, hearing of his family's modest means, made substantial grants over multiple years to Tiafoe's tennis club to support the training and other expenses he needed to turn pro. Here's an article about it: Meet The 16-Year-Old U.S. Open Tennis Phenom Backed By Bill Ackman. Excerpt:
We got in touch with Ackman, and he told us that Tiafoe has a great story.

"[Tiafoe] has a very compelling life story and he's super-talented. He's a good kid," Ackman told Business Insider by phone. "I'm in a position to be able to help people, and he's the kind of guy you want to back."

Tiafoe's story is unique compared to other players. His father, an immigrant from Sierra Leone, was the janitor at the Junior Tennis Champions Center in College Park, Maryland. The JTCC is a nonprofit tennis academy built by former Goldman Sachs partner, Kenneth Brody. It's known for being one of the top facilities for creating players...

It's expensive to be a tennis player. It's a sport where you can lose money for a long time before you have a chance of making it. It's a sport where you really do need a backer.
I asked Bill about this last night, and he texted me:
I don't deserve any credit for his success, but it does show how the economics of the sport are broken in that players, unless they come from a wealthy family, have to rely on charity to be in the game.
Bill is being modest. It's not like he backed 100 young players or even 10 – in fact, I'm not aware of anyone else. He backed a kid at age 16 who just made the U.S. Open semifinals and broke into the top 20 in the world!
My wife and I saw Frances walking around the grounds of Wimbledon in 2017, and he was kind enough to take a picture with us: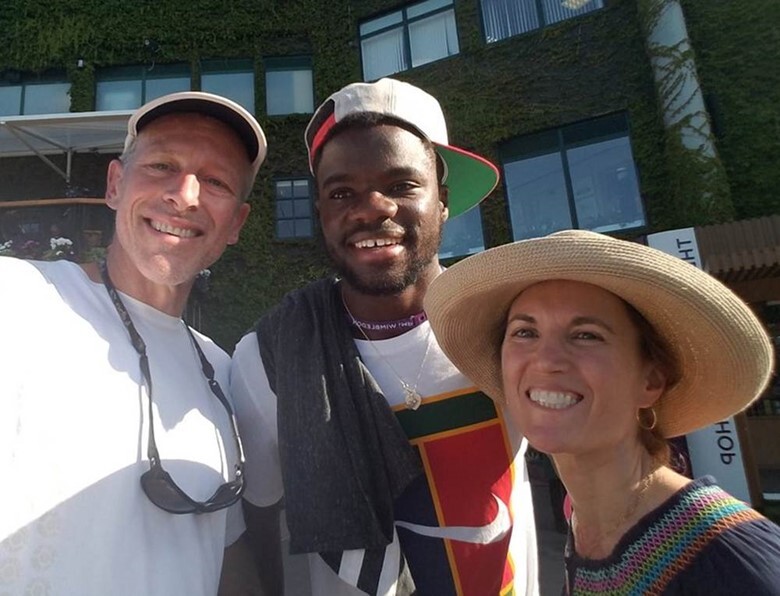 Here's a nice story about him in the Wall Street Journal this week, The Long Climb of Tennis Star Frances Tiafoe, and here's a New York Times profile of him from 2012, when he was 14: Growing Up With a Home Advantage.
Best regards,
Whitney
P.S. I welcome your feedback at [email protected].