1) Only two months after stocks experienced their sharpest decline in history, they've ripped higher. So it's no surprise that pockets of foolishness are emerging… which my team and I are tracking so we can warn you about things to avoid.
In that spirit, I asked Empire Financial Research Senior Analyst Steve Culbertson to identify some stocks that appear to have soared far above what their fundamentals justify (to be clear, these are not short recommendations). Here's the first of a series that I'll be sharing:
Moderna (MRNA)

Investors have gotten excited about companies developing treatments for COVID-19. Moderna is a high-profile candidate for a vaccine based on its mRNA technology. But many years ago, SARS taught us that coronaviruses, which mutate quickly, pose unique challenges to vaccine developers. What's more, Moderna faces stiff competition in its pursuit.

Its stock skyrocketed after the company released news of supposed positive results in its Phase I trial. But careful reading showed a limited study with real concerns. Worse, we learned that insiders began selling a lot of stock after it popped.

The only way Moderna can justify its sky-high valuation, exceeding $22 billion, is if it creates a very large and profitable business – perhaps one that rivals GlaxoSmithKline's (GSK) vaccine division. We think that's highly unlikely. Shares are down 34% since peaking on May 18, but they could go much lower. Don't jump in to catch this falling knife.
2) Following up on Friday's e-mail about how cheap small-cap value stocks have become, here's another study showing that, based on one measure of price-to-book ratio, value stocks are the cheapest relative to growth stocks that they've ever been, going back to 1963: Reports of Value's Death May Be Greatly Exaggerated. Excerpt:
Value investing has underperformed relative to growth investing over the last 13.3 years. The authors examine several popular narratives to explain this relative underperformance, including technological revolution, crowded trade, low interest rates, growth of private markets, and traditional measures of value that ignore internally generated intangible assets. These narratives purport to explain why "this time may be different" and why value's poor relative performance may be the "new normal." 
The authors demonstrate that the primary driver of value's underperformance post-2007 was growth stocks getting more expensive relative to value stocks.
The authors explore whether book value is the right denominator for value. In today's economy, intangible investments play a crucial role yet are ignored in book value calculations. They show that a measure of value calculated with capitalized intangibles outperforms the traditional price-to-book measure, particularly post-1990. 
With today's value vs. growth valuation gap at an extreme (the 100th percentile of historical relative valuations), the stage is set for potentially historic outperformance of value relative to growth over the coming decade.
This table from the study shows that the current 13.3 years of value underperforming growth is both the longest and deepest such period in history: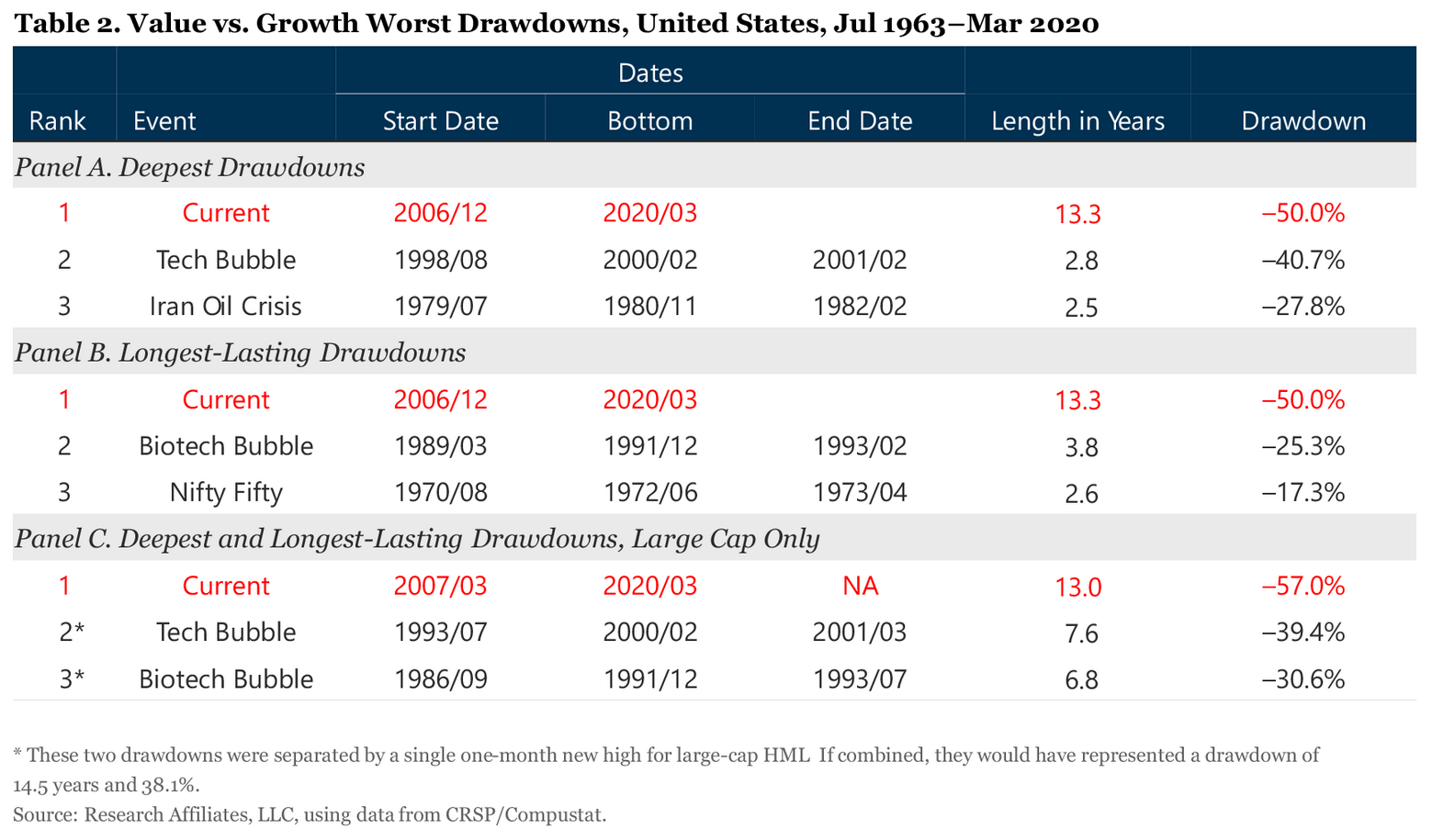 3) I knew things were crazy, but hadn't realized how close we came to the edge on March 16: The Day Coronavirus Nearly Broke the Markets. Excerpt:
March 16 was the day a microscopic virus brought the financial system to the brink. Few realized how close it came to going over the edge entirely.

The Dow Jones Industrial Average plunged nearly 13% that day, the second-biggest one-day fall in history. Stock-market volatility spiked to a record high. Investors struggled to unload even safe bonds, like Treasurys. Companies and government officials were losing access to the lending markets on which they rely to make payroll and build schools…

The financial system has endured numerous credit crunches and market crashes, and memories of the 1987 and 2008 crises set a high bar for market dysfunction. But longtime investors and those who make a living on Wall Street say mid-March of this year was far more severe in a short period. Moreover, the stresses to the financial system were broader than many had seen.

"The 2008 financial crisis was a car crash in slow motion," said Adam Lollos, head of short-term credit at Citigroup Inc. "This was like, 'Boom!'"
4) This is great to see. After more than a decade of nonstop Chinese frauds foisted on American investors, it's high time we cracked down on this: Chinese Companies Could Be Forced to Give Up U.S. Listings Under Senate Bill. Excerpt:
Chinese companies could be forced to give up their listings on American stock exchanges under legislation approved by the Senate on Wednesday.

The bill, which was passed unanimously, addresses investor-protection concerns that have lingered for years but gained political traction as tension between the U.S. and China grew. Chinese companies such as Alibaba Group Holding Ltd. and Baidu Inc. have together raised tens of billions of dollars through listings on U.S. exchanges.

At the heart of the dispute is China's unwillingness to grant routine access to audit records sought by American regulators. Companies that sell shares publicly in the U.S. are legally required to be audited by firms that are inspected by the Public Company Accounting Oversight Board, an audit watchdog.

"All the rest of us want is for China to play by the rules," Sen. John Kennedy (R., La.), who wrote the legislation with Sen. Chris Van Hollen (D., Md.), said Wednesday on the Senate floor. "This has gone on for years and years."
Here's a WSJ "Heard on the Street" about this: Chinese Companies Fleeing New York Will Find Warm Welcome at Home. Good riddance, I say!
5) Tomorrow evening, at 8 p.m. Eastern time, I'm joining a special guest for the Recovery Investing Event online webinar.
This guest will explain his unique strategy that showed him when to get out of his positions ahead of the recent market crash – and it also tells him the exact day to buy back into his favorite stocks.
As a bonus, I'll be sharing the stock that should be No. 1 on your "buy" list right now… And you'll get the name and ticker symbol, 100% free, just for showing up.
You don't want to miss this one-night-only event. It's free to attend, but you must reserve a spot in advance – you can register right here.
6) When the Samaritan's Purse hospital across the street closed down a few weeks ago, a lot of excess food was being delivered for dinner for a few days.
Seeing that a lot of it might go to waste, a fellow volunteer, Dave Russell, had a great idea: pack it all into his big SUV and drive around Central Park and into Times Square, giving it to the homeless.
I joined him one night, and it was an emotional and eye-opening experience. We drove down Fifth Avenue, then across Central Park South, then down 7th Avenue into Times Square, peering into all of the dark recesses.
We must have approached 50 people, and we talked to most. Some folks turned us away, but most were extremely grateful. Some fit the "homeless stereotype," but others shocked me. One guy was from New Zealand and spoke beautifully (with a wonderful accent) – clean him up and put him in suit, and he'd be the businessman he once was. A couple of others were young and preppy – could be Starbucks baristas. This crisis is really hitting a broad range of people – and putting an alarming number on the street…
Below are pics of Dave and me, an empty Times Square (at 8 p.m.), and a homeless guy's shelter.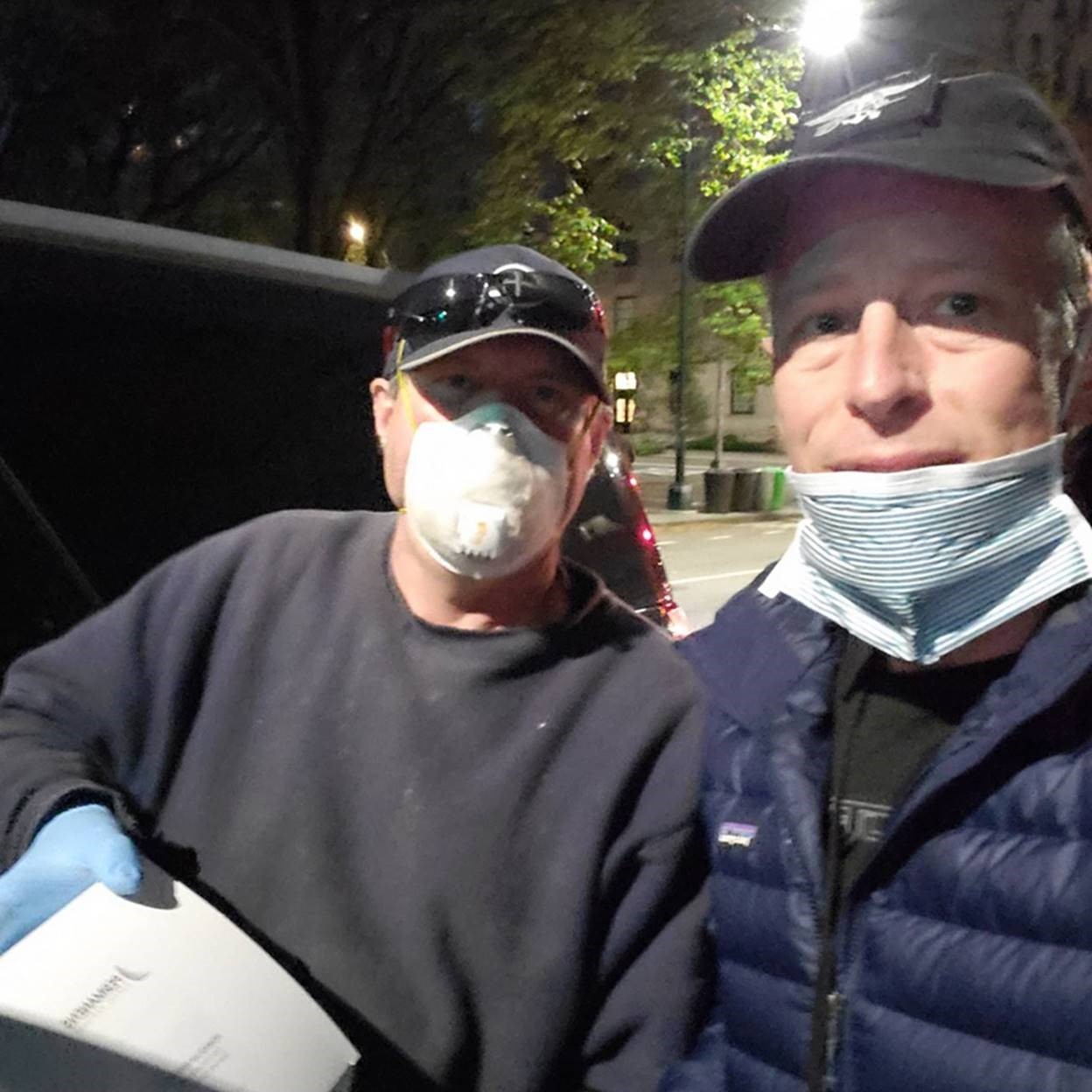 Best regards,
Whitney