1) My long-time friends, colleagues, and fellow veterans of the hedge-fund world, Enrique Abeyta and Berna Barshay, continue to knock the cover off the ball…
Yesterday, Enrique released a brilliant 30-page analysis of the highly complex deal regarding Universal Music Group that Vivendi (VIV.PA) and Bill Ackman's Pershing Square Tontine Holdings (PSTH) announced late last week.
While PSTH shares were up more than 4% yesterday, Enrique thinks the stock has room to run as investors begin to figure out – and appreciate – this deal. Enrique shared further insights during his Twitter Spaces interview last night. You can listen to it here.
On Thursday, June 10, at noon Eastern time, Berna will be in the spotlight, joining me for Empire Financial Research's first-ever Wealth Accelerator event.
As I noted in Thursday's e-mail, Berna has been crushing it in her free Empire Financial Daily e-letter, giving her nearly 200,000 readers great insights and numerous stock recommendations showing huge gains, such as:
341% on L Brands (LB)
266% on Revolve (RVLV)
249% on The Children's Place (PLCE)
251% on Peloton (PTON)
130% on Fiverr (FVRR)
80% on Nordstrom (JWN)
Now Berna is launching her first paid newsletter, Empire Market Insider, and I couldn't be more excited. I'll be joining her to discuss Empire Market Insider, how she finds big winners, and her first three investment ideas.
It's 100% free to attend – just click here to register!
2) NYU marketing professor Scott Galloway with an insightful and entertaining look at the excess compensation Hall of Shame: MeWork. Excerpt:
We should celebrate billion-dollar successes, so long as they come at the risk of failure – the whaling captain and the entrepreneur earn their wealth in part thanks to their willingness to come home empty-handed or not at all. However, there's a new class of billionaire in America. Meet the MeWork generation, which makes their fortunes despite returning to harbor with less than they embarked with.

To help identify members of the MeWork generation (they can be any age), we've devised two metrics: the Daily Benjamin Burn ("DBB") and the Earn-to-Burn Ratio ("EBR"). The first is how much money an executive lit on fire per day during their tenure. The second is the percentage of those lost Benjamins they siphoned off for themselves – think of it as a commission on destruction. In an efficient and fair (dangerous word) market, the EBR ratio would be zero. If we can measure someone's burn in daily stacks of 100-dollar bills, they've created no value and should get no compensation. Spoiler: That's not what happens…

Whether we're executives, parents, or citizens, we need to ask ourselves: Have our interests diverged from those of the people who matter most to us and society? Do our spouses, children, neighbors, employees, and countrymen win and lose in reasonable harmony? Are we part of a family, part of a nation? Or have we become the MeWork generation?
3) If you manage other people's money, you need to be paying attention to this…
A decade ago, my assistant received an e-mail from one of my investors asking for an emergency withdrawal. Fortunately, I called him, and it turned out that his account had been hacked. But hackers/fraudsters are much bolder and more sophisticated today… Anatomy of a hedge fund hack. Excerpt:
The complexity of the two scams, and the time and money the fraudsters were prepared to invest, highlight the threat now faced by smaller financial services firms such as hedge funds, brokers, and administrators, as well as by family offices and wealthy individuals. Often, hackers who obtain valuable information through an attack on one financial firm will sell the stolen data on the dark web to criminal groups experienced in using such data for frauds.

Large banks are attractive targets for hackers, but the millions of pounds they spend each year on cybersecurity makes them tough to hack. Smaller hedge funds can be more enticing targets because they handle large sums of money but may only spend tens of thousands of pounds protecting themselves, according to cybersecurity firm Remora. The array of third-party companies that hedge funds use, for instance, trustees, administrators, and auditors increases the number of potential weak links in the chain that hackers can target, and their principals are often more visible and easier to target.

Data on attacks is sketchy, in part because firms are often unwilling to admit they fell for a scam. According to a 2019 report by Boston Consulting Group, finance firms are 300 times more likely than other companies to be targeted by a cyberattack.

"Hedge funds and family offices do not spend anywhere near enough [on cybersecurity], which is why they are targets," said Alex Mendez, Remora's co-founder. "Hedge funds are more vulnerable because the principals within hedge funds are more visible and easier to target."

The U.S. Securities Exchange Commission last summer warned of increasingly sophisticated ransomware attacks on broker-dealers, investment advisers, and investment companies, as well as on their service providers. In September, it warned that hackers were using usernames, e-mail addresses, and passwords obtained on the dark web to try to log into firms' websites and gain access to accounts.
4) Here's an interesting chart showing what types of assets make up Americans' net worth, depending on which wealth tier they're in (source):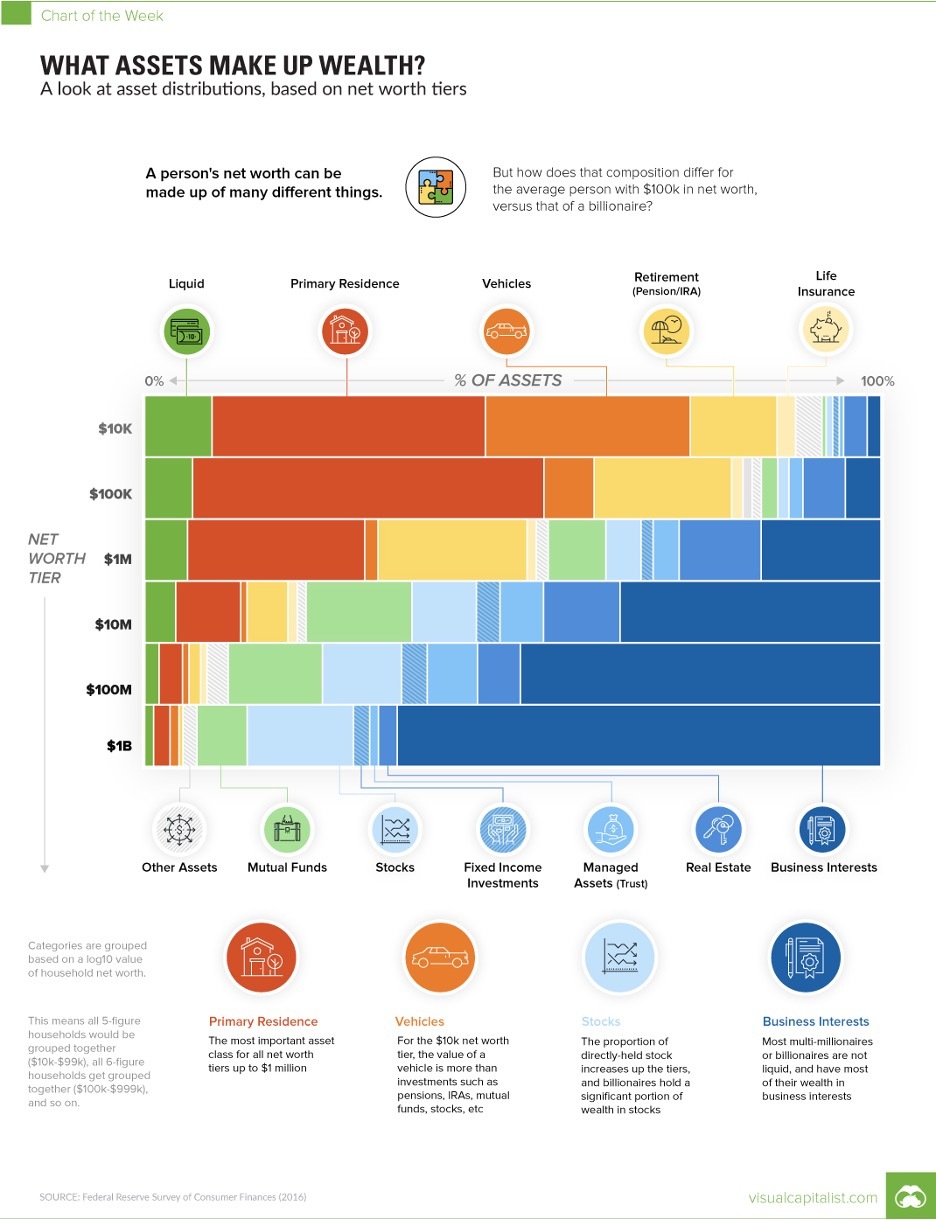 5) What an incredible story, courtesy of Heather Cox Richardson:
---
Frederick Douglass wrote his autobiography three times, but to protect the people who helped him run away from enslavement, he did not explain how he had managed to get away until the last version.
Douglass escaped from slavery in Baltimore, Maryland, in 1838. In his twenty years of life, he had had a series of masters, some kind, some harsh, and one who almost killed him. But by 1838, he was a skilled worker in the local shipyards, earning good money for his master and enjoying a measure of freedom, as well as protection. He had good friends in the area and had fallen in love with the woman who would become his wife.
It was enslavement, but within that existence, it was a pretty good position. His peers in the cotton fields of the Deep South were beaten like animals, their deaths by violence unremarkable. Douglass himself had come close to being "sold down the river" – a term that referred to the slave convoys that traveled down the Mississippi River from older, worn-out lands in the East to fresh, raw lands in Mississippi and Louisiana – and he knew that being forced to labor on a plantation in the Deep South would kill him.
His relatively safe position would have been enough for a lot of people. They would have thanked God for their blessings and stayed put. In 1838, Frederick Douglass was no different than they were: an unknown slave, hoping to get through each day. Like them, he might have accepted his conditions and disappeared into the past, leaving the status quo unchanged.
But he refused.
His scheme for escaping to freedom was ridiculously easy. In the days of slavery, free black sailors carried documents with them to prove to southern authorities that they were free, so they could move from northern and foreign ports to southern ports without being detained. These were the days before photos, so officials described the man listed on the free papers as they saw him: his color, distinguishing marks, scars. Douglass worked in shipyards, and had met a sailor whose free papers might cover Douglass… if the white official who looked at them didn't look too closely. Risking his own freedom, that sailor lent Douglass his papers.
To escape from slavery, all Douglass had to do was board a train. That's it: he just had to step on a train. If he were lucky, and the railroad conductor didn't catch him, and no one recognized him and called him out, he could be free. But if he were caught, he would be sold down river, almost certainly to his death.
To me, Douglass's decision to step aboard that train is everything. How many of us would have taken that risk, especially knowing that even in the best case, success would mean trying to build a new life, far away from everyone we had ever known? Douglass's step was such a little one, such an easy one… except that it meant the difference between life and death, the difference between a forgotten, enslaved shipyard worker and the great Frederick Douglass, who went on to become a powerful voice for American liberty.
Tomorrow, my students will graduate, and every year, students ask me if I have any advice for them as they leave college or university, [the] advice I wish I had had at their age. The answer is yes, after all these years of living and of studying history, I have one piece of advice:
When the day comes that you have to choose between what is just good enough and what is right… find the courage to step on the train.
---
Best regards,
Whitney