1) I was pleased to see that Berkshire Hathaway's investment managers, Todd Combs and Ted Weschler, recently bought Amazon (AMZN). It's not surprising in light of what Buffett said about the company's CEO, Jeff Bezos. Two years ago, he cited "stupidity" as the reason he hadn't bought the stock and said:
I was impressed with Jeff early. I never thought he could pull off what he did. And the remarkable thing about Jeff and everything else is he's done it in two industries [e-commerce and cloud computing] almost simultaneously that really don't have much connection. I never seen any person develop two really important industries at the same time and really be the operational guy in both.
At last year's annual meeting, Buffett added:
I had very, very, very high opinion of Jeff's ability when I first met him, and I underestimated him. I've watched Amazon from the start. I think what Jeff Bezos has done is something close to a miracle.
I agree 100%. Amazon is an incredible company and the stock is one of the five in my initial recommended portfolio of my newsletter, the Empire Investment Report.
While our write-up on the company from a couple of weeks ago, "The Big Winner in the Growing World of E-Commerce," is normally only available to our subscribers, we're making it available to all of our readers today – just click here to read it. (Early next week, we'll be sending our subscribers an update with our analysis of the company's first-quarter earnings report.)
2) My friend Doug Kass has been pounding the table on Amazon as well. It's his largest holding. Here's what he wrote this morning:
Berkshire Finally Embraces Amazon

"You do not want to give Jeff Bezos a seven-year head start."
– Warren Buffett, May 2017

Though the purchase was from one of the Oracle of Omaha's kids (either Todd Combs or Ted Weschler), Warren Buffett's imprimatur was bestowed on Amazon last night when it was revealed that Berkshire Hathaway has purchased shares in Amazon. (It is unclear of the size of the investment or when and at what price the stock was purchased by Berkshire).

I purchased and placed Amazon on my Best Idea List on December 26, 2018 at $1,383. It is my largest holding and, as I have previously noted, my favorite large cap stock for 2019.

The shares are trading +$40 to over $1,940 in premarket trading this morning.

Here is my investment thesis and an explanation of my aggressive price target for Amazon: Amazon at $3,000? How About $5,000?

Long AMZN large
3) The discussion of Amazon and Berkshire Hathaway reminds me of the greatest mistake, by far, in my investing career: not holding on to some of the greatest stocks of all time. Here are some of the stocks I owned over nearly two decades of running a hedge fund: Microsoft, Amgen, Amazon, and Berkshire in 1999... Apple and Ross Stores in 2000... AAON in 2001... McDonald's, Yum Brands, Jack in the Box, and Home Depot in 2003... Microsoft (again), Johnson & Johnson, American Express, and Huntsman in 2009... Anheuser-Busch InBev and Automatic Data Processing in 2010... Netflix in 2012... Apple (again) in 2012... and Boeing and Canadian Pacific Railway in 2013.
All of these stocks were multi-baggers, many were 10-baggers, and some were 50-baggers (or more).
Yet I'm embarrassed to admit that, despite correctly identifying some of the greatest stocks of the past two decades, I didn't make much money on them. In nearly every case, I made a little bit of money and then sold.
Please learn from my experience. One of the most important keys to successful investing is sitting on your butt and doing nothing!
4) My friend Chris Stavrou, who ran hedge fund Stavrou Partners for many decades before retiring a few years ago, didn't make this mistake. He discovered Warren Buffett and Berkshire Hathaway in the 1970s and is attending his 34th consecutive Berkshire meeting this weekend.
He jokes that he was stupid to not buy the stock when it was at $170 because "it traded on the pink sheets and the bid-ask spread was $140 by $170," but he did start buying it (via owning Blue Chip Stamps) when it was at $211. And he kept buying, even as the stock rose sharply.
But here's the key: he never sold! To this day, he owns Berkshire shares with an average cost of $1,876. (To be clear, those are "A" shares, which trade above $327,000 – that's a 175-bagger!)
In light of Chris' wisdom and my rashness, it's ironic that he kindly said this about me last year (here's the 40-second video clip):
The greatest teacher of investing was Benjamin Graham. He was followed by Warren Buffett and Charlie Munger. Believe me, the third person is Whitney Tilson. He's a natural teacher.
Here's a picture of us: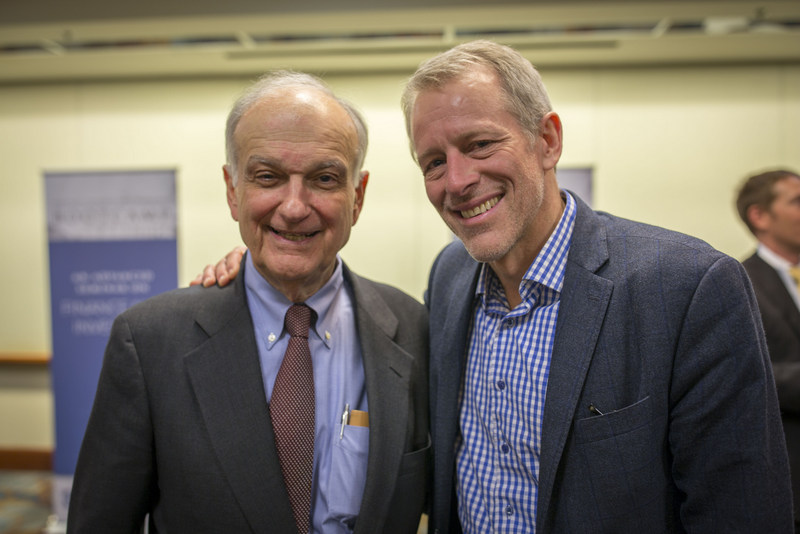 5) Speaking of smart friends of mine, here's a blast from the past: then-31-year-old Bill Ackman asked Buffett this question at the 1998 annual meeting:
Is there a price at which it's inappropriate for a company to use its capital to buy back its stock? For example, Coca-Cola is at a 40 P/E. Is that a smart place for Coke to deploy capital?
Buffett defended Coke's share repurchases (here is the video clip), but Ackman has been proven right.
At the time, the stock was at $38.13. Today, 21 years later, it's at $48.88...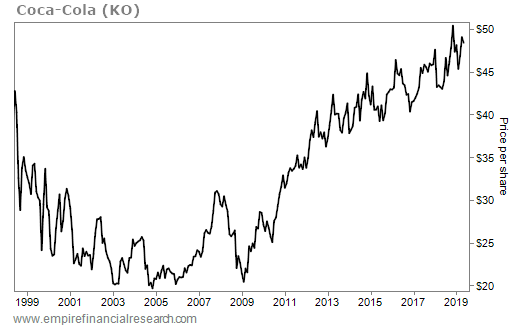 That's a pathetic growth rate of 1.2% compounded (though Coke has, of course, paid substantial dividends).
6) The Wall Street Journal is running some good articles around the meeting:
7) With hotel rooms so scarce in Omaha, Nebraska this weekend, I'm staying at the Harrah's casino, just a couple of miles away in Council Bluffs, Iowa.
I popped my head into the gaming area last night and saw what I expected to see: low- to moderate-income, mostly elderly people – including one in a wheelchair – losing money they clearly couldn't afford to lose.
This is consistent with much research, which shows that casinos' "revenue comes disproportionately from lower-income people who live in the economically struggling host communities where the casinos are located." (See: Casinos Are Engines of Inequality and Social Ills)
What a fascinating – and sad – juxtaposition with the Berkshire meeting.
And what terrible public policy it is when states allow gambling. Governments are supposed to look out for their citizens, not allow (or even encourage) slimy companies like casinos, payday lenders, and many, many others to exploit them.
I feel less strongly about states allowing lotteries because they typically don't bankrupt people and ruin lives, as slot machines often do. This 2016 article in The Atlantic, How Casinos Enable Gambling Addicts, really opened my eyes to how they are the "crack cocaine of gambling." Here are some statistics from this article, Slot Machines Are Designed to Addict:
The devices generate upwards of three-quarters of gambling revenue. Even in so-called "destination-resort casinos," they bring in twice as much as all other games put together.
Individuals who regularly play slots become addicted three to four times faster (in one year, versus three and a half years) than those who play cards or bet on sports.
Some machine gamblers become so caught up in the rhythm of play that it dampens their awareness of space, time and monetary value.
So-called "problem gamblers" are known to contribute a grossly disproportionate percentage of slot machine revenues – 30% to 60%.
Overspending and/or losing track of time or money occurs for the majority of regular players.
For more on this, I highly recommend this 2011 segment on 60 Minutes, Slot Machines: The Big Gamble, in which then-Pennsylvania governor Ed Rendell lamely argued that people were going to gamble anyway in places like Atlantic City, so the state might as well allow casinos to keep the jobs and tax revenues in-state. This ignores the fact that making casinos convenient greatly increases the number of people who frequent them.
Women are particularly vulnerable, as this article notes: Fighting Compulsive Gambling Among Women. Excerpt:
Casinos are trained to make you feel welcome, while you lose your life... Gambling addiction among older women near or in retirement appears to be increasing in scope and severity, with a devastating impact on personal finances...

Many experts say that men are often "action" gamblers, who favor blackjack and poker, while women tend to be "escape" gamblers, drawn to games based on luck, like slot machines and lottery tickets. Women often begin gambling later in life than men, sometimes after a major life event, like the death of a spouse or when they become empty nesters.

Women are less likely to develop gambling problems than men, Mr. [Keith] Whyte said, but "telescoping, the rapid development of problems, is especially pronounced in senior women."
I saw this up close more than two decades ago at a nonprofit organization I worked for. We had an office in Kansas City. The secretary there, we later learned, was addicted to the slot machines at the nearby riverboat casino and stole $60,000 from us over the course of a year by forging bank statements.
Best regards,
Whitney