1) The world-famous Berkshire Hathaway (BRK-B) annual meeting will once again be held virtually (hopefully for the last time!) tomorrow from 1:30 p.m. to 5:30 p.m. Eastern time, when the greatest investing duo of all time, CEO Warren Buffett and Vice Chairman Charlie Munger, will answer dozens of questions on a wide range of topics.
Having been to 21 consecutive Berkshire meetings prior to the pandemic, I can say with certainty: You won't want to miss it! It will be livestreamed by Yahoo Finance right here.
I will be a guest commentator during Yahoo's pre- and post-meeting shows from 12:30 p.m. to 1:30 p.m. and after 5 p.m., respectively.
2) Amazon (AMZN) reported blowout earnings after the close yesterday, following in the footsteps of the other tech giants this week: Apple (AAPL), Microsoft (MSFT), Alphabet (GOOGL), and Facebook (FB).
The growth and profitability of these companies is truly staggering, as this article in today's New York Times highlights: 'A Perfect Positive Storm': Bonkers Dollars for Big Tech. Excerpt:
The dictionary doesn't have enough superlatives to describe what's happening to the five biggest technology companies. It's all a bit awkward, really. It's rocket fuel for critics, including some regulators and lawmakers in Europe and the United States, who say the tech giants crowd out newcomers and leave everyone worse off.

Big Tech companies say they face stiff competition that leads to better products and lower prices, but their bank statements might suggest otherwise. Facebook's profit margins are higher now than they were before the pandemic.
Shares of Amazon (AMZN) were up 2% this morning – and are now up 90% since we recommended them when we launched Empire Investment Report two years ago (versus only 52% for the S&P 500 Index).
Revenue jumped 44% year over year to $108.5 billion, beating Wall Street estimates by 4%. The results are even more impressive when you consider that revenue in last year's first quarter grew 29% as the pandemic hit… So, for Amazon's revenue growth rate to accelerate this quarter is truly extraordinary!
Amazon's operating income soared 123% to $8.9 billion – far surpassing Facebook and Alphabet's operating income growth of 93% and 106%, respectively.
Though Amazon's run-rate annual revenue is approaching a half-trillion dollars, I still think the company has massive growth ahead of it… As more than 80% of commerce remains offline… And the cloud industry is another multitrillion-dollar opportunity. In short, it's still "day one" for Jeff Bezos' startup.
Despite the share price nearly doubling since my recommendation two years ago, I remain as bullish as ever.
3) The U.S. Commerce Department's Bureau of Economic Analysis reported yesterday that "real gross domestic product ('GDP') increased at an annual rate of 6.4% in the first quarter."
This is further evidence of a strong economic recovery, as this chart in the NYT shows:
This related NYT chart shows that GDP fell much more sharply – but is now rebounding more strongly – than in the previous four recessions: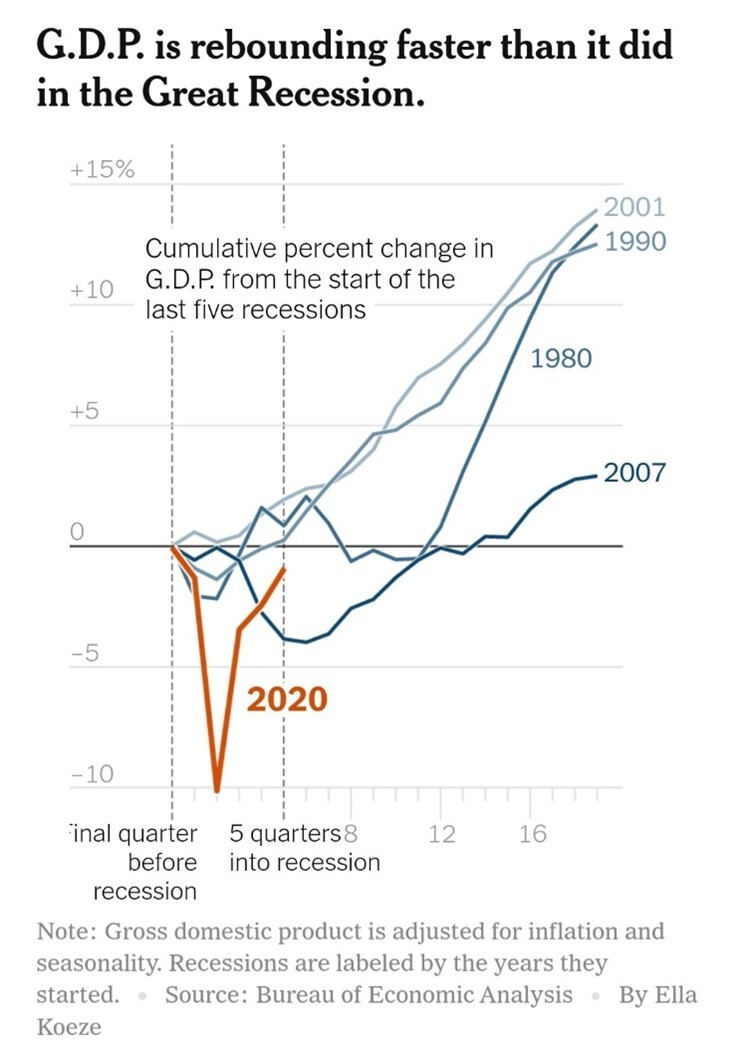 When we look beneath the surface, however, we can see a very unusual recovery in many ways. For one, as this NYT chart shows (source), it's being driven by spending on goods rather than services: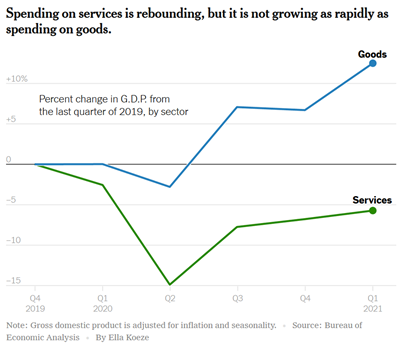 For more on this, here's an insightful NYT article: The Economy Is (Almost) Back. It Will Look Different Than It Used To. Excerpt:
There have been a lot of strange economic numbers over the last 14 months, as the world has been whipsawed by the pandemic. But one particular line of the first-quarter GDP numbers released Thursday stands out even so.

Americans' spending on durable goods – cars and furniture and other goods meant to last for a long time – rose at a stunning 41.4% annual rate in the first three months of the year. Enjoy your Pelotons and Big Green Eggs, everybody.

That speaks to a central reality of the economy in 2021. It is profoundly unequal across sectors, unbalanced in ways that have enormous long-term implications for businesses and workers.

The economy is recovering rapidly, and is on track to soon reach the levels of overall GDP. that would have been expected before anyone had heard of Covid-19. But that masks some extreme shifts in composition of what the United States is producing. That matters both for the businesses on the losing end of those shifts and their workers, who may need to find their way into the growing sectors.

In such a tumultuous time, it helps to look at the GDP. numbers not in terms of how they changed compared with last quarter or last year, but with the prepandemic economy. How does the actual number in the first quarter compare with what that number would have been if it had grown at a steady 2% annual rate since the end of 2019, the last quarter unaffected by the pandemic.
4) I found almost all of these totally fascinating and enlightening: 22 maps and charts that will surprise you. Here's one that relates to the discussion above:
15) Half of U.S. GDP comes from these 23 orange blotches
Best regards,
Whitney