1) I own a basket of seven major bank stocks in my personal account because I think the sell-off in the sector is way overdone.
In fact, by one measure, financials are the cheapest they've ever been relative to the market. The chart below measures the ratio of the price of the Financial Select Sector SPDR Fund (XLF) divided by the SPDR S&P 500 Fund (SPY). As you can see, the ratio is at its lowest level ever, 0.074 ($21.59 divided by $291.97, as of yesterday's closing prices) – even lower than it was at the depths of the global financial crisis…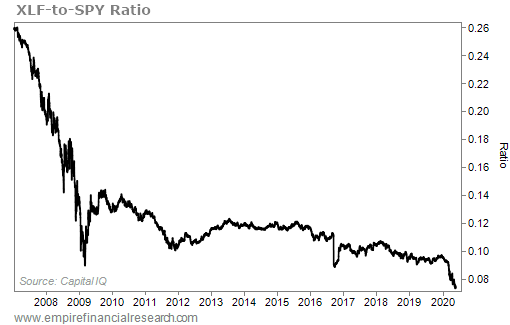 And here's a chart showing XLF and SPY over the past three months. As you can see, financial stocks fell more than the market on the way down, and haven't rallied nearly as much…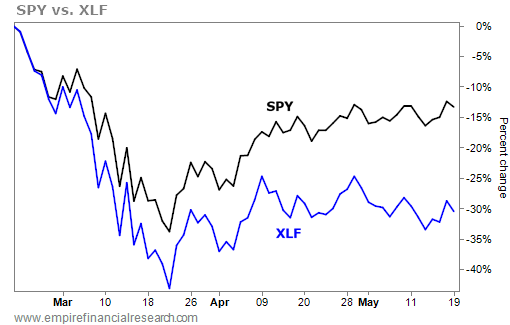 2) My friend Doug Kass of Seabreeze Partners shares my bullishness on bank stocks. On April 20, he wrote:
The robust level of bank industry "war chests" are being underappreciated by investors 
The Banking Industry, as measured by earnings power (before LLP and one-time charges), reserve (and balance sheet) strength and loan diversification are well positioned to absorb loan losses in this cycle and to emerge strongly in the years ahead
The recent and abrupt global economic downturn should prove short-lived 
Banking industry share prices and valuations (absolute, relative, and measured against book value) are undeniably low and discounting an extended economic crisis
Contrarian investing is simple but not easy 
Opportunistic investors might recognize that the conditions currently facing the banking industry might provide the exact time in history to buy bank stocks – just as it was buying savings and loan stocks in the early 1980s
Recently, he added:
In 2008, the banking industry was essentially bankrupt and somehow they are now priced lower against earnings power, tangible book value, or as percent of deposits relative to the condition that existed 12 years ago.

Meanwhile, numerous other equities in the S&P are priced in such a discordant fashion to the high side – that is how the relative valuation of the financials has fallen to the pits.

The markets simply cannot decouple from the financial sector for any sustained period of time. Either financials are way too cheap, or everything else is too expensive, or both!
3) Two of my best sources in China report that the country is almost entirely back to normal.
The first told me about restaurants and malls being full, while the other wrote to me a couple of weeks ago:
At 7:30 p.m. yesterday, I took a different route home from work, which took me through six blocks of other parts of the industrial park in which our company is located. I had not gone that route in perhaps a month.

It was crazy. There were so many cars that they were having trouble finding street parking, and the e-bikes were thick as mosquitoes. I have never seen our industrial park this busy. If there is a slowdown – you can't tell by looking here.

As for consumers, I can give a few data points here.

1. At our company we receive packages for our employees from their online shopping. (Home delivery is not very secure here, so they like to just send things to the company.) The flow of packages through our lobby has been typical to perhaps a bit more than typical. However, we are very busy right now and about half the company is out of town. So packages/person are probably above normal.

I should put this in the context that Changzhou where we live is a "rich" city. I have been told that the south part of the city, known as Wujin, is the richest area in all of China. So our location is probably not representative.

2. I took my wife to our local Starbucks last week at about [7 a.m.] on a weekday. It was empty. It can seat probably 150 people and we were the only ones there for the entire time it took to finish our food. Kinda creepy. I suspect that their business has shifted more towards delivery.

3. My wife has been out of town on business and commented in her travels she observed that retail is hurting.

I have been very busy with work and I have not been out shopping in a month, so I have no idea what is going on at the malls.
4) This New York Times article echoes what my friend said: China's Factories Are Back. Its Consumers Aren't. Excerpt:
An unemployed young college graduate has stopped buying new sneakers. A clothing store clerk gave up his gym membership. An events planner, his pay cut by four-fifths, now moonlights as a takeout delivery driver – and can no longer afford to eat out.

China, the world's second-largest economy and a key driver of the global growth engine, has a big problem with its spenders. Until it can be solved, the country's growth – and, by extension, the world's – will be difficult to rekindle.

As the coronavirus outbreak ebbs in China, the country's companies and officials have made big strides in restarting its economy. Its factories, brought to a standstill when the coronavirus outbreak swept through the country in January, are humming again, and even the air pollution is coming back.

Empowering consumers could be the tougher task. Many lost their jobs or had their pay slashed. Still others were shaken by weeks of idleness and home confinement, a time when many had to depend on their savings to eat. For a generation of young Chinese people known for their American-style shopping sprees, saving and thrift hold a sudden new appeal.
5) On April 2, shares of China's Luckin Coffee (LK) collapsed by 76% to $6.40 after the company admitted that it's investigating "fabricated sales" that could total more than $300 million, and said its prior guidance and sales figures from the second quarter of 2019 to the fourth quarter of 2019 are no longer reliable.
I trust none of my readers got caught in this debacle – and maybe some even profited on the short side – because in my February 11 e-mail, with the stock at $38.15, I warned my readers about it.
Luckin stock has been suspended since early April, but just started trading again this morning – and is down big again to less than $3 per share…
6) My friend Carson Block of Muddy Waters Research was spot on in his warnings about Luckin Coffee, so investors would be wise to carefully consider his latest report about another Chinese company he believes is a fraud, online education provider GSX Techedu (GSX). Here's his summary:
We are short GSX because we conclude that it is a near-total fraud. 
We conclude that at least ~70% of its users are fake, and we think it's quite likely that at least ~80% of its users are fake.
Our conclusions are based on GSX's own user and attendance data files (i.e., this is not from "scraping" data). We downloaded GSX's data from more than 200 paid K-12 classes covering 54,065 unique users. 
In addition, a former GSX manager corroborated our analysis, and explained various details of GSX's extensive bot operation.
Based on the near total faking of users, we assume that the fraudulent portion of GSX's revenue is at least equal to the percentage of fraudulent users, although it would not surprise us if the ASP on the real portion of GSX's business is fraudulently inflated too. 
We conclude that GSX is a massive loss-making business. Without users, there is no revenue. We also conclude that GSX greatly understates expenses. Regardless of how one cuts it though, GSX is an almost completely empty box.
Amazingly, Chairman Chen has found a way to make GSX shares even more dangerous for long holders – he has pledged at least $318 million of stock. Long holders of GSX face the risk that the margin lenders will be forced to aggressively sell the stock, crashing the price.
Best regards, 
Whitney