► What will the college football season look like?
The sport is a massive moneymaker… and things are decidedly in limbo. In mid-August, two of the Power 5 football conferences – the Big Ten and Pac-12 – canceled their fall seasons and indicated they might consider a spring 2021 season, pending the state of the pandemic.
This initially put pressure on the other three members of the Power 5 – the SEC, ACC, and the Big 12 – to reconsider their plan to hit the field with a delayed start to the season. Then last weekend, rumors surfaced that the Big Ten may be reconsidering its decision not to play this fall.
But other smaller leagues such as the Mid-American Conference followed the lead of the Big Ten and Pac-12 and canceled the fall season. Most left the door open for a possible spring football season.
The decentralized nature of the league's decision-making has led to an extreme variation in response. The NCAA has some power over football, but big decisions ultimately rest with the individual conferences – this is why different programs are coming to different conclusions. Media deals, risk tolerance, local outbreak levels, alumni groups, and – while none would admit it – money and funding flexibility are all influencing the decision of whether to play or cancel.
Most leagues that are playing football this fall are only playing within their conference, and a few conferences have tentatively postponed their seasons to the spring.
Confusion and discord rules the day, and it's sometimes unclear who is even making the decisions. In mid-August, Penn State Vice President for Intercollegiate Athletics Sandy Barbour said she wasn't sure if there was even a vote on season cancelation at the Big Ten…
It is unclear to me whether or not there was a vote. No one's ever told me there was. I just don't know whether there actually was a vote by the chancellors and presidents.
While the Pac-12 presented a united front after a vote that was reportedly unanimous, some Big Ten athletic directors have second-guessed the cancelation of the season – including those at Ohio State and the University of Nebraska.
Then late yesterday, it was finally revealed that the Big Ten had indeed voted, and the result was 11 to 3 (with Ohio State, Nebraska, and the University of Iowa dissenting). The result was finally made public due to a lawsuit filed by eight players from Nebraska.

Even the student athletes can't agree on what the right thing to do is…
For college athletes caught in the middle of cancelations and wavering, the situation is disheartening. Losing the season could prove borderline tragic for those with pro league aspirations who need another season to prove their worth ahead of the professional draft.
While fall student athletes will be granted an extra year of amateur eligibility, even if they play matches this fall, it's still a source of frustration for players who want to fully financially capitalize on the limited years ahead as a professional athlete.
Big Ten football players lobbying for a start to the season have received more than 300,000 signatures for their #WeWantToPlay petition.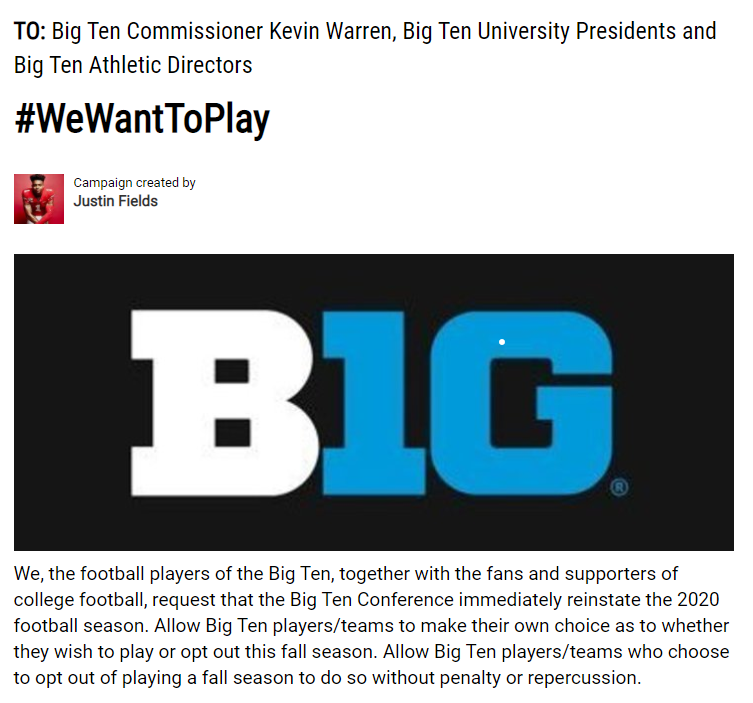 Source: moveon.org/wewanttoplay
But not all players are eager to get back on the field… and players in the #WeAreUnited movement are demanding that safety provisions – as well as certain racial and economic justice initiatives – are implemented before they step back on the field.
And in some instances, the choice to play or practice has been taken away from them by the virus itself. Iowa sports teams saw their workouts paused yesterday in the wake of 93 positive COVID-19 tests among student athletes, representing a positivity rate of more than 11%.

Many people have called this the biggest crisis in the history of college sports…
What's at stake here isn't just public health, but big money… lots of money.
College football generates more than $4 billion in revenue and almost $2 billion in profits annually at the Power 5. Without football, universities are faced with the prospect of eliminating other varsity sports programs, many of which are heavily subsidized by football. As Fortune explained last month…
At many of the biggest football schools in America, college football accounts for an overwhelming chunk of their overall athletic department revenues. No university generated more football-related revenue in 2018 than the University of Texas at Austin, which brought in $156 million that year – more than 72% of its athletic department's overall turnover…

That dynamic extends to other major football schools; of the 20 highest-grossing football programs in 2018, only one (Texas A&M University) drew less than 50% of its overall athletic department revenues from football.
The cancelation of the football season – along with last spring's NCAA "March Madness" basketball tournament – has caused smaller sports such as fencing, field hockey, sailing, squash, and wrestling to be permanently discontinued at some schools. Pac-12 member (and $28 billion endowment holder) Stanford University has permanently cut 11 sports, citing a $70 million three-year budget deficit.
Of course, awkward questions about the role of sports on campus are likely to arise when in-person classes are canceled but football practice is still happening (as is the case at the University of North Carolina at Chapel Hill and several other schools).

Aside from the universities and sports programs themselves, an entire economic ecosystem that caters to game days stands to lose out…
According to a New York Times article…
Wisconsin, for instance, has said it could miss out on up to $100 million without a football season, and top leaders at the university said Tuesday that the decision not to play this fall would hurt "not only our athletic department, but the many businesses and members of our community who rely on Badger events to support their livelihoods."
Other financial losers from the cancelations include broadcasters, as college football brought in more than $1.5 billion in advertising last year, according to the research firm Kantar. Both Disney (DIS) and Fox (FOXA) called out advertising weakness at their ESPN and Fox Sports networks during their recent earnings reports.
The nascent and fast-growing online sports-betting industry also has a lot at stake here, as people can only bet on Russian table tennis, Hong Kong horse races, and Caribbean cricket for so long. The day that the Big Ten and Pac-12 announced the suspension of their seasons, pure-play online gaming operator DraftKings (DKNG) dropped 7% (it has since recovered).

Uncompensated college athletes often have a lot on the line financially as well…
For college superstars already positioned for the NFL – and multimillion-dollar contracts – the risk of contracting COVID-19 and having long-term physical impacts – even if statistically small – renders playing for free for their school a bad financial bet. Last month, ESPN reported that one particular condition has caused alarm among both athletic directors and student athletes…
Myocarditis, inflammation of the heart muscle, has been found in at least five Big Ten Conference athletes and among several other athletes in other conferences, according to two sources with knowledge of athletes' medical care.

The condition is usually caused by a viral infection, including those that cause the common cold, H1N1 influenza or mononucleosis. Left undiagnosed and untreated, it can cause heart damage and sudden cardiac arrest, which can be fatal. It is a rare condition, but the COVID-19 virus has been linked with myocarditis with a higher frequency than other viruses…
A Facebook post from Debbie Rucker – the mother of Indiana University offensive lineman Brady Feeney, who was hospitalized for COVID-19 – added to the apprehension in early August…
Now we are dealing with possible heart issues! … Bottom line, even if your son's schools do everything right to protect them, they CAN'T PROTECT THEM!! I pray my son recovers from this horrible virus and can lead a healthy normal life!
Thankfully, freshman athlete Feeney is out of the hospital and back on campus… but not yet cleared to practice as he needs further heart testing. As far as what he thinks about the fall season, Sports Illustrated quotes him as saying…
COVID-19 is serious. I never thought that I would have serious health complications from this virus, but look at what happened. We need to listen to our medical experts.

All of this raises tricky questions of whether student athletes are students or athletes first…
If their revenue-generating status means they are effectively among a college's essential workers, the argument stands that they be compensated and treated as such (which would surely bite into the profitability of college football programs)…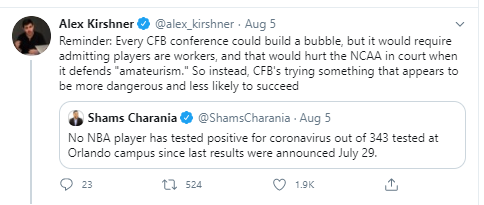 Source: twitter.com/alex_kirshner
With so many cross-currents, yet another legacy of the pandemic will likely be a re-examination of the role of sports on campus – with a specific emphasis on football – and a re-opening of long-standing debates around the compensation and possible unionization of college football players.
In the shorter term, the financial hit from canceled seasons will weigh on universities already seeing revenue under pressure from lower enrollments and reductions in income streams from room and board.

In the mailbag, readers react to university closures, college collab houses, and retailer bankruptcies…
Do you think college athletes should be compensated for the revenues they generate? Will you let your child play contact sports this fall? Share your thoughts by sending an e-mail to [email protected].

"Higher Ed – it's dead, but it just doesn't know it yet. Just like a chicken that will live with its head cut off its body, so it is for a large preponderance of Higher Education 'Institutions'. (intentionally in quotes).
"My oldest is a Junior at a small Liberal Arts school in Iowa… had she known what the deal with going back was truly going to be, she would have stayed at home and done the (fully paid for by Starbucks) ASU On-Line.
"My youngest is a sophomore in HS. I am truly curious what the college landscape will look like in two years when she is deciding what to do. I have been saying since she was born that the odds of her going to a brick-and-mortar school were declining. They may be approaching ZERO.
"The Google Career Certificates is just the tip of the iceberg." – Joe M.

"Hi Berna, My daughter goes to NC State, which made it two weeks before going all virtual and three weeks before closing down on-campus housing (similar to UNC-Chapel Hill, they are allowing those with certain exemptions to stay).
"I'm told there was a run on off-campus housing. She wanted to move to an off-campus apartment with three others, but we said no. The other three signed a lease, and she knows many others who have moved to off-campus student housing. These apartments are full of students from her college, so in a way are collab housing.
"I'm sure that is happening across the country." – Frank K.

"Eight MIT students rented our beach house in South Eastern Massachusetts, to collab for online school. It was a god send for us as it covered the rental shortfall from early in the season. Next spring, eight Dartmouth College students are going to rent it.
"We did have to upgrade to Gigabit internet for them, as well as add some heat to an unheated cottage room.
"Let's hope the beach does not distract them from studying and let's hope no classic MIT pranks." – Dale S.

"I am saddened that Lord & Taylor is closing – one of the wonders of retail – class/quality/customer service. A real loss." – Claudia S.

"I dearly miss Connecticut's G. Fox & Co. They were the fancy dress store of my childhood, and they were the first navy blue suit store for my first professional job after college. I always enjoyed their style — not too trendy and always good looking. And most of all, I loved the feel of their stores! There was often a person nearby who could offer a suggestion or a helping hand.
"I am very sad to see them go. And I believe many people will begin to understand the impact of all their online purchases when Main Street USA rolls up and closes because they cannot compete against those who do not pay for bricks and mortar locations. A sad day." – Lindsey J.
Regards,
Berna Barshay
September 1, 2020