1) Auto parts retailer AutoZone (AZO) reported blowout earnings and its stock is up big today, near its all-time high.
This reminds me of one of my greatest calls ever, when I recommended AZO to my readers on January 30, 2001, in my column, "Three Boring Stocks to Consider." Since then, AZO shares have risen from $26.80 to around $1,250 – an astounding 47-bagger, as you can see in the chart below...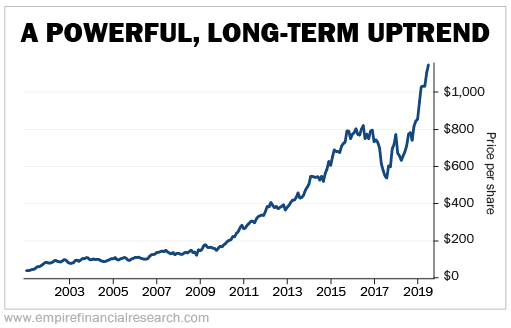 Interestingly enough, however, earnings only rose sixfold over this period – a respectable but hardly earth-shattering performance.
So how come AutoZone's stock went up so much more than the company's profits?
One obvious possible explanation is multiple expansion. If the stock was trading at, say, five times earnings in 2001 and it now trades at 35 times earnings, that would explain it. But that's not the case. AutoZone was trading at 13 times earnings back then, and now trades at 18 times earnings... so a higher multiple is only a modest contributing factor.
So what explains it?
Share repurchases.
I hope you're sitting down, because AutoZone has bought back an astounding 84% of its outstanding shares since 1998, as you can see in this chart...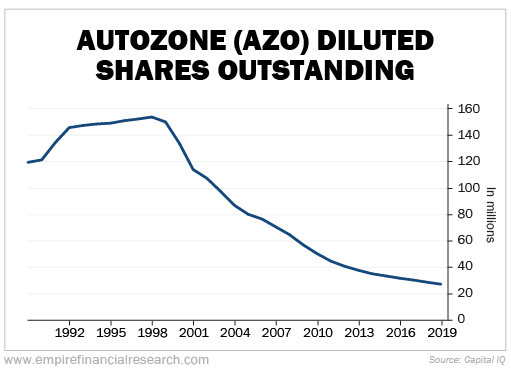 As a result, while earnings have grown sixfold, earnings per share grew by 34 times since 2001.
Now you can see that of the three possible drivers – earnings growth, multiple expansion, and share repurchases – the latter is the primary reason the stock has been one of the best performers of the past two decades.
But AutoZone didn't always buy back its stock. In fact, as you can see in the chart above, throughout the 1990s the company's share count steadily increased. This is typical for most businesses that grant employees options and, in some cases, use stock to make acquisitions.
Then AutoZone reversed course in 2000 and started repurchasing its stock like crazy. Every year since then, the company has bought back at least 5% of its outstanding shares.
Better yet, it has been more aggressive with repurchases during times of market turmoil when its stock was depressed. For example, AutoZone opportunistically bought back 15% of its shares following the dot-com bubble in 2001, and 12% each year from 2009 to 2011 following the financial crisis.
Why did the company turn into such an astonishing share repurchaser?
Famed activist investor Eddie Lampert – who used to run ESL Investments, which was once one of the largest hedge funds in the world – deserves the credit. In 1999, he bought a meaningful stake in AutoZone and successfully pushed the company to begin repurchasing shares. In this case, it was a brilliant move that has rewarded shareholders handsomely. However, this isn't always the case...
2) To see why buybacks aren't always a good thing, let's take a look at another one of Lampert's big investments...
In 2003, he invested in Kmart and helped the big-box retailer emerge from bankruptcy. Two years later, Lampert merged it with department-store chain Sears and then began savagely cutting costs to generate maximum short-term cash flow, which he used to buy back stock.
The move was a total disaster...
Starved of the capital necessary to maintain the business and compete with the likes of retail juggernauts Walmart (WMT) and Amazon (AMZN), Sears shrank every year, lost more and more money, and, despite Lampert's frantic attempts at every form of financial engineering, eventually filed for bankruptcy. The share buybacks incinerated billions of dollars and helped put the last nail in the company's coffin.
The lesson here is that share repurchases only make sense when two things occur:
A company has true excess cash, after appropriate reinvestment in its business, and
Its share price is undervalued
Of course, both of these criteria are subjective. Lampert obviously thought that Sears didn't need any more reinvestment. He figured that the company's cash was better spent buying back its stock, which he believed was undervalued... Lampert followed the same playbook he had used so successfully since 1999 with AutoZone.
He was wrong on both counts. He failed to realize that AutoZone is an excellent business, while Sears was destined for the ash heap of history.
In summary, I'm always on the lookout for companies like AutoZone, which buy back large amounts of undervalued stock, year in and year out, for an extended period of time. Done correctly and with the right company, it can be extremely powerful – and immensely profitable for investors.
3) The seventh and final reason why making a lot of money can actually increase the odds that your marriage goes bad: Becoming rich can change people for the worse – they can become arrogant, self-absorbed, and look down on others.
Just open the newspaper and you can see examples everywhere, like Tesla (TSLA) CEO Elon Musk, and Uber (UBER) co-founder Travis Kalanick. But were they always narcissistic jerks, or did making a ton of money cause them to become so? My observation of dozens of extremely wealthy people is that it's 25% causation and 75% inflammation.
Regarding the former, if you make a lot of money, people start to suck up to you... and it's easy to come to believe that you're smarter, taller, funnier, better looking, and more charming than you really are, which can lead to all sorts of bad behavior.
That said, I think making a lot of money doesn't so much change people as it inflames their preexisting tendencies. If they were jerks when they had no money, they're very likely to still be jerks after they make a lot of money – just a lot more so...
But, conversely, some people improve. Being financially secure reduces their stress level and they have the ability to help others, which can bring them joy.
I'm quite certain that I'm a much better human being now than I was 30 years ago in my 20s, when I had almost no savings and plenty of student loans. I'm biased, of course, but I think I'm wiser, more self-aware, kinder, more philanthropic, a better listener, and more humble (though there's still a lot of room for improvement in every one of these areas!).
How much of this is due to becoming financially secure? Maybe a little... though I think most of it is having a learning curve that slopes upward (however slightly), the positive effect my wife has had on me, the influence of my YPO forum (you know who you are – thank you!), and the knowledge I've absorbed from Berkshire Hathaway's Warren Buffett and Charlie Munger.
Best regards,
Whitney