Editor's note: This week, Empire Financial Daily editor Berna Barshay is attending the annual ICR Conference in search of potential investment ideas for our paid newsletters. For the next three days, we'll be featuring guest essays. Today's comes from Empire Financial Research analyst Alex Griese…
---

When Apple's (AAPL) AirPods Max over-the-ear headphones dropped last month, much ado was made about the price…
At a pricey $549, plenty of snarky ink was spilled on the fact the AirPods Max were introduced at a 40%-plus premium to comparable headphones… and lacked obvious innovation versus the premium, over-ear, noise-canceling headphones already on the market.
The skepticism that met the AirPods Max is oddly reminiscent of the 2016 launch of the original AirPods. At the time of their announcement, critics similarly questioned both the premium pricing of the AirPods ($159), as well as the lack of innovation (AirPods were written off as just another pair of wireless Bluetooth headphones).
Despite the initial skepticism, AirPods have quietly grown into a massive business for Apple. With estimated profit margins of 50% and projections for sales of 90 million buds in 2021, if AirPods were a standalone business, it would earn $10 billion in revenue and $5 billion in operating profit. At a multiple of 25 times, it would probably be worth north of $100 billion.
This would make an independent AirPods business one of the 100 largest publicly traded U.S. companies… bigger than music streaming company Spotify (SPOT), workplace productivity software Slack (WORK), and social media platform Twitter (TWTR).
The success of AirPods (and in the future, possibly the AirPods Max) is twofold: AirPods are exceptionally easy to use, and the products leverage Apple's brand – a huge selling point for customers, as my colleague Berna pointed out last month.
Unlike other Apple products, AirPods weren't a smash hit out of the gates.
Most people aren't "audiophiles" with exceedingly high standards about high-fidelity sound, hoping to replicate the experience of a live performance as closely as possible. For the average listener, the supposed audio superiority wasn't a necessity… and it was scary to pony up $159 for a pair of headphones that were small and easy to lose. The fear of potentially having to replace a lost bud ($70 for a replacement!) kept even the most avid Apple customers sidelined initially.

But like many Apple products, AirPods solved several problems that customers didn't even know they had…
While other wireless Bluetooth headphones existed at the time – solving the issue of tangled wired headphones – AirPods "just worked" so much easier.
As AirPods owners know, using AirPods is as simple as taking them out of the case and putting them in your ears – they don't have to be turned on like other headphones.
This relative ease of use is great, but what really separated AirPods from the pack was the charging case.
One of the biggest problems with Bluetooth headphones at the time was the brevity of battery life. Since AirPods don't have a cord, merely shoving the two buds into a pocket wasn't an option, as users risked having one or both buds fall out.
This is where Apple's engineering genius shined through. The company combined the need for the buds to have a case with the realization that customers had long been frustrated with the short battery lives of many Bluetooth products… Just six hours of battery life for a typical pair of Bluetooth headphones meant that heavy users had to charge their headphones every night.
By turning the case into a charger, it both prevented customers from losing their buds and created a pair of headphones that didn't have to be plugged into the wall for a week… or more.
The other headache that AirPods solved for users was the complexity of monitoring battery life. Many Bluetooth headphones at the time didn't allow users to check on how much battery was left – or if they did, they only displayed the remaining charge in increments of 10%.
Since AirPods are natively integrated into Apple's operating system, iOS, AirPods users are automatically updated on the exact percent of charge left each time the headphones are put on (e.g., the left headphone has 88% battery, the right 84%, and the case 15%).
This information helps users figure out when they should charge their headphones to prevent them from running out of juice unexpectedly. Running out of battery while completing a one-hour long daily commute is of course hugely frustrating – particularly if there's a crying baby involved. And even if you can still hear the baby, listening to a favorite song, podcast, or audiobook turns a potentially frustrating end-of-day commute into an at least somewhat enjoyable one.
While the allure of AirPods seemed unclear from afar, once consumers saw a friend (or two) with a pair, the easy-to-use product began to entice them into purchasing yet another Apple product that may not have even needed – but just had to have.

Wireless Bluetooth buds were novel in 2016, but this is no longer the case today…
A seemingly endless list of knockoff AirPods available on Amazon (AMZN), eBay (EBAY), and elsewhere would make it seem as though most customers would choose to reach for the cheaper knock-offs that meet their likely limited audio needs.  
But Apple's brand convinces consumers that the $130 premium is worth it. AirPods have continued to see explosive growth, with analysts calling for a remarkable $10 billion in AirPods sales in 2021 – just five years after the product's launch. Apple has managed to convince consumers – who used to buy headphones for $20 – that they are now audiophiles who need to shell out $159.
The "have to have but don't actually need" nature of Apple's products is indicative of the power of Apple as tech's one true luxury brand.
The current manifestation of Apple as a brand isn't due to chance… It's something that the company – and late founder Steve Jobs – have carefully crafted since the early days and is brilliantly shown in the excellent 2015 film, Steve Jobs.
This cultivation of its brand is on display when Jobs is backstage at the launch of the 1984 Macintosh:
Look at their faces when they see what it is. They won't know what they're looking at or why they like it, but they'll know they want it.
No longer is Apple just a brand… In today's tech-first world, it's the brand. The National Bureau of Economic Research found that no individual brand suggests belonging to the "high-income" group more so than owning Apple's iPhone.
The power of Apple's brand meant that, despite the initial criticism, young tech-savvy men ("tech bros" in pop culture) were still willing to give Apple the benefit of the doubt – leading to many parting with $159 plus tax for a pair of headphones that they'd probably lose.
With tech bros as evangelizers, AirPods were able to more than find a niche. Once a tech bro or another early adopter gushed to a friend about how the AirPods "just worked," they became another Apple product that the friend, and Apple consumer, just must have. With so many iPhone users turned into AirPods converts, Apple was able to sell 60 million AirPods in 2019 – just three years after its launch.
The product's runway for growth seems large, as only an estimated 10% of iPhone owners are also already AirPods users. And given that millions have replaced an easy-to-lose bud (or the whole case), AirPods may end up being the Apple product that consumers purchase most often.
My view about consumers being quick to replace lost AirPods may be skewed, as I must sheepishly admit that I'm on to my fourth pair of Apple's signature in-ear headphones – which I have aptly named "don't lose these 2." (My girlfriend laughs every time she sees my headphones' name.)
With AirPods delighting (or getting lost by) ever more customers, Apple is now projected to grow its AirPods sales by 50% in 2020.

With the AirPods success of converting non-audiophiles into AirPods users, Apple is hoping that it can help its customers make an even bigger leap from casual listener to audio snob…
Removing the free headphones from the iPhone 12, releasing the pricey AirPods Max, and launching a rumored cheaper version of the AirPods in 2021 are moves that collectively point to Apple trying to create a pricing ladder for its audio products – just like it has with its iPhone.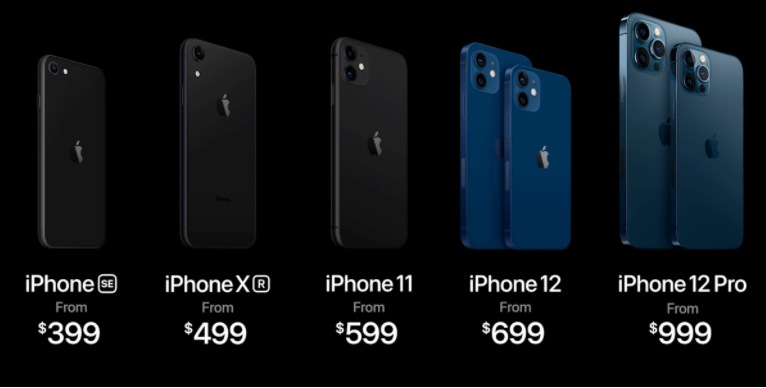 Source: ZDNet
The pricing ladder strategy enables the company to sell its iPhone (and now audio products) to customers of nearly all means, expanding its addressable market… and total revenue potential.
Despite the critique that Apple products are too pricey, millions continue to buy the company's products year after year. Apple also looks set for major success with its just-released over-ear audio product. Demand for the AirPods Max is white-hot… The expensive earphones appear to be sold out for now, since the Apple Store isn't showing delivery of headphones ordered today until late February.
It may be déjà vu with the launch of the AirPods Max – the snarky criticisms sound oddly familiar – to those concerning AirPods initially, as well as a host of other Apple products when they launched. But I wouldn't be surprised to see Apple have another hit on its hands with these noise-canceling headphones, no matter how pricey they may be.
The AirPods Max are set to be another win for a $2 trillion dollar company that continues to find ways to grow outside of the killer product that built its status, the iPhone.

In the mailbag, a reader reacts to last week's piece about the recent drama surrounding Chinese companies, and after my essay on air carriers, I heard from some Southwest Airlines (LUV) fans…
Are you an Apple loyalist? And if so, would you consider paying $549 for a pair of AirPods Max? Do you think there's a lot of value (or prestige) in having all your tech products from Apple? Share your thoughts in an e-mail to [email protected].

"I believe the way you and your other brother research companies have painted this situation makes it seem as if you would be an idiot to invest in China. That being said, your most prominent cohort, Dr. Steve Sjuggerud, has been pushing China over and over for years. So I ask you, which is it, get into China or get out? You guys send so many mixed signals that it is more and more evident you are in this for lining your own pockets, not helping your customers and subscribers.
"There is no concrete evidence that Jack Ma is disappeared by his government. You send this speculation and indeed influence investors to get out of Alibaba (BABA) which hurts all that are invested in it. Why not do something more productive, tell us the various scenarios of what could happen, which one you subscribe to and why. But no, that would be good advice and information instead of hearsay." – Bob B.
Berna comment: I never claimed to be a China expert… My regular readers know that my areas of expertise are really consumer stocks and parts of tech, media, and telecom. I have a history of investing in North American and European stocks primarily. In fact, I've only ever owned one Chinese stock: Alibaba (BABA), at the time of its initial public offering ("IPO").
I nevertheless chose to write about China because, while the Jack Ma situation was well-reported, I felt what had happened with the proposed de-listings and the significance of the last-minute cancelation of the Ant Financial IPO weren't reported as widely or generally well-understood. They were important events to highlight for investors who own ADRs in Chinese companies or even stocks in American companies that are highly reliant on China for growth.
For a free newsletter, I give a lot of specific recommendations in terms of stocks or sectors to buy or avoid. But it would be extremely repetitive if I only wrote about areas where I have an expertise and that expertise leads me to a strong opinion about the future.
Sometimes I write about topics just to provoke thought and questioning on the part of the reader – I want to highlight risks that people might not be thinking about or try to explain news that is complicated or hard to follow. This was that kind of piece… It was meant to inspire reflection.
My one strongly held view here is that the U.S./China trade tensions will not end when the Trump administration does, which I think is something certain investors are hoping for… or even betting on.
As for me having an opinion that is perhaps not aligned with those of Steve Sjuggerud, my colleague at sister company, Stansberry Research… My opinions aren't always aligned on individual stocks with my colleagues Whitney Tilson and Enrique Abeyta here at Empire Financial Research either!
While we always achieve consensus about an idea that we put in a paid newsletter that we all publish together – like Empire Stock Investor or Empire Investment Report – we disagree all the time about what the next move for the market might be or individual stocks that we haven't issued a formal recommendation on.
Sometimes our disagreements are about time frame… We might all like a company with a three-year time horizon, but one of us thinks it will go down before it goes up, and that person wants to avoid it before the expected hiccup. Other times, we all like a company, but one of us isn't comfortable with the valuation.
Groupthink is a dangerous phenomenon in investing. Trust me, you want us all to think independently… You'll be getting the best of our collective thinking that way.

"Berna, Echoing some of the other readers who have written in, I enjoy reading your posts.
"You asked for comments regarding airline experience and loyalty. While my business travel was non-existent for most of 2020 (I drove or limited in-person meetings), I expect it will pick back up (slowly) this year. My airline of choice is Southwest. I don't think of it as a low-cost airline. I often find the pricing, especially for business travel, is comparable to the legacy airlines, and much less manipulative for the consumer (no multiple classes of seats to wade through online). Southwest is consistently the most responsive and straightforward of the airlines I have the option to use for most business travel. And the employees are not surly – a big plus." – Ursula P.

"I flew domestic from San Francisco to the DC area on Southwest. Flights were on time everyone was pleasant. Planes were not crowded. All in all, it was a very nice experience." – Brian C.
Regards,
Alex Griese
with Berna Barshay
January 11, 2021