1) Shares of Canadian cannabis company Aphria (APHA) tumbled 19% yesterday after the company reported a quarterly loss of C$98.8 million.
Longtime readers may recall that my friend Gabriel Grego of Quintessential Capital exposed massive fraud at the company in an epic presentation at my shorting conference on December 3, 2018, which I covered in my e-mails that day and the day after. Specifically:
Grego said Aphria engineered a mechanism to siphon off money to companies held by insiders in South America and the Caribbean to the detriment of shareholders, according to the report. The short seller said Aphria purchased companies in Argentina, Colombia, and Jamaica in September from Scythian Biosciences Inc., now named SOL Global Investments Corp., which had acquired them shortly before at a "significantly lower" price from three Canadian shell companies.
Of the C$98.8 million loss, want to guess how much of it was due to "impairment charges" from those acquisitions? C$64.0 million!
Of course, Aphria claims that these write-downs are due to "the effects of COVID-19 on the Company's expected cash flows," but that's just an excuse to cover up the fraud…
2) I'm not surprised that the stocks of the largest companies in the S&P 500 Index have done better than the smallest ones so far this year – it's mathematically likely to be true most years – but the degree of outperformance is stunning!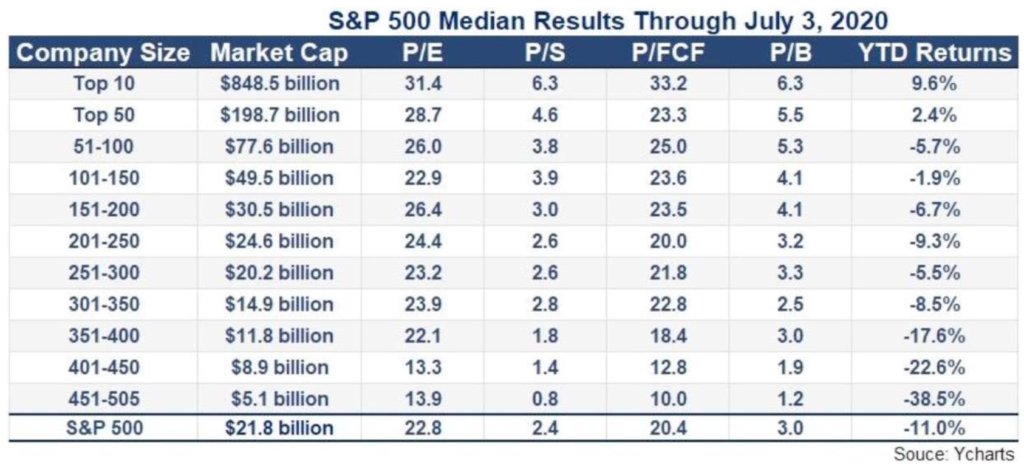 3) I took an Amtrak train on Tuesday for the first time since February, going to Baltimore, where my corporate partner Stansberry Research is headquartered. I taped a video promotion, went to lunch (outdoors!) with three members of the Empire team, and then came back in the afternoon.
Despite only a fraction of the usual number of trains running – one every couple of hours versus two per hour during peak times – they were only one-quarter full, as you can see in this picture:
I didn't see a single other businessperson.
4) It's a similar story in the business districts of Manhattan…
While New York City has started to reopen, Midtown – normally a buzzing hive of activity – is a ghost town. Massive office buildings are nearly empty, as only 8% to 10% of people are going to work. Here's a recent Wall Street Journal article about it: Despite New York City's Reopening, Few Manhattan Office Workers Have Returned. Excerpt:
Fewer than one-tenth of Manhattan office workers have returned to the workplace a month after New York gave businesses the green light to return to the buildings they vacated in March, according to the city's leading landlords, brokerage firms and employers.

Major financial institutions like Citigroup (C) and JPMorgan Chase (JPM) have allowed only a small number of traders, bankers and other employees to return to the workplace. Technology firms have been even more tentative, with companies like Facebook telling employees they can continue working from home through the end of 2020.

As of last week, only 8% of the employees who work in downtown office buildings managed by CBRE Group (CBRE) had returned from sheltering in place from the pandemic. The figure, based on unique card-swipes at security turnstiles, was 9% in midtown. CBRE, the world's largest commercial real estate services firm by revenue, manages 20 million square feet of space in Manhattan.

William Rudin, the head of one of the city's most prominent real-estate families, said that an average of 10% of workers have returned to the company's 10 million square feet of space in New York. "People are being rightfully careful," he said.

But he noted that over one month ago that figure was only 2% and that many office workers are eager to return to the social interaction of their offices. "Slowly people are coming back to work," Mr. Rudin said.
Here's a similar article in the New York Times about one building: The Virus Turns Midtown Into a Ghost Town, Causing an Economic Crisis. Excerpt:
To approach this block today is like visiting a relative in the hospital. The building, rebranded a few years ago and renovated to fit 8,000 workers, now has just 500 a day showing up. The steakhouse dining rooms are dark.

On a sidewalk once lined with food carts, a lone hot-dog vendor stood one recent Friday on a corner below the building. His name is Ahmed Ahmed, and he said he used to sell 400 hot dogs a day.

How many now? "Maybe 10″…

Subway data tells a story as stark as Mr. Ahmed's cart. Take the Rockefeller Center subway station, a major stop for four train lines and the point of entry and exit to the neighborhood for workers from all over.

Last year on June 24, a Monday, there were 62,312 MetroCard turnstile swipes as riders entered the station. On the comparable Monday this year, June 22, the number of swipes was 8,032, a staggering 87% decrease.
Unless there's a vaccine miracle, I think the recovery will be very slow, especially if Google's recent decision is widely adopted (Google to Keep Employees Home Until Summer 2021 Amid Coronavirus Pandemic)…
5) There's some fascinating – but also sobering – data in this recent Bloomberg article…
It underscores that New York City's reopening, like the rest of the country's, "is taking shape differently across boroughs – driven largely by income and race." New York City Reopening Splits Along Lines of Wealth and Race. Excerpt:
As the city began to reopen in June, pockets of the city flickered back to life. By mid-July, travel citywide was still down 63% from the same time last year. But within Manhattan, where many office buildings sit largely empty, it was down 73%, while trips to the island were down 90%…

Low-income, Black and Hispanic communities outside of Manhattan were less able to stay at home and saw movement rebound weeks ahead of high-income communities.

"It's very clear that social distancing is a privilege that not everyone can afford," said Christina Plerhoples Stacy, an economist at the Urban Institute. "Poverty leads to the inability to distance yourself from others and the inability to really keep yourself healthy."

Several researchers who reviewed the Bloomberg News analysis saw parallels to recent studies showing how workers in lower-income, Black and Hispanic communities were more likely to be adversely affected by the pandemic. Many work in lower-paid, service jobs most impacted by the shutdown and had fewer resources or savings to cushion the blow, leading to greater family food insecurity. Those still working were less likely to be able to do so from home. Unable to stay home, Black, Hispanic and low-income Americans have been at an increased risk of exposure to the virus…

Businesses located in richer neighborhoods and frequented by residents of those same neighborhoods are generally experiencing a slower recovery in foot traffic.

A prime example is the West Village in Manhattan – 85% White with a median household income of more than $133,000 – where foot traffic to local brick-and-mortar merchants is still down 78% from 2019 levels…

On the other end of the spectrum is the Hammels-Arverne-Edgemere section of the coastal Rockaways in Queens – 68% non-White with a median household income of around $42,000 – where business foot traffic is back to 97% of normal activity…

The greater movement and foot traffic in lower-income neighborhoods and communities of color may well be partly due to a greater readiness to return to routine, but more likely speaks to the harsh realities of necessity.

"I think this is just exacerbating a lot of the inequalities and inequities we had prior to the pandemic," said Stacy, of the Urban Institute. "The disproportionate negative effects on communities of color and lower-income communities is going to be felt for a long time."
Best regards,
Whitney