---
Recommended Link:
| More than 100 countries around the world are rolling out a system called "SWaB" that could have a bigger impact than the Internet in the days ahead. Here in the U.S., it's already being implemented in 38 states and counting. This year, massive investments are pouring into this innovation from some of the richest people in the world – like Elon Musk, Jeff Bezos, and Warren Buffett. Even the world's most powerful companies, like Apple, Microsoft, and Google, are spending billions to onboard it. That's because every single modern technology – 5G, artificial intelligence, blockchain technology, IoT, robotics, quantum computes, and EVs will have to switch over to SWaB to stay relevant. Get the details here. | |
| --- | --- |
---
1) Another day in court, another disaster for Elon Musk and his attempts to weasel his way out of the contract he signed to acquire Twitter (TWTR) for $54.20 per share...
On Tuesday, lawyers for Musk and Twitter once again squabbled in front of the judge who will decide the case, Delaware Chancellor Kathaleen McCormick, and once again it went badly for Team Musk. Here's a summary posted by an anonymous member of ValueInvestorsClub:
Another "smoking gun"... Recall Musk and [his close advisor Jared] Birchall are on the record saying they don't use Signal but, thanks to screen shots, TWTR now has two examples of them using Signal to communicate.

TWTR is seeking adverse inference, which basically means whenever Musk has not provided evidence (like texts) that TWTR has reason to believe exists, TWTR and the judge can assume the absolute worst (i.e., that every missing text basically says "I am doing all of this because I have no reason to break TWTR except for massive buyer's remorse").

I had thought there was no way the judge would order adverse inference, but team Elon is basically begging for it with their conduct. Even if it is not ordered, this will not be good for Musk when it comes to trial.

Birchall went on the stand as a 30(b)(6) witness and basically said "I don't know" for everything. That's just bad across the board for Elon, but mostly because it speaks to bad faith in breaking the contract.
Along the same lines, here's the first of a five-tweet thread: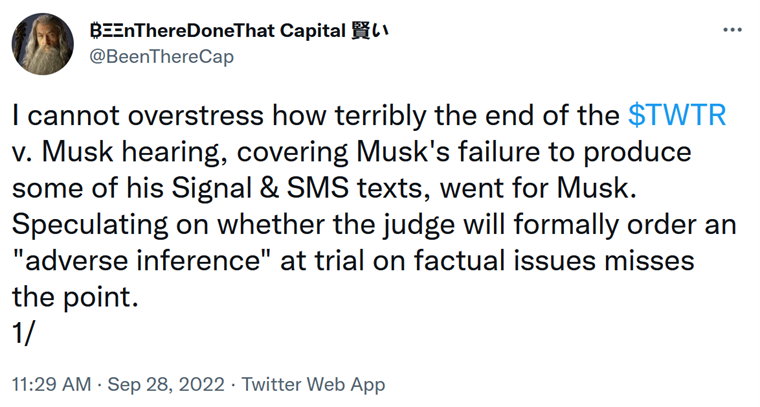 2) Following up on yesterday's e-mail about the extraordinary moves in the British currency and bond markets, and the Bank of England's intervention, here are two tweets that capture the chaos there: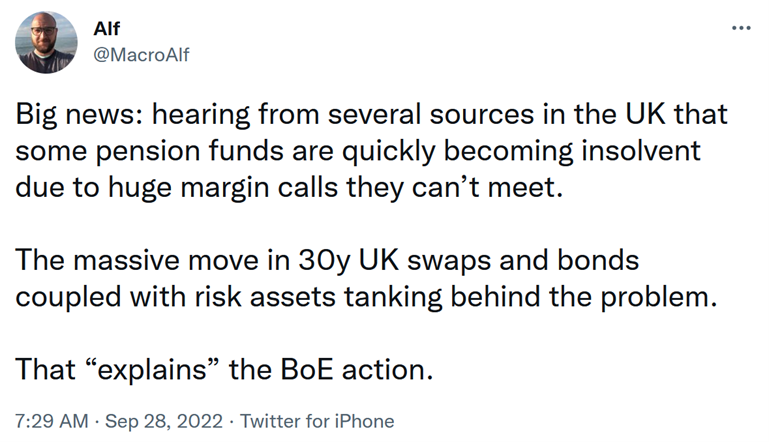 And: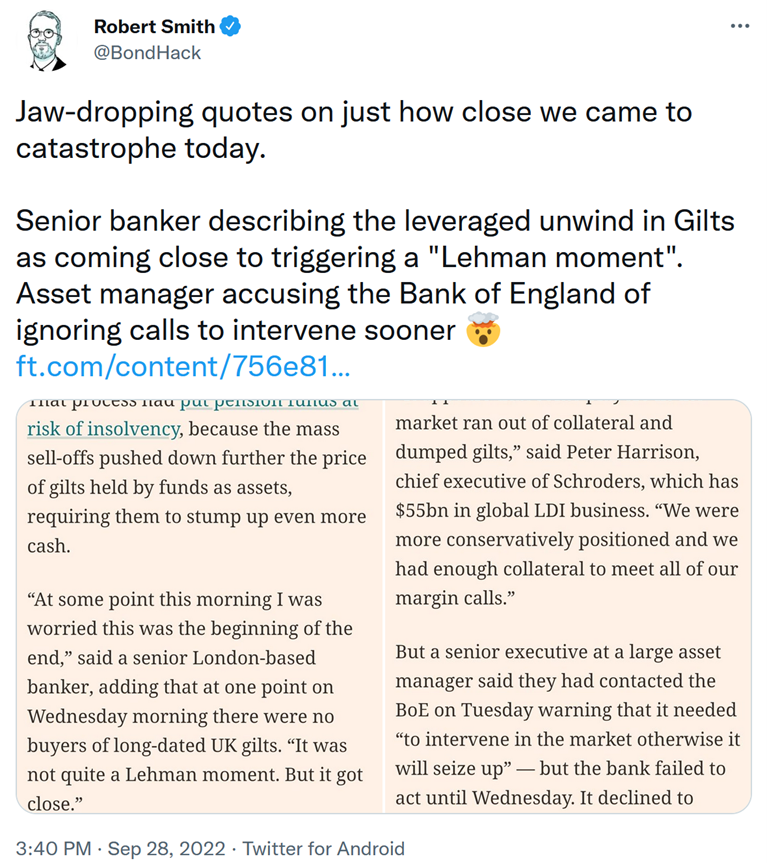 Additionally, this tweet shows that a U.K. 40-year government bond has lost nearly three-quarters of its value since December: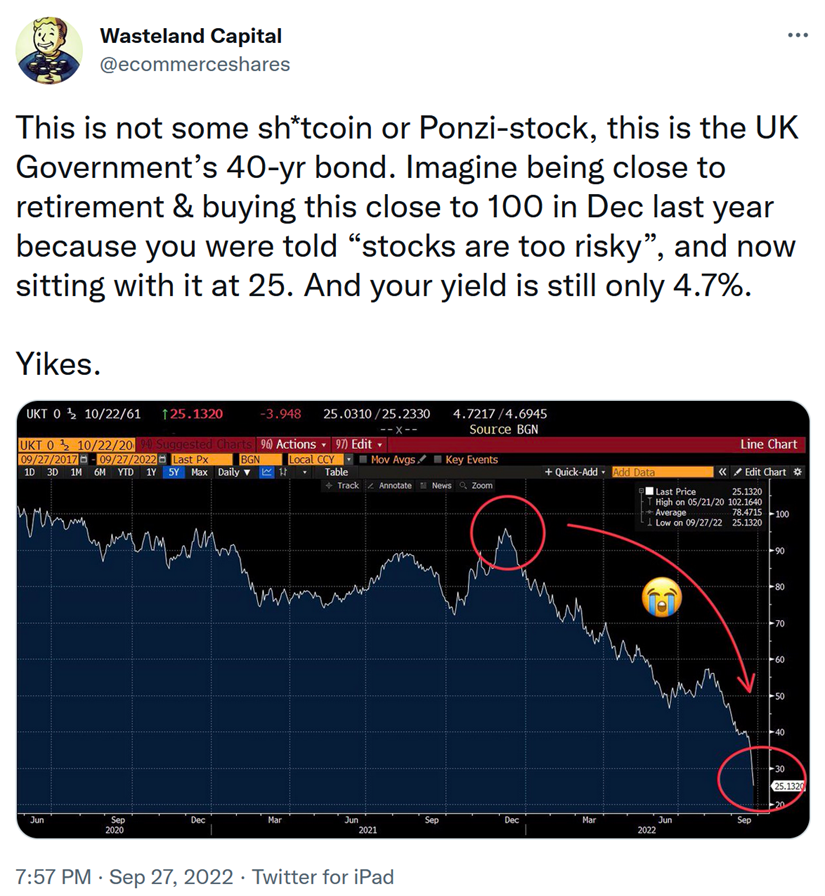 3) While nothing compared to what's happening in the U.K., this graphic (hat tip to Charlie Bilello for it) shows the extraordinary rise in U.S. Treasury yields this year: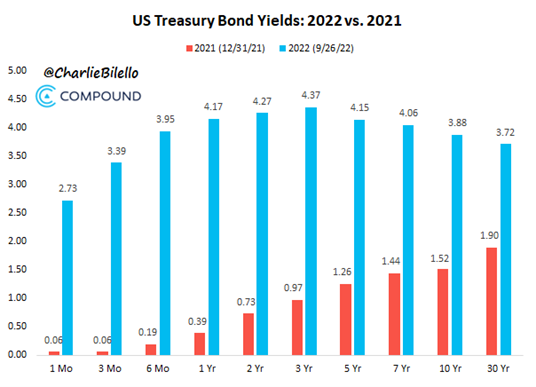 In fact, the 10-year Treasury briefly hit 4% yesterday for the first time in a dozen years: Global Bonds Rally After 10-Year Treasury Yield Touches 4%.
As a result, investors who owned the 10-year Treasury at the start of the year have been saddled with the highest losses ever: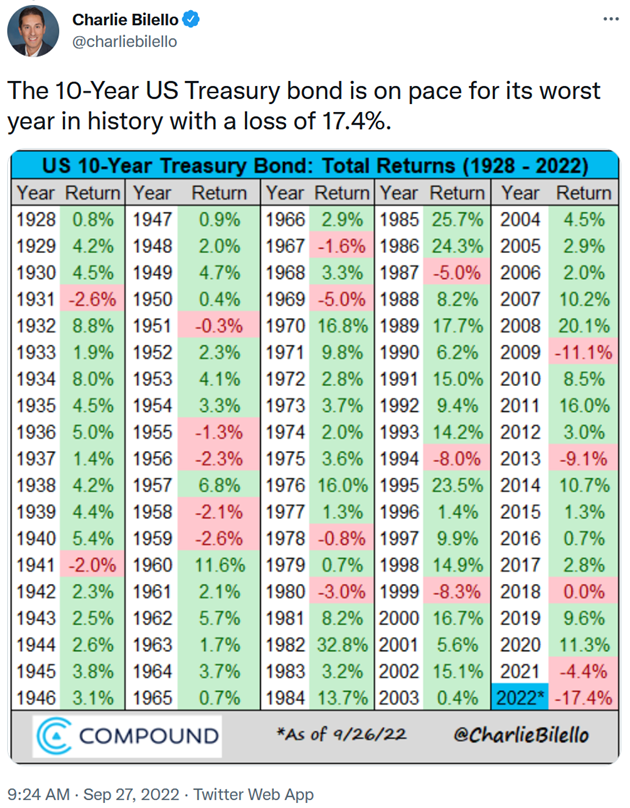 Finally, Bilello shows that government bond yields have risen around the world, nearly eliminating the truly bizarre situation in which investors were buying bonds issued by 21 countries despite a negative yield: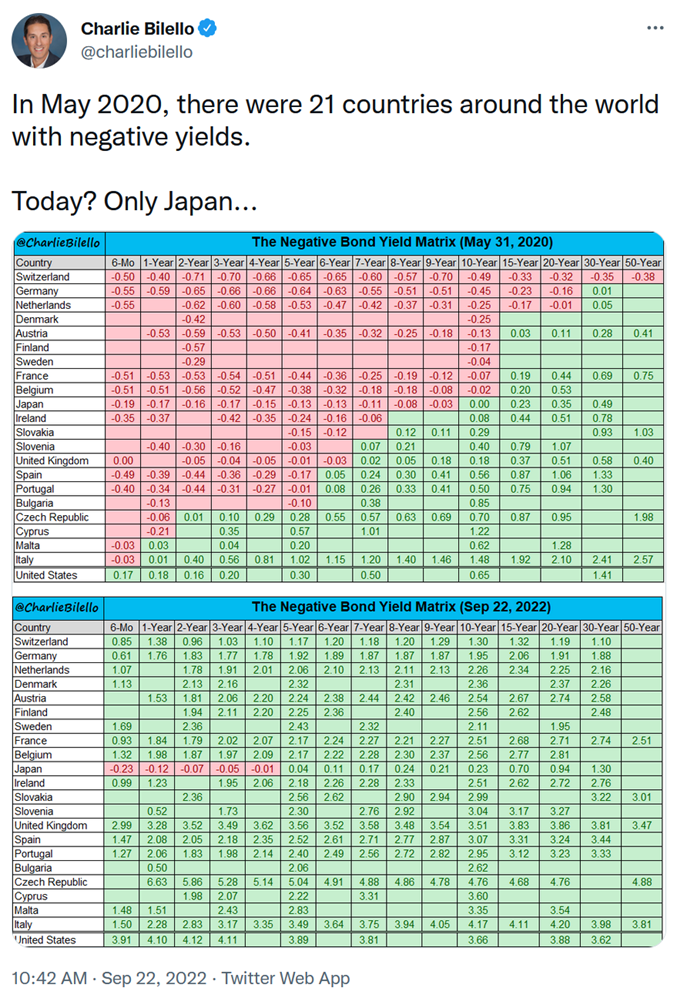 This is all bad news for those who owned bonds during this period, but is great news for savers who, for the first time in more than a decade, can now finally earn more than a pittance on their money.
In tomorrow's e-mail, I'll discuss the impact on mortgage rates and the housing market... Stay tuned!
4) While the Nasdaq rose more than 2% yesterday, Apple (AAPL) fell 1.3% on reports that the company told suppliers to scrap plans to increase production of the base model of the new iPhone 14: Apple stock dips on report the company is bailing on plans to boost new iPhone production.
If I owned the stock, I wouldn't be selling it, however...
Buried in the article is a crucial detail: "Demand for the iPhone 14 Pro is higher than for the other new phones."
In other words, demand is excellent for the higher-end (and thus higher-priced and higher-margin) new phones.
That's certainly consistent with what happened in my family, as my wife and three daughters all upgraded to the new iPhone 14 Pro – and they're all delighted with it. It was only an extra $5 per month (with a 36-month contract), so we figured why not have the newest features and the best screen, battery life, and camera?
The phone is getting rave reviews. Here's the Wall Street Journal: iPhone 14 and 14 Pro Review: Go Pro or Go Home. And here's CNBC: Apple iPhone 14 review: Get the Pro model if you're upgrading this year.
5) I flew to Florida yesterday for a quick 24-hour trip to visit a company, and I have to say it's surreal to be here when the state is being battered by one of the strongest storms to strike the U.S. in decades, with damaging winds, heavy rains, and storm surges of up to 12 feet – yet it's clear and sunny here in the northwest part of the state (the panhandle), which I've circled on this map: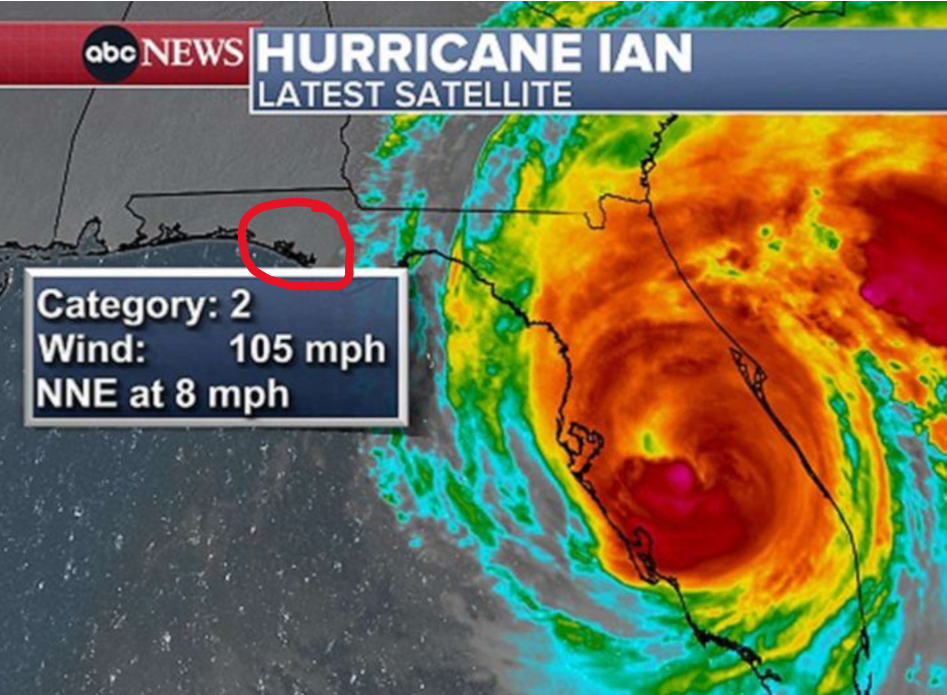 My thoughts and best wishes go out to anyone affected by Hurricane Ian!
Best regards,
Whitney
P.S. I welcome your feedback at [email protected].