---
Recommended Link:
GM's next big release has no engine and no wheels

In a shocking move, auto giant General Motors is venturing into a whole new space (hint: NOT electric vehicles). While industry analysts see this as a way of catching up with Tesla, the bigger reason could be because this new space is getting the full backing of the current administration and could mean huge tax credits in the future. Or it could just be that this fledgling industry has more scope than the declining auto industry. Whatever it may be, this move could put GM into the same bracket as Apple, Google, Microsoft, and Amazon. Get the details of this massive trend here.
---

One of the early essays I wrote when I joined Empire was a warning about the hype surrounding autonomous trucks and flying taxis...
They both had been part of my focus during the few months I had spent trying to get into activist short selling.
For a variety of reasons, neither topic made the cut with the hedge fund I was working through for an actual short, which helped me realize I was in the wrong place probably at the wrong time.
So I switched to Empire and didn't look back... until yesterday.
That's when one of those companies, TuSimple (TSP) – which is trying to build autonomous trucks – didn't just blow a gasket, but blew up... with its stock crashing 46%.
In all, by yesterday's close, TSP shares were down more than 90% since I first warned about the stock back in late October 2021...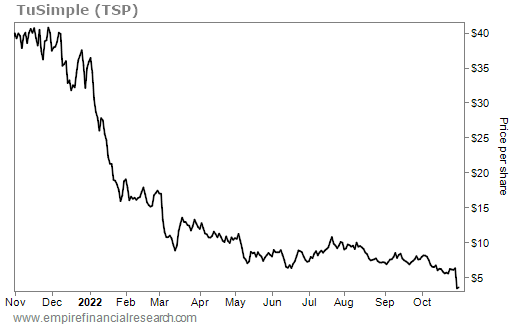 And TuSimple is down considerably more from a few months earlier when I was doing the short research.
As part of that research, I had already spoken to a half dozen former employees and a few competitors, and I had done quite a bit of industry work... I also unearthed one heckuva lawsuit that had been filed by the company's former head of safety, who claimed he was fired for refusing to "simply 'sign off' on safety standards that were simply not met."
All of which is why most of what I wrote in that October 2021 Empire Financial Daily essay was about TuSimple. As I explained...
As the only public player so far, much of the attention has been on TuSimple, which started in China before miraculously (almost like – presto!) turning itself into a U.S. company. (The U.S. government is currently reviewing whether it poses a security threat.)

TuSimple's claim is that its fully autonomous trucks will be manufactured in conjunction with Navistar "at scale" – ready for an "autonomous freight network" it is rolling out across the country by 2024.

Sounds good on paper, but TuSimple has a history of being overzealous with its financial projections.
I went on to regurgitate what I had pieced together from tech website The Information – based on its excellent reporting from when the company was still private and trying to raise cash – on the various financial forecasts it was making.

In my mind, TuSimple's outrageous claims as far back as 2016 suggested a management team that was willing to say almost anything to fund itself...
While it's not unusual for management of startups to portray their potential as more than it really is, TuSimple did it over and over, round after cash-raising round, year after year.
And then on Sunday, the Wall Street Journal reported the company was being probed by the FBI and SEC because of its ties to a Chinese startup. From that story...
Investigators at the FBI and SEC are looking at whether TuSimple and its executives – principally Chief Executive Xiaodi Hou – breached fiduciary duties and securities laws by failing to properly disclose the relationship, the people familiar with the matter said. They are also probing whether TuSimple shared with Hydron intellectual property developed in the U.S. and whether that action defrauded TuSimple investors by sending valuable technology to an overseas adversary, the people said.
Then, yesterday, TuSimple announced that Hou was fired.

The Journal quoted the company's independent directors as issuing a statement that said...
Fundamentally, we lost trust and confidence in Dr. Hou's judgment, decision-making, and ability to lead the company as CEO.
Writing on his LinkedIn account, Hou said he was fired "without cause."
What I can say is that based on my interviews with those former employees, each one told a story of, well, a company they couldn't wait to leave. And each one cited... him.
As for autonomous trucks, there's no question they'll be on the roads in one form or another at some point in the future.
But when, in what form, and using whose technology remains to be seen.

Moving on, I'll share some reader feedback from the mailbag...
Specifically, in response to the October 28 Empire Financial Daily regarding the government's TreasuryDirect website...

"Herb – You are 100% right about TreasuryDirect. I have been trying all year to buy my $10,000 of I Bonds and still have not succeeded. The problem is I made an error entering my bank routing number. You cannot edit the info in your profile to correct something. Nor can you simply start over, because each person is allowed to have only one TreasuryDirect account and you cannot reregister. The remedy is to print out a 6-page change form that's a PDF, fill it out, take it to your bank to have a medallion certification of your signature, and mail it to an address in Minneapolis. That's supposed to get the problem fixed in your account. It did not. It had zero effect. My account remained locked, displaying the same error code. So recently I went through this process all over again and sent the form to Minneapolis a second time, but I'm not expecting to be able to buy a bond in 2022. The Help feature of the website does not work, nor do the customer service phone lines. After a multitude of menu branching, if you pursue 'edit your information,' it will say 'Thank you, goodbye' and hang you up." – David F.
Herb comment: Maddening, David, simply maddening. Memo to the U.S. Treasury: 1999 is calling.
As always, feel free to reach out via e-mail by clicking here. I look forward to hearing from you.
Regards,
Herb Greenberg
November 1, 2022