► The comeback kid of the 'sharing economy' will hold its initial public offering ('IPO') next month…
The long-awaited IPO filing for home rental site Airbnb became public on Monday, which means by mid-December, ABNB shares should be listed and trading.
Coming into 2020, the company was expected to become one of the biggest IPOs of the year… but the COVID-19 crisis put its plans on hold when domestic and international travel ground to a halt in March. Airbnb had experienced over 40% and 30% revenue growth in 2018 and 2019, respectively, but in April, gross bookings – which are a good proxy for revenue growth – plummeted 72%. At the same time, cancelations – which typically run at 13% to 15% of gross bookings – soared to 108%.
The sharing economy – which encompasses companies like Airbnb, ride-hailing app Uber (UBER), fashion rental site Rent the Runway, and co-working space pioneer WeWork – had gone from hero to zero in a flash, when all of a sudden sharing places and things with other people became decidedly unappealing during a global pandemic.
Staring at April bookings down 58% domestically and 89% internationally, and flooded with refund requests, Airbnb was forced to raise $1 billion in convertible debt at a whopping 10% interest rate. In the process, the company saw its valuation drop to $17 billion, after having been valued at $31 billion in a 2017 venture round.
Things didn't look good… but then the unexpected happened. Bookings bounced back over the summer, particularly in the U.S. As you can see in this graphic from charting site Chartr, Airbnb's domestic bookings pulled off the much coveted but often elusive "V-shaped recovery"…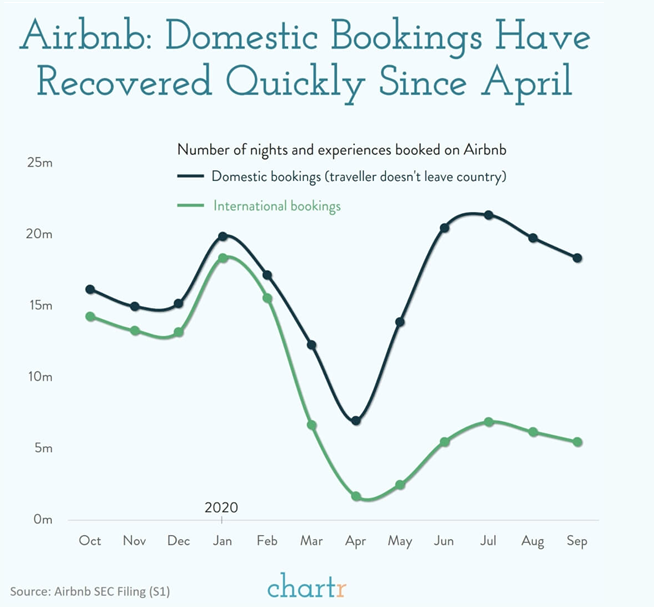 Source: Chartr
As I wrote about last month when I called Airbnb "the only hospitality company you should own in 2020," perceptions of safety and value helped propel the company to a quick recovery in demand, particularly in the U.S…
Airbnbs seem safer, and they've always been cheaper than hotels. This is something that's more important to leisure travelers than business ones, and the leisure segment is currently dominating the travel industry for now. During a recession, lower prices also become more compelling.
Not only did Airbnb benefit from people eschewing public spaces and elevators – and therefore choosing the privacy provided by a standalone house versus a hotel – the company also found itself a beneficiary of the work from home ("WFH") trend.
As the pandemic – and WFH dragged on – people realized that "work from home" meant "work from anywhere." As a result, many folks have relocated – either fleeing cities and the perceived safety risks of high-density areas or seeking more temperate climates to wait out the long COVID-19 winter ahead. Just in the past week, I came across two New Yorkers unencumbered by spouses or children who are temporarily moving into Airbnbs until we get a vaccine… One went to Florida, while the other is California-bound.
People who want to get out of dodge temporarily have been a tailwind to Airbnb in an otherwise difficult year (revenues are still down 32% in the first nine months of the year). In 2019, stays over 28 days comprised 14% of Airbnb's revenues. So far this year, they're tracking to contribute 24%.
► Airbnb has risen like a phoenix from the ashes of a disrupted and troubled travel industry…
While gross nights and experiences booked have rebounded greatly from being down 72% in April, things aren't exactly back to normal… September gross nights and experiences booked were still down 23% after rising at around a 30% clip in 2019.
But these numbers compare favorably to the hotel industry. During the first week of November, occupancy at U.S. hotels was down 36%, according to industry data aggregator STR.
As you can see in this chart from STR, there has been no V-shaped recovery for traditional U.S. hotel demand…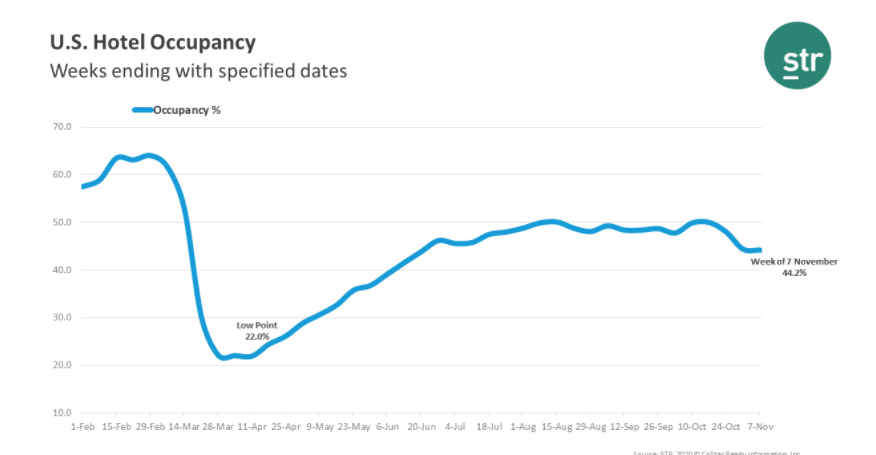 Source: STR
When you layer on the effect of price – the average daily rate ("ADR") for U.S. hotels was down 31% in the first week of November – the overall business at U.S. hotels is running down 56%, using revenue per available room ("RevPAR") as a measure.
In contrast to the rate weakness at traditional hotels, Airbnb has actually seen prices increase at the properties in its network. After dropping in March and April, prices started moving higher in May. The gross daily rate – or average price per night – was up between 18% and 27% every month from May through September (the most recent month we have data for). This is a great improvement from trends pre-pandemic when pricing at Airbnb properties was relatively flat.
While bookings are still down along with the general level of travel – and with cases and hospitalizations on the rise, things could again get worse before they get better (the company warns about this in its prospectus) – Airbnb has actually improved its pricing power during the pandemic.
A year ago, the average hotel room in America cost around $130, while the average Airbnb (globally) cost $110. Now the average hotel room in the U.S. will set you back a little over $90… and the average Airbnb a little under $130.
Once a bargain versus hotel rooms, Airbnbs are so desirable, they're pricing above hotel rooms these days. A bear might say this reduces Airbnb's value proposition relative to hotels… but I think it's just a sign that Airbnbs are what consumers want right now. And if consumers "learn" new behaviors during the pandemic, this will be a big problem for the hotel industry, even when things get back to normal.
As Chekitan Dev, a hospitality branding professor at Cornell University told Adweek…
Airbnb would like nothing more than to make all hotels obsolete and put them all out of business. As the lodging business continues to struggle, I expect Airbnb will use its resources, augmented by IPO funds, to move into a hyper-competitive mode. Hotels are going to have to up their game even more if they are to keep the Airbnb wolf away from their front door.
Between the pandemic scaring people from hotels and getting them to trial Airbnb and its upcoming IPO, Airbnb will come out of 2020 in a much stronger competitive position than it went in.
► Unlike some other high-profile IPOs – and members of the sharing economy – it hasn't been all profitless prosperity at Airbnb…
We've seen many tech unicorn IPOs where the revenue trajectory looks great, but where the company has never made money and it takes a huge amount of imagination to conjure up their path to profits (I'm looking at you, Uber).
While Airbnb isn't currently profitable in the year-to-date – sales are down a ton, after all – it has made money in prior quarters and made one in its most recent quarter. Take a look at this chart from the Wall Street Journal…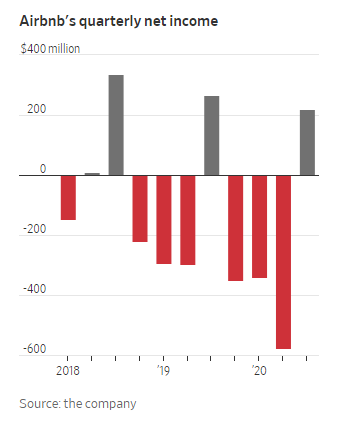 Source: Wall Street Journal
The improvements in profitability in recent months have been particularly impressive. After losing $576 million in the second quarter, Airbnb actually made a $219 million profit, even with revenues down 18% year over year in the third quarter.
Airbnb was able to pull off a profitable third quarter despite the sharp drop in bookings and revenues because, when the pandemic hit, it took quick, decisive action to cut costs. The severe disruption from the pandemic gave Co-founder and CEO Brian Chesky cover to fire 25% of Airbnb employees… and those people aren't coming back, even though the business is. The company also slashed its marketing spend by 54% so far this year, from about $1.2 billion to around $550 million in the first nine months.
With the business coming back, you would normally expect the marketing spend to come back as well. But there was one key thing we learned from the Airbnb prospectus… 91% of Airbnb traffic is coming directly from unpaid channels (not keyword, banner, in-app, social, or other digital advertising). So maybe the marketing cuts will be permanent after all.
► It's usually a good sign of your competitive position when your company name starts getting used as a verb…
Just as "Google" is synonymous with "Internet search," Airbnb is quickly becoming synonymous with short- and long-term home rental. While the company has competitors, most notably Expedia's (EXPE) HomeAway and VRBO, Airbnb has become so big it doesn't need to advertise much to get potential guests and landlords to visit its site.
You could argue that Uber is also a verb and has extremely high unaided recognition, but the company has offered no proof yet that it knows how to make a profit. In 2019, Uber lost more than $8 billion on revenues of more than $14 billion and is tracking to another $5 billion in losses this year. Uber continues to burn billions per year, meanwhile Airbnb has generated over $500 million in free cash flow cumulatively from 2011 to 2019.
With the reductions to a headcount that had probably gotten bloated, as well as a reduced need to spend on customer acquisition because of its growing omnipresence, Airbnb should be much more profitable going forward than it was in the past.
While the company isn't without risks – zoning and regulation being top of the list – it has firmly established its leading position within home rentals and has a huge opportunity to take persistent share from hotels within the hospitality industry.
Airbnb takes about 15% in fees on every stay and doesn't own or have to maintain any properties. It's a toll-taker business that owns nothing… and these are inherently very high-return businesses.
The company is expected to be valued around $30 billion on its IPO. I'm a buyer at those prices.
The global addressable market for home rentals is likely to grow to $1 trillion or more. Fees off that could exceed $150 billion. Airbnb did $5 billion in revenue last year. It's not inconceivable that in 10 or 15 years, it could do 5 times that amount. Airbnb had an extremely healthy 31% operating margin in its most recent quarter and should be able to improve on that over time.
Over the next decade, Airbnb shares will likely go up with its revenues, which could very well double or triple over the same time period. $30 billion seems like a fair valuation… and I'd expect the shares to perform well on their first day of trading if they do price at this level.
► In today's mailbag, some thoughtful, detailed comments on my bearish piece on Hanesbrands (HBI), plus I finally got some letters from people on #TeamMcDonald's for breakfast…
If you enjoyed last week's writeups on the "Battle for Breakfast" and Dunkin' Brands (DNKN), check out the video I did for our sister company Stansberry Research's YouTube Channel, which you can also find on the Stansberry Facebook page.
Anyone bearish on the Airbnb IPO because of the risk of regulatory scrutiny or for other reasons? Do you think the shift from traditional hotels to Airbnb for leisure travel is a secular, permanent shift… or do you think this will go away with the pandemic? Send an e-mail with your thoughts to [email protected].
► "Hi Berna, Thank you for your insightful commentary about Hanes Brands. You bring up many valid points. I've been long HBI for years and the investment didn't work out satisfactory for me so far. Nevertheless, I want to try to counter some of the points you make:
"1). 'Hanesbrands blamed the problems in Asia and Australia on COVID-19 disruption'
"Hanes has significant presence in Australia via Hanes Australia and Bras-N-Things. As was widely reported, Australia was on a severe lockdown until recently.
"2). 'The company touted that domestic Champion sales were up 85% from the second quarter but declined to disclose year-over-year revenue growth for Champion in the earnings press release, as it normally does.'
"In today's 8-K release prior to the earnings call, under 'Third-Quarter 2020 Business Segment Summaries', there is the following sentence: 'Excluding $103 million of C9 Champion sales in mass retail in the year-ago quarter, sales of the Champion brand, while down 27% over the prior year, showed an 85% increase over the second quarter, driven by strong point-of-sale trends and continued online growth.'
"3). 'How do you have trouble selling sweatpants during a work-from-home bonanza?'
"This is indeed disappointing but perhaps could be explained by Champion's limited presence in mass retailers. Target doesn't sell Champion brand (and exited C9) while Amazon and Walmart do. Champion is present in department stores who struggled with traffic.
"However, Kohl's wants to increase Champion exposure as was evident in last quarter's earnings call where Michelle Gass stated 'We remain focused on driving our Active business, through our key national brand partners, and will lean further into at Leisure, through both our existing brands as well as the expansion of the Champion brand.'
"For what it's worth, per management's commentary, the Champion Europe revenues increased over a year ago period. So perhaps, the Champion growth isn't over just yet." – Boris S.
Berna comment: Thanks for your detailed thoughts, Boris. Regarding your first point, most apparel and footwear companies with otherwise healthy businesses have bounced back in Asia… The pandemic is much more under control there, and daily life is less affected. This is why blaming the pandemic for Asian weakness fell flat with me. I agree the pandemic could have made Australia a tough slog in the third quarter.
Regarding your second point around the disclosure pertaining to Champion… Yes, I found the down 27% year-over-year figure by going to the document you cite. But for several years, Hanesbrands has disclosed Champion's year-over-year growth in its headline press release and has never given quarter-over-quarter growth in the press release, since seasonality makes such comparisons not that useful.
The fact that it changed the disclosure in the easily accessed, headline document was misleading to me… It was convenient for Hanesbrands to bury the number it always gives when it looked bad. People who – unlike you and me – don't do their own due diligence and read carefully could have easily missed the big slowdown at Champion.
Regarding the Champion business more broadly: Champion gear is available all over the Internet, particularly Amazon (AMZN). If people wanted to find it, they could have… from the comfort of their own home. And while Walmart (WMT) may not have it in stores, it's all over Walmart.com.
It's very disappointing the business slowed down this much in a bull market for comfortable athleisure clothes. Look how well Nike (NKE) and Lululemon Athletica (LULU) are performing. The WFH-athleisure boom has even given a boost to the long-ailing Under Armour (UAA).
► "Between the three, I'm #TeamStarbucks. I will say I spent some time in Florida and was surprised at how good Dunkin's cold brew was (I like mine with cream only). I bought a pandemic-inspired Breville cappuccino machine and have now made that and Costco's Kirkland canned cold brews my daily coffee of choice. I'm currently 90% coffee at home and 10% Starbucks.
"This was a very interesting write-up, as was the breakfast and the tie-in." – Greg S.
► "I love McD's bacon, egg, and cheese biscuits. They have the best biscuits of any chain." – Peter S.
► "I think the drive-thru coffee habit is a huge waste of money, (Keurig at home for me!) but I prefer the McDonald's Keurig pods over Dunkin's for taste! It's my go-to coffee." – Ellen H.
Regards,
Berna Barshay
November 19, 2020