1) The high volatility has caused investors to pull billions of dollars out of the markets... but that's a big mistake.
It's natural to feel scared when you look at your portfolio and see stocks going down. However, don't let that fear paralyze you into making mistakes that will haunt you for years to come.
And as my colleague Enrique Abeyta says, if you're still relying on the investing comfort zone you've been using for years, it will only guarantee that you'll get left behind when the economy inevitably recovers.
So if you're looking for an extra boost, or a little more cushion to your wealth, or you just want to bolster your income, Enrique is sharing the best-kept investing "secret" of one of the only ways to make reliable profits during a downturn.
It's the same strategy he used to grow his hedge fund by 130,000% in less than four years – handily beating the S&P 500 for five straight years.
In a brand-new presentation, he shares all the details – including how to get six free months of his research. Watch it right here.
2) These two stories I read yesterday make it clear to me that TikTok should immediately be shut down in the U.S. until its ownership can be fully transferred to a trustworthy U.S. owner. (Personally, I'd ban it permanently for wasting billions of hours of young Americans' time, but that's not going to happen...)
This first story from Buzzfeed is an absolute bombshell: Leaked Audio From 80 Internal TikTok Meetings Shows That U.S. User Data Has Been Repeatedly Accessed From China. Excerpt:
For years, TikTok has responded to data privacy concerns by promising that information gathered about users in the United States is stored in the United States, rather than China, where ByteDance, the video platform's parent company, is located. But according to leaked audio from more than 80 internal TikTok meetings, China-based employees of ByteDance have repeatedly accessed nonpublic data about U.S. TikTok users – exactly the type of behavior that inspired former president Donald Trump to threaten to ban the app in the United States.

The recordings, which were reviewed by BuzzFeed News, contain 14 statements from nine different TikTok employees indicating that engineers in China had access to U.S. data between September 2021 and January 2022, at the very least. Despite a TikTok executive's sworn testimony in an October 2021 Senate hearing that a "world-renowned, U.S.-based security team" decides who gets access to this data, nine statements by eight different employees describe situations where U.S. employees had to turn to their colleagues in China to determine how U.S. user data was flowing. U.S. staff did not have permission or knowledge of how to access the data on their own, according to the tapes.

"Everything is seen in China," said a member of TikTok's Trust and Safety department in a September 2021 meeting. In another September meeting, a director referred to one Beijing-based engineer as a "Master Admin" who "has access to everything."
3) This is outrageous – even more so given that the problem would have been solved by now if the Biden administration had followed through on the Trump administration's divestment order. Here's the summary from the New York Times DealBook: Did Biden drop the ball on TikTok and China? Excerpt:
During Donald Trump's presidency, the Committee on Foreign Investment in the U.S., which reviews outside investments with national security in mind, opened an investigation into TikTok. Trump used its results to issue an executive order forcing ByteDance, TikTok's Chinese parent, to divest the company. That is what led TikTok to strike a deal to sell to Oracle (ORCL) and Walmart (WMT). But when Biden took office, he did not enforce the divestment order – and ByteDance didn't sell.
4) The dangers of allowing China to access Americans' data was underscored by another bombshell report in the New York Times. Here's the 14-minute video: China's Surveillance State Is Growing. These Documents Reveal How... And here's the summary of the findings: Four Takeaways From a Times Investigation Into China's Expanding Surveillance State. Excerpt:
China's ambition to collect a staggering amount of personal data from everyday citizens is more expansive than previously known, a Times investigation has found. Phone-tracking devices are now everywhere. The police are creating some of the largest DNA databases in the world. And the authorities are building upon facial recognition technology to collect voice prints from the general public.

The Times's Visual Investigations team and reporters in Asia spent over a year analyzing more than a hundred thousand government bidding documents. They call for companies to bid on the contracts to provide surveillance technology, and include product requirements and budget size, and sometimes describe at length the strategic thinking behind the purchases. Chinese laws stipulate that agencies must keep records of bids and make them public, but in reality the documents are scattered across hard-to-search web pages that are often taken down quickly without notice. ChinaFile, a digital magazine published by the Asia Society, collected the bids and shared them exclusively with the Times.

This unprecedented access allowed the Times to study China's surveillance capabilities. The Chinese government's goal is clear: designing a system to maximize what the state can find out about a person's identity, activities and social connections, which could ultimately help the government maintain its authoritarian rule.
5) Kudos to NYU marketing professor Scott Galloway for calling out the disgusting, predatory "buy now, pay later" industry: Buy Now. Pay (and Pay, and Pay, and Pay) Later. Excerpt:
The borrowing construct is introducing real risk into the system: Consumer debt jumped $52 billion in March, the largest increase on record. In California, 91% of consumer loans made in 2020 were BNPL loans. More than 40% of Gen-Z consumers will have used BNPL by the end of the year, the highest penetration of any age group. And now those debts are going bad...

Even if it isn't the triggering event of a global crisis, the evisceration of the finances of a generation will suppress innovation and economic growth. Western capitalism once fueled the greatest increase in prosperity in history, giving us technological advances that would have seemed like magic a few generations ago. What are we doing with that abundance? Engineering ever more insidious ways to get young people to buy disposable clothes. Torched credit ratings and mounting debt deter people from starting families and businesses. Those are the building blocks of our society and economy, and without them, we will all pay later.
I sent his article to my three daughters with this comment:
Girls, read this and don't ever get sucked into this buy-now-pay-later nonsense, which is aimed at young folks like you.

Related, don't EVER let a balance roll on your credit card. Even one month and they screw you with all sorts of fees and catch-up interest charges.

Love,

Daddy
6) During the summers from 2003 to 2019, Wollman Rink in the southern part of Central Park was converted into a kids' amusement park called Victorian Gardens.
This year, however, there's a new attraction that just opened on Friday and will be open Wednesday through Sunday every week through September: a 1970s-themed roller disco called DiscOasis.
It's open from 10 a.m. to 10 p.m. daily, and you can sign up for one- or three-hour sessions during the day and an evening session from 7:30 p.m. to 10 p.m. (tickets here), which is what my wife, middle daughter, and I did on Sunday night – we had a blast! In fact, it just got a great review in today's New York Times: How New York Got a Glorious Throwback Roller-Skating Extravaganza.
Here's a picture of Susan and me (I posted more on Facebook here):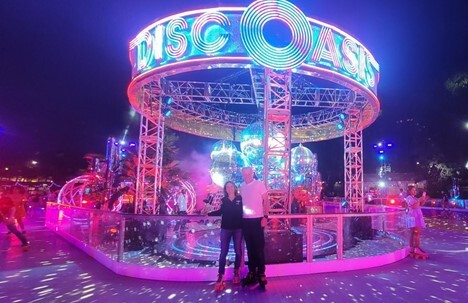 Here are three video clips of us skating and the two brief shows the professional skaters did (41 seconds total).
And here's a cute story about the little girl in the third video clip: Her name is Maya and she's only three years old. I noticed her mom walking with her, as she teetered on her little plastic skates that attached to her shoes. It was adorable!
But the next time I came around, I saw that the staff were kicking the mom off the rink because she wasn't wearing skates and hadn't bought a skating pass. She didn't speak English very well and was confused and upset because Maya couldn't skate without her, so I skated over and said, "Do you want me to skate with her?"
She said sure, so I crouched down and asked Maya if she wanted to skate with me. I thought a little kid might be scared of a big, strange man, but not Maya – she grabbed my hand and off we went! Maya was such a pistol: very conversational with Susan and me and absolutely fearless. Here's a picture: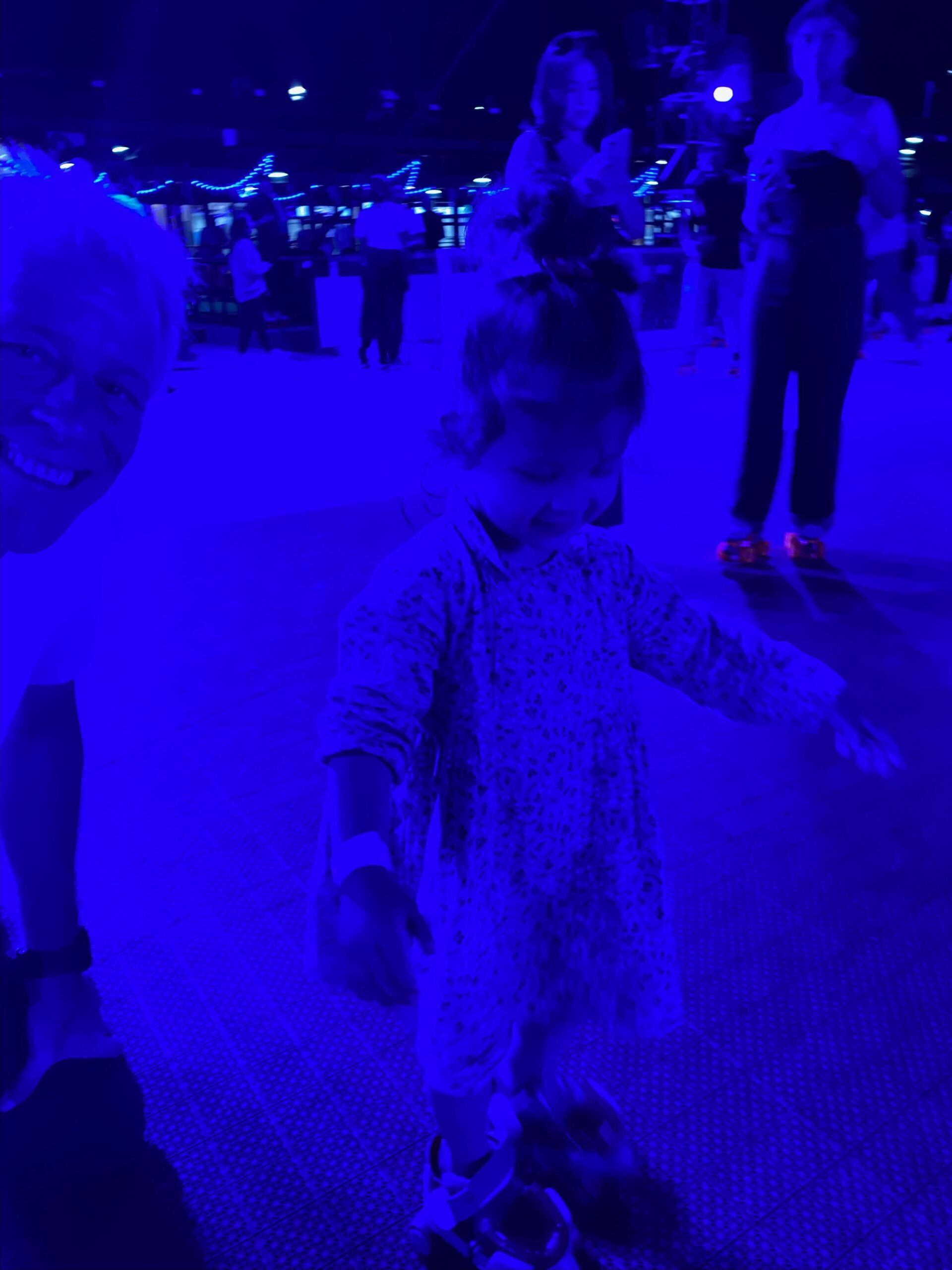 Sometimes she skated/walked along by herself (with me hovering behind to catch her if she fell), sometimes she held my hand and we skated a little faster, and sometimes I held her under her arms and picked her up, going fast and swinging her side to side and between my legs, which she really loved.
It brought back such memories of me doing the same with my girls when they were tiny!
The only downside: After 10 minutes, my back was killing me and we were ready to go home, so I dropped Maya back with her mom...
Best regards,
Whitney
P.S. I welcome your feedback at [email protected].