► Could Redbubble (RBL.AX) be the next Etsy (ETSY)?
A couple of weeks ago, my colleague Whitney Tilson asked me if I had heard of the Australian e-commerce company Redbubble, since a friend had pitched the stock to him. Not only had I heard of it, I used to own it. I had been forced to liquidate my personal holding in the Australian microcap when I was joining a fund that precluded having any personal stock holdings. I sold my RBL.AX shares when they traded for around AU$1 in 2018.
Whitney's email prompted me to look up the stock… and to my great chagrin, I saw that shares are now trading around AU$4. Needless to say, I have some regrets.
After spending all of 2018 and 2019 bouncing around in a wide range between AU$1 and AU$2, RBL.AX shares have taken off like a rocket and are up almost 250% year to date…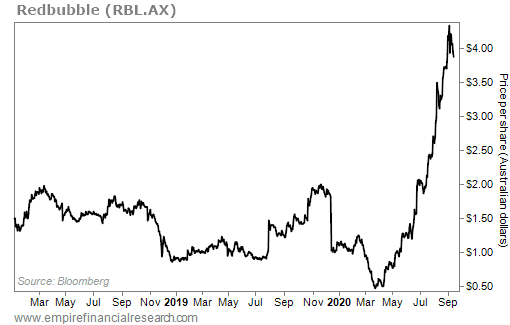 After I got done kicking myself, I revisited my original thesis.
When I bought Redbubble back in 2018, I did so because I thought it would become a profitable niche e-commerce player, carving out a lucrative corner of the consumer Internet that was perhaps too small to be in the direct sights of giants like Amazon (AMZN), eBay (EBAY), and Alibaba (BABA). The company had around AU$200 million in marketplace revenues when I heard about it, and I thought it could grow to AU$500 million… or even AU$1 billion over the coming years.
If the company could triple its revenue or more, the stock would clearly be a hit.
Fast-forward a couple of years, and that's what's happening – Redbubble clocked around AU$350 million in marketplace revenues in the year ending June 2020, and is expected to do over AU$500 million in the year ending June 2021. There is more growth to come… which is why it's not too late to take a look at the stock now.

Like Etsy, Redbubble is a marketplace that connects artists with customers looking for something specific or unique…
The company has a network of 511,000 independent artists that upload designs onto its site. These designs can be printed on clothing, phone cases, stickers, greeting cards, wall art, water bottles, and many other products. Items get produced or printed when ordered at one of 41 global fulfillment partners. These production facilities are owned by third parties, which limits Redbubble's need for capital expenditures. The company also doesn't hold inventory, which limits risk.
On the buyer side, 6.8 million people have purchased products on Redbubble's sites (flagship Redbubble and TeePublic, which the parent company bought in 2018). For each dollar spent on the sites, the effective "take rate" – the amount that Redbubble keeps – is around $0.29.
With an extremely fragmented artist base and even more fragmented global customer base, the value Redbubble provides is the marketplace – creating liquidity and allowing buyers and sellers to discover each other in an efficient and safe way. Its marketplace model isn't that different from Etsy's or eBay's.

What's unique about Redbubble is the breadth and specificity of the artist designs…
I first discovered the site in 2016. I was an early fan of the Broadway musical Hamilton, and I wanted to get Hamilton-themed exercise leggings with the show's logo on them. The show had recently opened, and no such product existed in stores. A friend told me to check out Redbubble, and there were about eight different designs to choose from, and in about a week, I received my pants.
Fast-forward a few years, and the site has 1,364 Hamilton leggings to choose from… And if I look at all Hamilton musical-related products, there are 7,554 options.
No matter what your interest, Redbubble has something to sell you. Prefer sports to Broadway? There are 581 products related to Yankees legend Derek Jeter… 2,428 products depicting boxing great Muhammad Ali… or 192 products related to relative newcomer, Naomi Osaka, who won the U.S. Open tennis tournament this weekend.
When shopping for gifts for friends with specific interests, searching "Rolling Stones" produced 3,127 hits, "Barbra Streisand" yielded 161, "Baby Yoda" offered 2,330, and even the seemingly obscure "Tripod Dog" gave me 99 choices.
There's truly something for everyone on this site.

Redbubble is just one more e-commerce business that the COVID-19 pandemic sent into hyperdrive…
The company had been a steady grower prior to the pandemic, with marketplace revenue growing at a compounded annual growth rate ("CAGR") of 28% from 2016 through the first 11 months of its 2020 fiscal year. As Redbubble grew, it first became profitable on an earnings before interest, taxes, depreciation, and amortization ("EBITDA") basis in fiscal year 2019.
But things really started to accelerate with the pandemic…
In Redbubble's fourth quarter from April to June, gross transaction value in the company's largest market – North America (69% of total revenues) grew 121% (versus 53% for the full year). Growth also accelerated in its other major markets – the EU, U.K., and Australia/New Zealand.
Like with Etsy, facemasks started a boom at Redbubble. As consumers looked to stock up on this category from scratch, they searched for items that conveyed personal interest, whimsy, or fashion preferences.
Redbubble was able to answer that call. You can find 37,460 adult mask choices and 35,700 kids' mask options on Redbubble right now. Adult bestseller masks feature some dark humor… with themes including Edvard Munch's famous painting The Scream, ominous black cats, and serial killer classic The Silence of the Lambs.
The kids' bestsellers are thankfully a little lighter…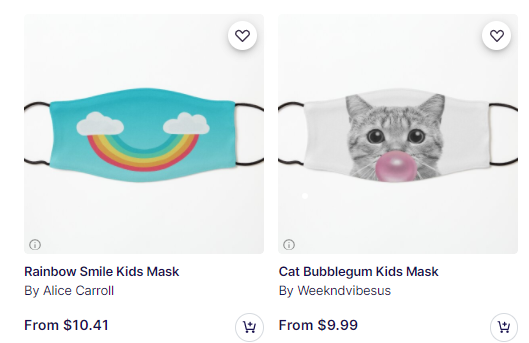 Source: Redbubble
While masks may have led customers to discover Redbubble, the unique product assortment should keep them there now that they've found the site.
For both Etsy and Redbubble, the immediate and unprecedented need for masks allowed them to recruit customers into the sites at an accelerated pace and a greatly reduced cost. This growth in the ecosystem should have benefits that last way longer than the COVID-19 crisis.

Marketplace businesses are all about scale…
More buyers bring more sellers, and more sellers bring more buyers. The larger the community gets, the stronger the virtuous circle of growth becomes, and the harder it is for would-be competitors to break into the market. Redbubble says that the synergy between the growth in its artist community, its customer base, and its fulfillment partners creates "flywheel effects."
In the past year, the number of artists on Redbubble has increased by 51%, the number of customers is up 30%, and the number of fulfillment partners has gone from 32 to 41.
In the fourth quarter, however, the customer base grew 74% – it's more evidence that years of growth were compressed into a few months.
Because Redbubble doesn't actually make things and hold inventory, its costs are largely fixed. It needs to keep its site running, and constantly improve search functionality, site design, and product suggestions so that visitors can find what they need as well as things they didn't even know they wanted until they are presented. These costs of maintaining a functional and user-friendly site don't scale directly with usage, so the more transactions that happen on the marketplace, the more profitable it will be.
Redbubble's future growth should be supported by these recent customer acquisitions, as well as the entry into new categories. The company currently allows customized designs to be printed on 117 different physical products, from apparel to home goods. But more product categories are on the horizon – such as pets, babies, and hats.
The company only launched masks in late April… but by June, they were 18% of marketplace sales.

Redbubble plays into several larger consumer trends…
In addition to the obvious shift to e-commerce, Redbubble plays into the growing trends of customization and personalization. We've seen big global companies push into customization, with Nike (NKE) and Adidas (ADDYY) taking orders for personalized sneakers online and Levi's (LEVI) introducing customized jeans options. Monograms aren't just for L.L. Bean canvas bags anymore, and the number of companies allowing you to add your name or initials to standard products has exploded.
As I talked about last week in the context of liquors, the trend has been away from wearing uniform outfits – instead, it's about choosing brands and products that project an expression of one's uniqueness.
Redbubble is also a play on the "gig economy," as more people are working independently and cobbling together multiple streams of income from different endeavors. With 511,000 artists and growing, more people are clearly looking for ways to monetize their talents.

Redbubble has been building a moat with its artist community and fulfillment network, and has now reached an inflection point…
The artist community on Redbubble is a unique asset that would be extremely difficult to replicate.
Building out the fulfillment network globally – with 19 facilities in the U.S., seven in the EU, five in the U.K., four in Australia, and two in Canada – also enhances the customer experience by reducing delivery waits and lowering shipping costs.
The recent growth in customers and transactions had led to an inflection point in profitability.
Two years ago, the company was losing money on an EBITDA basis. Last year, its operating EBITDA margin (excluding special items) was 2.5% and in the year that ended in June, the EBITDA margin expanded to 4.4%. But the fourth-quarter EBITDA margin was over 8%.
More mature marketplace operators, like eBay and Etsy, have EBITDA margins north of 30%.
Redbubble will never get as big as eBay and is unlikely to get as large as Etsy, but there's no reason margins can't expand considerably from here into the double digits, and top-line growth can't sustain above 20%.
Putting this all together, I could see Redbubble's operating EBITDA hitting AU$100 million in a few years, versus AU$15 million in the year that just ended in June.
Despite these massive growth prospects, the company trades at an enterprise value to sales multiple just over 2 times. This compares to Etsy trading at around 9 times this year's estimated sales and eBay just under 4 times.
Redbubble is earlier in its growth trajectory than these other marketplace companies, making revenue and EBITDA gains likely to outpace those of its larger peers.
Unfortunately, Redbubble doesn't have an actively traded American depositary receipt ("ADR"), but most brokers can facilitate the purchase of Australian shares. Redbubble's potential to grow earnings multiple times over and its modest valuation relative to its growth prospects make it one foreign stock worth the extra effort to own.

In the mailbag, a thoughtful letter on one way to do virtual K-12 right, and some reactions to last week's discussion of liquor, including two recommendations for the same brand I have never heard of…
Have you ever bought anything on Redbubble? What was your experience like? Are there any other e-commerce sites besides Amazon, eBay, and the ones associated with big retailers that you use regularly, or for gifting, or for other niche shopping needs? Let me know at [email protected].

"Schools in Florida and throughout the country were not ready to switch to virtual online teaching. Every teacher had their own idea as to how to teach during the pandemic through zoom meetings (something never heard of before by the majority of parents and students), complicated learning platforms, and even YouTube videos.
"As a parent, I felt the school system, public and private, had failed our kids. Many parents agree that this was a wasted academic year for every kid except for those who were already taking virtual classes prior to the pandemic.
"Several years ago, I enrolled one of my kids in FLVS, an online school offered by the Florida Education System. The system was created in 1997 and after 23 years operating, they have a very successful academic program where kids learn and succeed. Their platform is very well-organized, and the support of the teachers and staff is excellent. They even have a technical support department to address any issues. Kids have access to all the learning material, their homework, quizzes/tests, lessons, grades, contact information in one place! While they have to follow the pacing guidelines to not fall behind, they can finish a course in less time if they wish to. Most importantly, teachers are available through the platform, cell phone (text/calls), emails anytime. They are extremely helpful and committed to teaching.
"When I saw how FLVS worked, I thought that in time, regular schools would be a thing of the past and virtual learning would take over not just for academic reasons but economic ones too.
"There are now private learning centers, where students are on the FLVS system for many of their classes and a teacher or aide monitors each student's progress to provide extra support if needed.
"While the education system is far from converting to an all virtual school, I think we are moving in that direction with some modifications. Time will tell." – Magali S.

"Hi Berna: Take a look at Elegance Brands. Quality tequila, Gorilla hemp energy drinks also." – Kurt B.

"But if you ever get a bottle of Elegance Vodka from Elegance Brands Inc. in front of you please take the taste, it is exquisite. Have not had anything like it." – Tim C.

"I have never tried any of the celeb liquors. I drink Costco vodka, the Grey Goose knock off, and Bombay Sapphire. A celebrity won't make me want to try any product. They have never made a purchase decision for me." – Jim S.
Regards,
Berna Barshay
September 14, 2020