► Most restaurants can't survive on just takeout and delivery…
Various industry organizations and economists predict that anywhere from 30% to 80% of independently owned restaurants won't survive the coronavirus crisis.
While restaurants in some states are beginning to reopen, others in COVID-19 "hot zones" are weeks or even months away. Virtually all restaurants that are reopening now are subject to mandatory capacity reductions, with most removing 50% to 75% of indoor seating.
The industry already has thin operating margins and high fixed costs for rent and utilities. If revenues are down even 20% because of reduced demand or reduced capacity, most restaurants will start losing money.
While many restaurants have pivoted to focus on takeout and delivery – and many municipalities have helped out by loosening regulations on high margin to-go alcoholic beverages – delivery volumes aren't usually high enough to offset the dine-in closures. Adding to the pain, third-party delivery fees from Grubhub and Uber Eats clock in at 10% to 30%.
According to a National Bureau of Economic Research poll, restauranteurs put their chance of survival at 72% if the crisis lasted one month, 30% if it goes on four months, and just 15% for six months.
The government response to the crisis thus far has focused on the Paycheck Protection Program ("PPP"), which offers low-interest loans to businesses that convert to grants if they hire back all their pre-COVID full-time employees.
The PPP had many problems right out of the gate, however…
The application process was complex and time-consuming, and its initial funding quickly ran out. It later came out that many public restaurant companies had taken advantage of the program, thus blocking many small businesses – such as family-owned restaurants – from participating. Ultimately, many of the public companies were shamed into returning their money… and the PPP was reloaded with more funds to accommodate independent restaurants that had been left hanging.
► But the PPP is no savior for independently owned restaurants…
To better understand why the PPP is so flawed as a lifeline for embattled restauranteurs, I called my good friend Lauren Fox, the co-owner of popular New York City mini-chain Alice's Tea Cup.
The tea house has three locations and is best known for its scones (the best in the city!), extensive tea selection, and English-style tea service. The wait to get in on the weekends can be hours-long at times, so the fact that Alice's Tea Cup is in a fight for survival proves that popularity offers no insulation from the struggles of the industry.
I asked Lauren why the PPP wasn't a good solution for restaurants. As she told me…
The problem is this: with PPP in its current state, in order for it to be forgiven, you must use 75% of the loan for payroll. And you must rehire everyone who was working full-time before you closed. You also must use the PPP within eight weeks of getting it. We won't be able to open within eight weeks, so everyone will be back on unemployment after the PPP money runs out. The whole thing is a band-aid. A big, temporary band-aid. It doesn't do much of anything for us.
She explained she wouldn't actually have work for all her former full-time employees if she hired them back, given dining rooms in NYC will be closed for a while. When they do open, they'll be at greatly reduced capacity… so even if her dining rooms were to open tomorrow, she wouldn't need all her servers back.
I asked what her profits would look like in a reduced capacity situation. She confirmed the dire forecasts that I heard from others…
What people don't understand is that restaurants, even really successful ones, operate on such narrow margins to begin with. We can't afford even a 20% drop in business. If that happens, the owners don't get paid and can't afford to feed their own families. If we're not operating at a certain base level of customers, we're screwed. In the weeks leading up to closing, we went from a 30% revenue decline to a 50% decline to a 70% decline. On those weeks, my sister [her co-owner] and I couldn't afford to pay ourselves and struggled to make payroll for our staff.

Looking forward, reopening will require expensive modifications to meet safety standards. We will need to spend a ton of money on things like barriers, masks for staff and customers, sanitation stations and supplies, etc.

Most restaurants don't have reserves. Most have loans out because they expanded or renovated. We're finding out everyone has the same problem. Without more supportive governmental relief, small businesses in this country can't survive this.
When asked what would be better than the PPP, Lauren answered without hesitation, "We want to be able to use the government money to pay bills."
With high rent costs and a business that's based on the in-person experience and not particularly designed for takeout and delivery, Lauren doesn't think she'll have the volumes to justify reopening without her dining room in service. And if she does open, she'll burn more cash than if she just stays closed and pays rent and utilities. Many sit-down restaurants are in the same boat as her.
For Alice's Tea Cup and the hundreds of thousands of establishments like it in the U.S., the question is how they survive until things go fully back to where they were.
► Here are a few ideas that could actually save America's independent restaurants…
Plenty of creative ideas are floating around for how restaurants might keep themselves in business until a COVID-19 vaccine is developed and business returns to historical levels.
Many restaurants have turned themselves into grocery stores. Others are advocating for street closures, so they can set up spacious outdoor cafés in the roads in front of their restaurants, since medical research points to lower virus transmission rates outdoors.
Yet another survival strategy involves the pursuit of government contracts to feed homebound, at-risk seniors.
Celebrity chef Tom Colicchio has been advocating for restaurants with well-curated supply chains to act like community-supported agriculture cooperatives, and sell subscriptions for local farm products.
While all these ideas are interesting and will keep a reduced staff busy, none of them will bring a return to pre-COVID-19 profitability. If these efforts merely minimize the losses as opposed to reversing them, many will permanently lose their jobs, many restaurants will close for good, and communities will go underserved.
► In order to save restaurants, they're going to need a government bailout…
Unlike many public companies that are taking bailouts after years of stock buybacks, most of the nearly 500,000 independent restaurants in the U.S. have no access to debt or equity capital markets. These small businesses didn't squander fat profits ignoring the possibility of the proverbial "rainy day." They never had the fat profits to start with.
The government is already giving money to the restaurants via the PPP. But hiring people back only to fire them again in a couple of months does them no real favors in the long run. If independent restaurants are going to survive until a time in the future when they actually need to hire back all the former employees, they require help making rent now.
Colicchio has been one of the leading voices at the Independent Restaurant Coalition, which is lobbying federal, state, and local governments to get restaurants the help they need and advocating for the roughly 11 million workers in the restaurant industry. Earlier this month, Colicchio proposed a solution in an interview with NPR…
Just give restaurants 75% of their revenue for the rest of the year. It's so straightforward. Just give us 75% of what would have been our revenue and restaurants retain their employees and pay their rent and utilities. Landlords can then pay their mortgages and property taxes. Restaurants buy from their vendors, saving those businesses and those jobs – farmers, cheese makers, fishermen, truck drivers…
The restaurant industry may only be 4% of GDP, but millions of jobs are at risk. As I wrote in the May 8 Empire Financial Daily, I'm worried that the absolute number of people unemployed is what stands between us and a V-shaped recovery. Many of the people who are unemployed now lost restaurant jobs. While no one loves a bailout, in this case, the "trickle down" aspects of saving millions of jobs and keeping our cities and towns vibrant justifies the expense.
► Here's how you can help…
For those who are interested in assisting local restaurants, consider buying gift cards from your favorites (with the caveat that if they never reopen, you'll lose your money).
Many restaurants doing takeout and delivery are asking that you call them directly, so they can avoid those high commissions they pay to Grubhub, Uber Eats, and other delivery companies.
The Independent Restaurant Coalition also offers information and suggested actions for advocating for local restaurants here.
And of course, I strongly encourage any tea drinkers out there to support Alice's Tea Cup by visiting its online store, which offers more than 50 varieties of meticulously sourced tea here.
► Local restaurants are coming up with some creative ways to serve their customers while at the same time keeping them safe…
Last week, a Berlin café went viral for its creative approach to maintaining social distancing among its customers.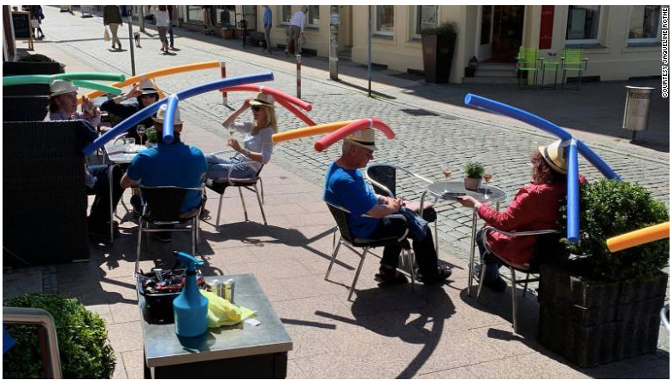 Source: CNN
Not to be outdone, this week, a bar and grill in Ocean City, Maryland got even more creative with the introduction of "bumper tables." Check out this video.
► In today's mailbag, one reader shares his market outlook and another his views on returning to normal life again…
Have the restaurants in your area started reopening yet? If so, are they crowded? Are you ready to visit a bar or restaurant now? If not, what precautions would make you comfortable? Send your thoughts to [email protected].
► "Berna, thanks to you, Enrique, and Whitney for your insights. I appreciate reading divergent views. Your essays are full of nuggets. As to my outlook: short term, very uncertain but slightly bearish; long term, quite bullish.
"I am retired, but I am investing the family portfolio for the really long term (40-50 years, which includes after I am gone). I am very bullish long term, and I figure there will probably be at least a half-dozen bear markets during that period, so I'm not going to worry about them.
"We invest mostly in income-producing blue chips, but are willing to invest a small percentage in prospective next-generation blue chips. Thanks again, stay safe, and take care. PS, this is my 7th bear market, so I've learned not to lose sleep over them." – Andrew S.
► "I really appreciate the quality comments and guidance in your investment newsletters. So, thank you. Keep it up.
"On the question of resuming life – You and Whitney and others need to get out of your New York bubbles. The rest of America is vastly different than what you probably experience. We have had 75 COVID-19 deaths in Utah [approximately the same as traffic fatalities] out of a population of 3.3 million people for a death rate of .000023. As you can see, the pandemic has basically been a non-event in Utah. If it were not for the sensationalism of the media you wouldn't even know it was happening. I would go back to the movie theater today with either a packed house or half full. I would go to a baseball game today if they'd just have one. Myself and 10 work colleagues went to a sit down lunch at Chili's today. It was so nice. Get back to life everyone." – Dale N.
Berna comment: Whitney has been explicit with his view that areas with few cases should be reopening, whereas areas with active outbreaks will need to continue to operate under restrictions for a little while longer. I agree.
Unfortunately for us in the greater New York City area, if we were to get back to our normal lives tomorrow, we'd probably see a spike in deaths in a month or so. The virus is still everywhere here. I celebrate that Utah has had only 75 deaths total, and you should definitely enjoy restaurants, movie theaters, and everything else that is safe in your state… but not in New York City. For context, the city had 106 fatalities just on Monday. We're going in the right direction, but we just aren't there yet.
As for my concerns about the lasting impact of COVID-19 on many of the companies I cover, a few factors are at play that don't have anything to do with a New York bubble.
First, a lot of people are afraid of catching COVID-19, even if it's highly unlikely that they will. Things can open, but that doesn't mean patrons will come. A Nielsen survey in early May reported that only 23% of respondents were ready to visit a restaurant or bar "as soon as they are open." Whether these fears are justified or not is irrelevant – many people will take their time returning to their normal activities.
Second, in assessing the prospects for individual companies and overall U.S. GDP, remember the size of the greater New York City area… It's 10% of the national GDP, and it's at a virtual standstill right now.
Finally, our borders are currently closed, and foreign arrivals may be restricted for some time. For many of the industries I write about – travel, department stores, casinos, theme parks, etc. – they have had a significant piece of their customer base eliminated for the foreseeable future.
As much as I wish we could pick a date on the calendar and have everything go back to normal, that may not be realistic. Our job here at Empire Financial Research is to pick stocks that can work within all likely timelines for a return to normal.
The reason I continually solicit feedback on how readers feel about a return to normal is specifically because I don't want my outlook to be defined by what's happening only in my hometown.
Regards,
Berna Barshay
May 20, 2020