► Earlier this month, e-commerce giant Amazon (AMZN) expanded its reach into the world of fashion with the launch of its on-app Luxury Stores…
While Amazon's entry into the luxury arena had been long rumored, no one knew when it was coming or what it would look like. It turns out that Luxury Stores is elegantly designed, available on the app only (no desktop, at least for now), and offered Oscar de la Renta as its first brand partner.
Speaking to fashion bible Vogue, my dear friend Christine Beauchamp, president of Amazon Fashion, commented…
We're excited about creating an elevated and inspiring customer experience, while also infusing innovative technology to make shopping easier and more delightful.
As for why Luxury Stores is mobile app-only, Beauchamp explained to Vogue…
Mobile shopping is incredibly important for our customers. We find that the Amazon fashion customer overwhelmingly shops fashion in the mobile experience, so we began it with mobile, where our customer begins. In fact, in the past year [Amazon] customers have ordered over a billion fashion items on mobile.
Amazon made a wise choice choosing Oscar de la Renta as the first brand to debut, given its strong heritage and classic looks. The design house's CEO Alex Bolen offered Vogue an explanation as to why the company was willing to be first into the water on the effort, at a time when some luxury goods companies have been hesitant to work with a retailer that also sells more mundane items…
I would guess that somewhere near 100% of our existing customers are on Amazon and a huge percentage of those are Prime members… So they're already in that environment. For me to get more mindshare with existing customers in addition to getting new customers – that's the name of the game. We want to be able to talk to her wherever she's comfortable shopping.
While some luxury brands have been slow to get online, or have confined their presence to their own website or luxury goods-dedicated sites like Farfetch (FTCH) or Richemont's (CFRUY) Net-a-Porter, Bolen firmly asserted the view that Amazon is a good place for high-end brands to be…
This idea that you don't want to speak to a customer where she's spending a lot of her time is a mistake.
Oscar de la Renta has decided to go to where the customer is, instead of expecting her to follow the brand to where it has traditionally been. For a smaller but respected brand such as Oscar de la Renta, which came to prominence in the 1970s, thinking out of the box and going where younger customers are seems like a very well-reasoned bet.
Since the September 15 launch, Amazon has added more brands to the Luxury Stores, including Italian high-end lingerie brand La Perla, prestige beauty and luxury skincare line Clé de Peau Beauté, and French ready-to-wear line Roland Mouret. Just this morning, women's ready-to-wear designer Joseph Altuzarra joined the Luxury Stores lineup. In a piece of corporate cross-marketing, the designer was also a featured judge on Amazon Prime Video's recent reality competition show, Making the Cut.
► Amazon is already a major player in the mass fashion world…
With total sales of apparel and footwear estimated to top $30 billion, Amazon is already America's largest fashion retailer. According to estimates by Coresight Research, 61% of U.S. apparel shoppers had already turned to Amazon for fashion needs by 2018, making it the No. 1 fashion destination in the country – outpacing Walmart (WMT) and Target (TGT).
However, the bulk of Amazon Fashion sales have traditionally been in more accessibly priced items, with the company commanding an ever-increasing market share in core basics like T-shirts, socks, and underwear. But the e-commerce giant hasn't been content to stay confined to that world, and has gotten increasingly fashion-forward through the introduction of several well-reviewed private-label apparel lines as well as the recruitment of big-name brands to the site as first-party sellers who offer inventory directly to Amazon for resale.
Amazon's selection has become even deeper when you factor in items listed by third parties which, according to Coresight estimates, make up nearly 90% of apparel and footwear listings on the site. Selling directly to Amazon, however, gives brands more control over their pricing and merchandising, and the company has been successful in recent years in overcoming some initial skepticism and recruiting big brands like Levi Strauss (LEVI) and Adidas (ADDYY) onto the site as first-party sellers.
Through its acquired subsidiaries – contemporary apparel site Shopbop (purchased in 2006) and footwear specialist Zappos (purchased in 2009) – Amazon also has a toehold into more elevated fashion brands. While these companies operate largely independently from their parent, there's likely some knowledge sharing and possibly vendor relationship cross-pollination as well. You can observe cross-company collaboration in initiatives like The Shop by Shopbop, which lives on Amazon's main site.
Amazon also recently took a step into a quickly emerging area of fashion – influencer marketing, a phenomenon I previously discussed in the context of online clothing retailer Revolve (RVLV). Last year, Amazon introduced The Drop – limited capsule collections designed by popular fashion influencers from Instagram. Each collection on The Drop is only available for 30 hours, and the styles and reasonable pricing under $100 per item are clearly meant to attract a younger, more fashion-forward Gen Z or Millennial customer.
► The Luxury Stores launch included a layer of exclusivity…
Luxury goods by definition (and high price) are built on a foundation of exclusivity, and the launch of Luxury Stores was no exception. Some subset of Amazon's more than 150 million Prime members received an e-mail on the morning of the launch inviting them to view the Luxury Stores on their phone app.
For those not lucky enough to make the initial cut, Amazon offered an opportunity to register on its website for an invitation to access the store.
With Luxury Stores – as with almost everything it does – Amazon is adding and advancing the use of technology to well-established routines.
The biggest innovation at the store is a 360-degree view that allows consumers to choose the model that wears the garment they're considering. The site offers models who wear different sizes, and have a range of body types and skin tones – helping customers imagine how an item might actually look on them…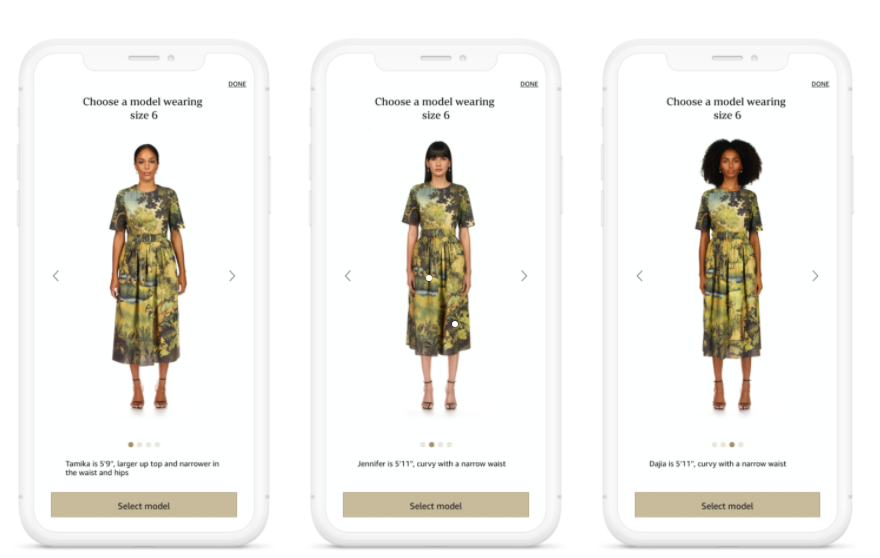 Source: Vogue
This tool enhances the shopping experience by giving potential buyers a better look at how an item might suit their particular body shape or skin and hair coloring. But it could also enhance the bottom line for vendors by helping lower the return rate on items, which is always a major challenge for online apparel retail – whether selling items that cost $20 or $2,000.
Oscar de la Renta's Bolen acknowledged to Vogue this operational challenge, and conceded the industry's problem with returns is one that Amazon is uniquely suited to solve…
For us, one of the huge frustrations of digital is return rate. The return rate in our brick-and-mortar stores is low single digits on a bad day. Online, it's almost 30%. If digital becomes an increasing part of our business, and the smart guys say it could reach 30%, 40%, that has huge implications.

It means I need to have much more inventory, many more people dealing with returns. It's kind of a different business than what we're used to. We have to learn on the fit side how we can get better, and Amazon is very interested in that problem. They've got teams of people that are thinking about this all day long.
► Amazon is giving luxury goods vendors way more autonomy over merchandising than typical vendor partners get…
Brands in Luxury Stores are empowered to not only decide which goods they will list, but also how they will be priced, when they will be introduced, and whether they will ship themselves or outsource fulfillment to Amazon.
Luxury Stores also operate on a concession basis, which means vendors own their inventory – whether Amazon warehouses and ships it or not – which keeps the inventory risk with the vendor, and spares Amazon financial exposure to potential misfires that vendors are unwilling to mark down.
In this way, Amazon could prove to be a partner that protects price integrity better than some of its traditional partners. Over at traditional luxury retailer Saks Fifth Avenue, during the peak of the COVID-19 crisis, items from Italian luxury houses such as LVMH's (LVMUY) Emilio Pucci and Capri Holdings' (CPRI) Versace were marked down by 50% or more for pre-order – meaning they hadn't even hit store shelves yet. This is exactly the kind of thing luxury brands want to avoid like the plague.
► While unlikely to move the needle for Amazon's revenues, this is one more step to the company delivering on its promise to be the 'everything store'…
Even if Luxury Stores is wildly successful, it will likely still be a rounding error in terms of total sales not only for overall Amazon (which has more than $300 billion in revenue), but even Amazon Fashion – with its tens of billions of sales. The total volume in any luxury brand short of the largest ones will pale in comparison to the sales volume done in giant global athletic brands like Adidas and Nike (NKE), or even at a boring underwear, T-shirt, and socks company like Hanesbrands (HBI).
For Luxury Stores to really be a material sales contributor at Amazon Fashion, the company would need to recruit the very biggest luxury brands in the world, such as LVMH's Louis Vuitton, Kering's (PPRUY) Gucci, and privately held Chanel. But that's unlikely to happen… these three brands tightly control their distribution and have been unwilling to sell anywhere online other than their own e-commerce sites. They have shunned even pure-play upscale players like Farfetch.
But where Luxury Stores can really move the needle is for the vendors themselves. In the many tiers of luxury below the global mega-brands of Louis Vuitton, Gucci, Hermès, and Chanel, a whole world exists of ready-to-wear, beauty, and footwear lines that measure their sales in the tens or hundreds of millions of dollars… and most of them are hurting right now. Due to the COVID-19 pandemic and its effect on international travel (much of luxury goods shopping is associated with tourism), these brands have seen traffic to their boutiques plummet.
Earlier this year, Amazon had partnered with Vogue to offer some smaller designers such as Phillip Lim and Victor Glemaud the opportunity to sell their wares on Amazon as part of its participation in the Common Threads initiative, a fashion industry response to the COVID-19 crisis.
Just like Amazon threw a lifeline to several smaller, possibly struggling designers with its Common Threads store, the e-commerce giant is offering a major assist to an industry that is reeling from spring lockdowns and the reduced demand for dressing-up items as work from home persists and large group gatherings like galas are canceled.
However, the industry has been hit with not only a demand shock, but also the demise of several key partners such as the recently-shuttered Barney's and Jeffrey department stores… as well as the shrinking of others, like Neiman Marcus, which just emerged from Chapter 11 bankruptcy as a smaller chain.
With so many of luxury's traditional retail outlets closing or shrinking, Amazon's Luxury Stores offer a way for vendors to expand their reach while minimizing the need for IT investment at an already difficult time.
And for Amazon, Luxury Stores offers a way to more comprehensively serve its customers as well as build a halo for Amazon Fashion initiatives that have the potential to do higher volumes, such as the private-label brands.
► In today's mailbag, readers react – a couple with skepticism – to electric cars and autonomous driving, and another reflects on just how much dressing and shopping needs have changed over time…
Would you buy a luxury item online, or have you already? Do you regularly shop for everyday clothes and shoes on Amazon? If not, what might get you to consider it? Share your thoughts with me by sending an e-mail to [email protected].
► "Would I try an all-electric or self-driving car? ABSOLUTELY NOT AND THE FIRST ONE THAT GETS WITHIN ONE FOOT OF MY BUMPER IS GOING TO GET THE FENDERS SUED OFF OF IT!!!!!!!!!!!!!!!!!!!!" – Gary M.
► "Myself – no – I am an old dinosaur of the muscle car age. But I do believe the younger generation does like these cars and I do agree with Whitney's premise – just not for me – I like the noise & rumble" – Frank Z.
► "I have a Tesla Model S 85D and like using the autopilot. At this point, I'd still need convincing to trust a fully driverless car. But I do think that will change rapidly." – Jonathan W.
► "I started my career in IT 40 years ago in a 35K employee company. We were required to wear a sports coat and tie every day. After 10 years, we were allowed to wear golf shirts and dockers in the summer. After 15 years, I went to work for a mid-sized IT company where the normal dress code was golf shirts and dockers, then they had jeans Fridays. Three years ago, I went to a mid-sized IT security company where t-shirts, shorts and flip flops were the dress code. Each move cost me a good amount to update my wardrobe to the dress code.
"Today I work at home in T-shirts, jeans and slippers. Last week I bought my first clothing in over a year. A new pair of casual shoes for my daughter's rehearsal dinner and a pair of new workout shoes. Working from home I just don't need new clothes. I can wear the clothes that show wear that were not appropriate for the office (even the shorts and t-shirts needed to be crisp and new). It seems in 40 years, then change in fashion from formal to casual just keeps coming faster. I look so forward to Berna's letter each day. Keep it up." – Fred R.
Regards,
Berna Barshay
September 30, 2020