In a normal situation, activists would be tripping over themselves to take stakes in Google parent Alphabet (GOOGL)...
Especially after the value of its stock plunged by around $100 billion in a single week, following its perceived missteps in the out-of-the-blue chatbot battle with fellow tech giant Microsoft (MSFT).
But like several other tech companies, Alphabet's shares are split into two classes – a structure that leaves founders Sergey Brin and Larry Page with voting control.
That means no matter what any activists might do or how much stock they buy, they can't force out management... or force other changes at the company.

Then again, maybe it doesn't matter...
After all, Alphabet recently took the axe to its bloated workforce... but only after London-based investment firm TCI Fund Management wrote two strongly worded letters encouraging the company to cut costs. (You can read them here and here.) And it did. While TCI's stake in Alphabet is valued at around $6 billion, it's only around 1% of the total.
With Alphabet, TCI isn't an "activist" in the true sense... in that the firm didn't just show up one day announcing a big position and making a lot of noise.
TCI has owned Alphabet shares since 2017, has made an enormous amount of money in the process, and genuinely seems to love the company's potential. But it also wasn't about to sit back as Alphabet seemingly ignored reality.

This gets us to where we are today...
It's clear to me that Alphabet is like so many other companies in Silicon Valley – as good as it is in terms of the technology it creates, it has gotten complacent and almost out of touch with the world around it.
In a recent blog post, one former engineer – who had sold his company to Google and recently left – put it this way...
Google has 175,000+ capable and well-compensated employees who get very little done quarter over quarter, year over year.

Like mice, they are trapped in a maze of approvals, launch processes, legal reviews, performance reviews, exec reviews, documents, meetings, bug reports, triage, OKRs, H1 plans followed by H2 plans, all-hands summits, and inevitable reorgs.

The mice are regularly fed their "cheese" (promotions, bonuses, fancy food, fancier perks) and despite many wanting to experience personal satisfaction and impact from their work, the system trains them to quell these inappropriate desires and learn what it actually means to be "Googley" – just don't rock the boat.
Part of that is the nature of a company that has grown so big it's buckling under its own weight. But equally to blame is likely the insular nature of Silicon Valley, where so many executives are lulled by extreme wealth and success that they believe their own, well, let's just say press clippings.
There's no better example than Google, which was adding employees while every other company in Silicon Valley was seemingly engaged in mass layoffs... until, that is, TCI spoke up.
But the confirmation of my thesis was when Microsoft appeared to catch Alphabet flat-footed when it rolled out its ChatGPT – garnering all the hype and attention on something that Google actually created.
Google then responded feebly and almost clumsily... and in the process, watched as its stock lost $100 billion in value in a single week.
---
Recommended Link:
Overheard at Apple's Secret Meeting…

A thousand people attended… NO CAMERAS were allowed! One invitee said every iPhone was wrapped with "tamper-proof stickers" to prevent photographs. At the event, Apple unveiled a device that "could eventually replace mobile phones." Apple codenamed the device "N421"… But Michael Robinson calls it "iPhone Killer." To see how you could potentially profit from iPhone Killer… Click here before April 26.
---

While all of this may be a blip over the long term – especially after the dust settles from the ChatGPT frenzy – the reality is this...
With any other company – that is, a company without a dual-class structure – one or more activists would have been on the doorstep yesterday.
But Google, because of its shareholder structure, is immune.
Or is it?
As TCI has shown, sometimes it's not about control... but pressure.
If a $100 billion drop in value doesn't get management's attention, somebody else surely will.

Meanwhile, when I logged into ChatGPT the other day, there was a new popup...
Here's what I saw...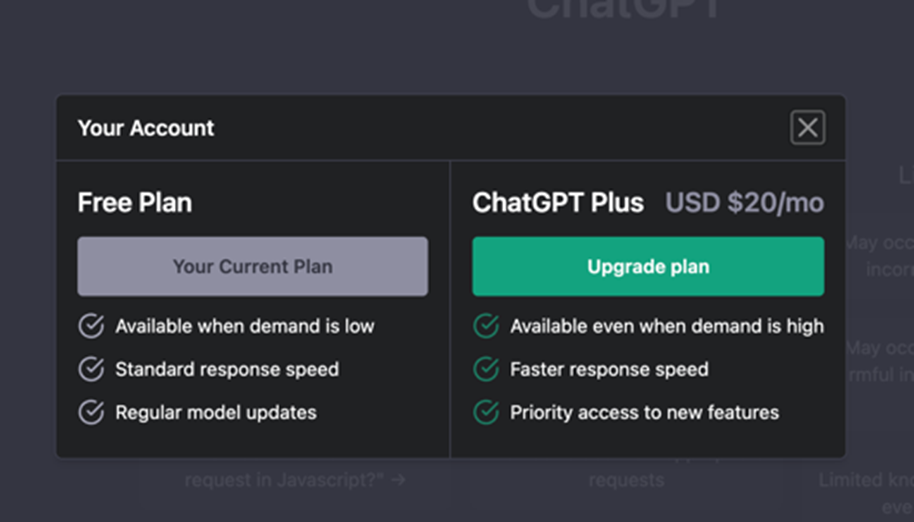 Source: ChatGPT
A premium version of the service. Imagine that!
The question is... would you pay for something that you can get on Microsoft's search engine Bing for free? The answer, obviously, is whether it's somehow better.
And by that, I mean... is it accurate?

Right now, as I and so many others have found, if it's for the mere purpose of searching, the answer is... no!
Why in the world would you pay for something that isn't accurate... or even put advertising on it? (OK, advertisers are more concerned with eyeballs than accuracy, but I digress...)
I back up any search on ChatGPT with a traditional search on Google, and the very same answer usually appears at the top of my Google search results. But digging the way I do through various search results – something I always do, even on a traditional Google search – it's easy to spot the flaws.
Among the many errors, I recently asked ChatGPT how many shares tech giant IBM (IBM) had bought back in the prior 10 years and the value of those holdings. At first, it didn't want to answer the question and instead referred me to the annual reports. Then, when I pressed, it was almost as if it just pulled a number out of thin air... a number that was egregiously wrong.
Of course, this is just a test version, and recent popups on ChatGPT – covering its own hide – say as much.
I don't doubt it'll get better, and Google's answer will be equally good... and the lazy among us will search for an answer via chatbot as opposed to doing an actual "search."
The irony will be whether, after the hype is gone – a few quarters down the road – Google's search results end up being that much different than they were before all of this started.

Speaking of ChatGPT and artificial intelligence ('AI'), Microsoft recently added one interesting new risk factor...
It was the mention that AI could "cause harm to individuals or society," which was subsequently tweaked to say, "may have broad impacts on society."
Either way, as much as it's a boilerplate, I like to remind investors that boilerplates are there for a reason and sometimes do become real risks.
With AI, societal risk is your worst fears of science fiction coming true.
And as New York Times tech columnist Kevin Roose wrote today in a column headlined, "Conversation With Bing's Chatbot Left Me Deeply Unsettled"...
These AI models hallucinate, and make up emotions where none really exist. But so do humans. And for a few hours Tuesday night, I felt a strange new emotion – a foreboding feeling that AI had crossed a threshold, and that the world would never be the same.
Regardless of how it evolves, this is one genie that is never going back in the bottle.
How do you think it all will end up with ChatGPT and AI? Send me an e-mail by clicking here... I look forward to hearing from you.
Regards,
Herb Greenberg
February 16, 2023