1) Three tech giants, Alphabet (GOOGL), Meta Platforms (META), and Amazon (AMZN), were (and still are) the foundation, along with Berkshire Hathaway (BRK-B), of our two flagship newsletters: Empire Stock Investor and Empire Investment Report.
All three just reported earnings and, overall, they did well, with Alphabet and Amazon beating expectations and rising strongly, while Meta missed and fell 5% yesterday. Here are Wall Street Journal articles summarizing the results:
My take: I recommended these three stocks and view them as core, long-term holdings because the underlying companies are among the greatest ever. Nothing this week has changed my view...
2) It's not surprising – but, as I've been saying for nearly two decades, thoroughly disgusting – that a few hundred of the wealthiest people on earth, hedge fund and private equity titans, are fighting to keep an absurd, outrageous, and unfair tax break that allows them to pay an ultra-low tax rate on their income: Private equity, hedge funds object to U.S. carried-interest tax hike proposal.
Their arguments are total nonsense, so hopefully Congress will finally do the right thing and close this loophole that saddles the rest of us with higher taxes. Excerpt:
Private equity and hedge funds cautioned on Thursday that a proposed U.S. tax increase on carried-interest income could potentially hurt small businesses and big investors, such as endowments, foundations, and pension funds.

Carried interest refers to a longstanding Wall Street tax break that lets many private equity and hedge fund financiers pay the lower capital gains tax rate on much of their income, instead of the higher income tax rate paid by wage-earners.

A change in the tax rule, which has been discussed for over a decade, would raise $14 billion, according to senators.
I'm glad to see my friend Bill Ackman of Pershing Square agrees with me and is speaking out, tweeting this:


3) In yesterday's e-mail, I mentioned that I listen to books (on Audible), YouTube videos, and podcasts when I'm hiking, jogging, or trail running by myself (which I've been doing a lot of this week).
My two favorite podcasts are by my friend, NYU marketing professor Scott Galloway: one that he does by himself, The Prof G Pod, and the other with tech columnist Kara Swisher, Pivot. The two of them are a hoot, mixing tremendous insight with humor and bawdy banter. For example, in the opening of their most recent podcast, they made fun of Tesla (TSLA) CEO Elon Musk, who, the Wall Street Journal reported, slept with the wife of Google co-founder Sergey Brin:
Swisher: "Scott, I have something to tell you."

Galloway: "OK..."

Swisher (who's a lesbian): "I slept with your wife, and I'm so, so sorry..."

Galloway: "As long as I could watch, I don't have any problem with that..."
And in his latest Prof G Pod episode, Galloway makes a powerful argument that the U.S. health care and health insurance industries need shaking up... So, while he's been a critic of Amazon many times, he welcomes the company's entry into the health care market via its recently announced acquisition of One Medical (ONEM). Galloway also has an insightful interview about the metaverse.
4) Yesterday morning I did a scenic four-hour drive up the coast to Redwood National and State Parks, where I did an easy 1.5-mile hike followed by a tougher 12-mile, four-hour trail run among the magnificent redwoods, the tallest trees on earth. Here are some pictures: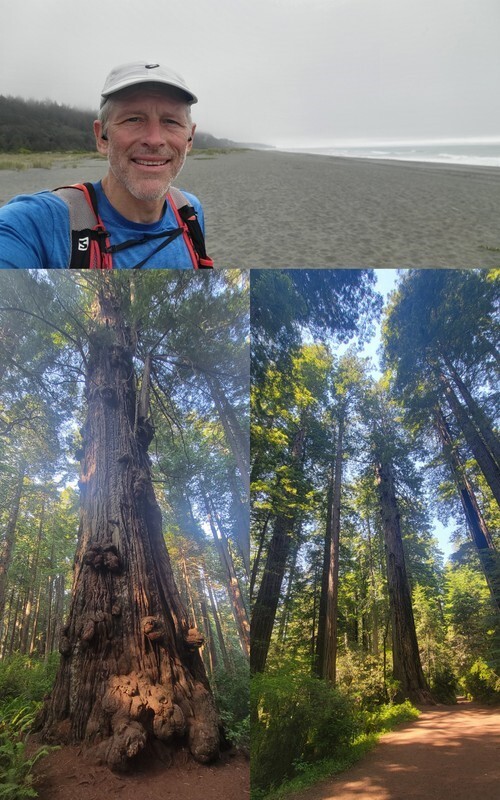 Today I spent the morning driving and hiking in the northern part of the park and then I'm driving four hours back to Eugene, Oregon to catch an evening flight to San Francisco, where I'm spending the weekend with various friends and family.
5) During my long trail run yesterday, I listened to a new nine-hour Audible book (at 2.5-times speed), The Missing Cryptoqueen: The Billion Dollar Cryptocurrency Con and the Woman Who Got Away with It. Reading books like this is why my "spidey sense" is so good at sniffing out frauds and promotions – I've been studying hundreds of them for more than two decades...
The Missing Cryptoqueen tells the story of scam cryptocurrency OneCoin and the nefarious Bulgarian woman behind it, Dr. Ruja Ignatova. I had never heard of her or OneCoin, but it was one of the largest Ponzi schemes in history, sucking in more than 1 million people in 178 countries, costing them $4 billion of cash – and more than $100 billion of gains they thought they had in their accounts.
And here's the crazy part: Early in the scam Ignatova did a deal with an Arab sheikh in which she received 230,000 bitcoins which, even at today's reduced price, is worth $5.5 billion, so she's been able to use her riches to escape justice and is reportedly cruising the Mediterranean in a super yacht.
Here's the summary of the book on Amazon:
In 2016, on stage at Wembley Arena in front of thousands of adoring fans, Dr. Ruja Ignatova promised her followers a financial revolution. The future, she said, belonged to cryptocurrencies such as Bitcoin. And the Oxford-educated, self-styled cryptoqueen vowed that she had invented the Bitcoin Killer. OneCoin would not only earn its investors untold fortunes; it would change the world.

By March 2017, more than $4 billion had been invested in OneCoin in countries all around the world. But by October 2017, Ruja Ignatova had disappeared, and it slowly became clear that her revolutionary cryptocurrency was not all it seemed. Fortune was left asking, "Is OneCoin the biggest financial fraud in history?"

In The Missing Cryptoqueen, acclaimed tech journalist Jamie Bartlett tells the story he began in his smash hit BBC podcast, entering the murky worlds of little-regulated cryptocurrencies and multilevel marketing schemes. Through a globe-crossing investigation into the criminal underworlds, corrupt governments, and the super-rich, he reveals a very modern tale of intrigue, techno-hype and herd madness that allowed OneCoin to become a million-person pyramid scheme – where, at the top, investors were making millions and, at the bottom, people were putting their livelihoods at risk. It's the inside story of the smartest and biggest scam of the 21st Century – and the genius behind it, who is still on the run.
Best regards,
Whitney
P.S. I welcome your feedback at [email protected].