I was flying back to San Diego on Delta Air Lines (DAL) the other day and had to transfer in Atlanta, when it dawned on me...
Southwest Airlines (LUV) isn't the only air carrier that has underspent on technology.
That's the only explanation for what happened to our flight.
First, moments from when we were supposed to board the plane, they switched our gate to another plane.
Then, as if this was news to them, they said they had overbooked the flight by not one, two, or three people... but 11 people. ELEVEN!

To ease the problem, they started offering $300 to the first person willing to give up their seat and go on the next flight...
Then, they raised the bid to $400. This must have been the magic number, because that was the final announcement.
I tweeted about it and somebody responded that they had just checked in for a flight the next day and there was already a Dutch auction on Delta ranging from $200 to $500 to change flights.
But nothing could match a June 2021 story in Inc. by tech columnist Jason Aten, who was on a Delta flight last summer that had overbooked by 10 people and offered them $10,000 apiece to change flights.
We all know overbooking has been going on intentionally for decades to offset the likelihood of no-shows. It has been an especially serious issue with the upheaval in the industry, with fewer planes and pilots.

Still, the question is... why?
Isn't this, after all, supposed to be what artificial intelligence ("AI") helps manage? Ditto for last-minute gate and plane changes – especially on a day when there are few weather-related delays.
Airlines have been using AI for a number of years. As far back as 2018, in fact, there were stories like one in Reuters that said...
Being offered cash at the gate to take a later flight because of overbooking may become a rarity if technology being examined by major airlines such as British Airways, JetBlue, and Qantas catches on.
So, why is it still going on?
The only explanation I can come up with is that airlines haven't been updating their AI since the initial spending... or at least, maybe, Delta hasn't. After all, it's the one that's paying out hundreds if not thousands of dollars to free up seats.
It's not that AI is infallible and can solve all problems. That's why we humans still have jobs.
Of course, there's a chance I have this all wrong, and maybe Delta is using the latest AI available... and maybe, just maybe, this is as good as it gets and it would have been a complete system meltdown without it.

Speaking of AI, in the December 13 Empire Financial Daily I wrote about how so-called 'chatbot' ChatGPT came out of nowhere to dominate the discussion...
In the process, something else has happened...
AI, which hasn't exactly been in the shadows, is back on center stage. Look no further than Google Trends...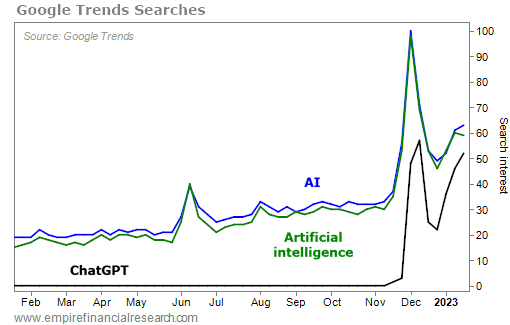 Meanwhile, handwringing over ChatGPT – which can automatically answer questions and write stories, reports, or even software code – continues to gain steam.
Stories abound – such as one last week in The Atlantic suggesting that ChatGPT "Will Destabilize White-Collar Work." There was also news that several school systems, including New York City, are banning its use... and that the program had passed a medical licensing exam.
Things have moved so rapidly in the two months since ChatGPT was rolled out by privately held OpenAI, that Axios reports it was "the talk of Davos" – the economic forum in Switzerland that attracts executives from around the world.
The big winner in all of this, it would appear, is Microsoft (MSFT), which has made an enormous investment in OpenAI... and just yesterday announced it was investing more. Could this spark the third coming of Microsoft?

Good question, but then where does that leave Alphabet's (GOOGL) Google?
That's the question everybody has been asking... especially whether ChatGPT will displace Google as the king of search.
Google certainly isn't sitting still. With more than 20 AI projects in the works, the New York Times reports that in the wake of the ChatGPT blitz, Google declared "Code Red" and has brought back co-founders Larry Page and Sergey Brin to consult on its AI strategy.
In reality, what really appears to have happened is that OpenAI did a great job marketing ChatGPT, which in theory is still experimental. At least that's what Meta Platforms' (META) chief AI scientist Yann LeCun implied recently during a gathering of press and executives via video conferencing...
In terms of underlying techniques, ChatGPT is not particularly innovative. It's nothing revolutionary, although that's the way it's perceived in the public. It's just that, you know, it's well put together, it's nicely done.
Proving yet again that it's the presentation that counts.

Switching gears a bit, make sure you check out my brand-new presentation...
In it, I reveal why 235 U.S. cities are set to see a "blackout" this year.
No, it's not a matter of a grid failure, a series of power outages, or anything like that...
Ignoring it could be the difference between making huge returns in the market this year... or getting left in the dust. 
Get the full details – including how this setup could supercharge your financial situation – right here.
As always, feel free to reach out via e-mail by clicking here. I look forward to hearing from you.
Regards,
Herb Greenberg
January 24, 2023