1) Yesterday's e-mail about Snap (SNAP) got me thinking about two other stocks that were also previously Stock Ideas of the Day:
Activision Blizzard (ATVI), which is up 82% since I wrote about it in my February 19, 2019 e-mail:
Today's Stock Idea of the Day is Activision Blizzard (ATVI). Due largely to the rise of Fortnite, it's been cut in half and now trades at 19x trailing EPS. It has 20%+ net margins and been an incredible long-term grower, as this 14-year chart shows:
And At Home Group (HOME), which is up 258% since I wrote about it in my July 24, 2019 e-mail:
Today's Stock Idea of the Day (which, to repeat, is not a recommendation, but rather something I find interesting enough to warrant a little digging) is At Home (HOME), which operates 200 home décor superstores in 40 states.

At Home reminds me a bit of Snapchat at its lows… Both stocks crashed to around $5 in a short period of time (HOME was over $40 a year ago), and had compelling bull cases posted on my favorite stock-idea website, ValueInvestorsClub.com. I can't link to the full HOME write-up, as recently posted ideas are available only to members, but here are some excerpts:

Opportunity

HOME's share price fell (57%) when it reported 1Q20F results, and has fallen another (30%) since then. It's now down (72%) ytd, and (87%) from its July 2018 high. Although fundamentals have certainly deteriorated since then, the long-term prospects for this growth retailer have not meaningfully changed. Meanwhile, the company is still in an active sales process, with at least two named suitors. The remaining private equity sponsor is rumored to be interested in rolling over their stake, and with the current price so far below the IPO price, there are many incentives to get a deal done, with room for a substantial premium.

Timeline

We believe the sale process began some time between October and February, so the process has taken six to nine months so far. We think it's unlikely this would drag on much longer, given the need to lift the blackout period at some point, if only for senior management to buy stock if they truly believe this is an opportunity. Although there have been no rumors since May, we think this could be constructive (albeit with confirmation bias), as the incentives for a banker to leak could be reduced as a transaction gets closer to fruition.

Even without a deal, this quarter should be in-line with guidance and expectations, so we'd expect the stock to grind higher once the shareholder base has turned over.

Catalyst

Hopefully a buyout at $15 in the next few weeks; otherwise just a grind higher.

Many big-box retailers in this sector are getting hammered – look at Bed Bath & Beyond (BBBY), which has gotten cut in half in the last three months alone. But I've often had great success identifying babies thrown out with the bathwater…
Note to self: start sharing more Stock Ideas of the Day!
2) In Wednesday's e-mail, citing a report by the American Enterprise Institute, I wrote:
President Donald Trump says that the Democrats' economic and tax policies would destroy the economy and plunge the stock market into an abyss, but even conservative economic think tanks disagree.
Other conservative groups aren't as sanguine, however. For example, 10 days ago, four researchers at the Hoover Institution issued this bearish report: An Analysis of Vice President Biden's Economic Agenda: The Long Run Impacts of Its Regulation, Taxes, and Spending. Summary:
This report explores the potential impact of Democratic presidential candidate Joe Biden's proposals on the economy as a whole. We conclude that in the long run, Biden's agenda would reduce full time equivalent employment per person by about 3%, the capital stock per person by about 15%, real GDP per capita by more than 8%, and real consumption per household by about 7%. Relative to the CBO's 2030 projections for these variables, this suggests there will be 4.9 million fewer employed individuals, $2.6 trillion less in GDP, and $1.5 trillion less consumption in that year alone. Median household income in 2030 would be $6,500 less.

While these effects may seem large, they are actually conservative estimates of the negative impact of the full Biden agenda.
3) Who knew that cheerleading was such a big business – and that Bain Capital-owned Varsity Brands had cornered it. I learned a lot from this article: The Coming Collapse of a Cheerleading Monopolist. Excerpt:
Today I'm writing about big news in the cheerleading world. Yesterday, plaintiff lawyers filed a class-action antitrust case against the Bain Capital-owned corporation that controls that sport, Varsity Brands. As unlikely as you may find cheerleading to be as a useful model for how the American economy functions, it actually works quite well as a case study. It's got private equity, monopoly, small business, and American culture, all wrapped up into one nice package…

Competitive cheerleading is also expensive, costing between $3-6k annually per athlete. The charges at issue include not only fees for competitions, but purchases of equipment, like uniforms, warm-up outfits, team jerseys, hair bows and headbands, backpacks, pom poms, and shoes. When working on this story, I heard constantly about the cost, and how it is driving poor kids out of cheer.

To some extent, the cost is high because it's expensive to buy clothes, training and travel. But market power wildly inflates the price for entering contests and buying the clothing necessary for the sport. Yesterday, three class action law firms (Berger Montague, Cuneo Gilbert & LaDuca, and Justice Catalyst Law) filed an antitrust case against Varsity Brands, alleging that Varsity and the United States All Star Federation monopolized cheerleading competitions and cheerleading apparel, driving up the price of the sport and controlling the independent gyms who train cheerleaders.

The most interesting aspect of this case are not the legal arrangements, but the fear that I found in interviewing people in the cheer world. Virtually every interview I did was under the condition that the person remain anonymous for fear of retribution. Often people would email me saying that I had no idea the depths of the scandals in the sport. This isn't a game of high stakes national security technology, it's cheerleading. And yet there's a pervasive culture of fear and suspicion, which is the same fear you find in virtually every profession in America these days because everyone understands that retribution is both possible and often likely.
4) Given that I'm flying home tomorrow, I was especially happy to read this Washington Post article! Defense Department study finds low risk of coronavirus infection through air on a packed airline flight. Excerpt:
A Defense Department study of the risk of catching the coronavirus on a packed commercial flight concluded that a person would have to be sitting next to an infectious passenger for at least 54 hours to receive a dangerous dose of the virus through the air.

Researchers concluded that, if passengers wear surgical masks continuously, very little of the virus spreads, because of how the air is circulated and filtered on the planes.
5) Yesterday, I did a great five-mile hike to the top of Turtlehead Peak in Red Rock Canyon with my colleagues Enrique Abeyta and Gabe Marshank. Here's a picture of us at the bottom: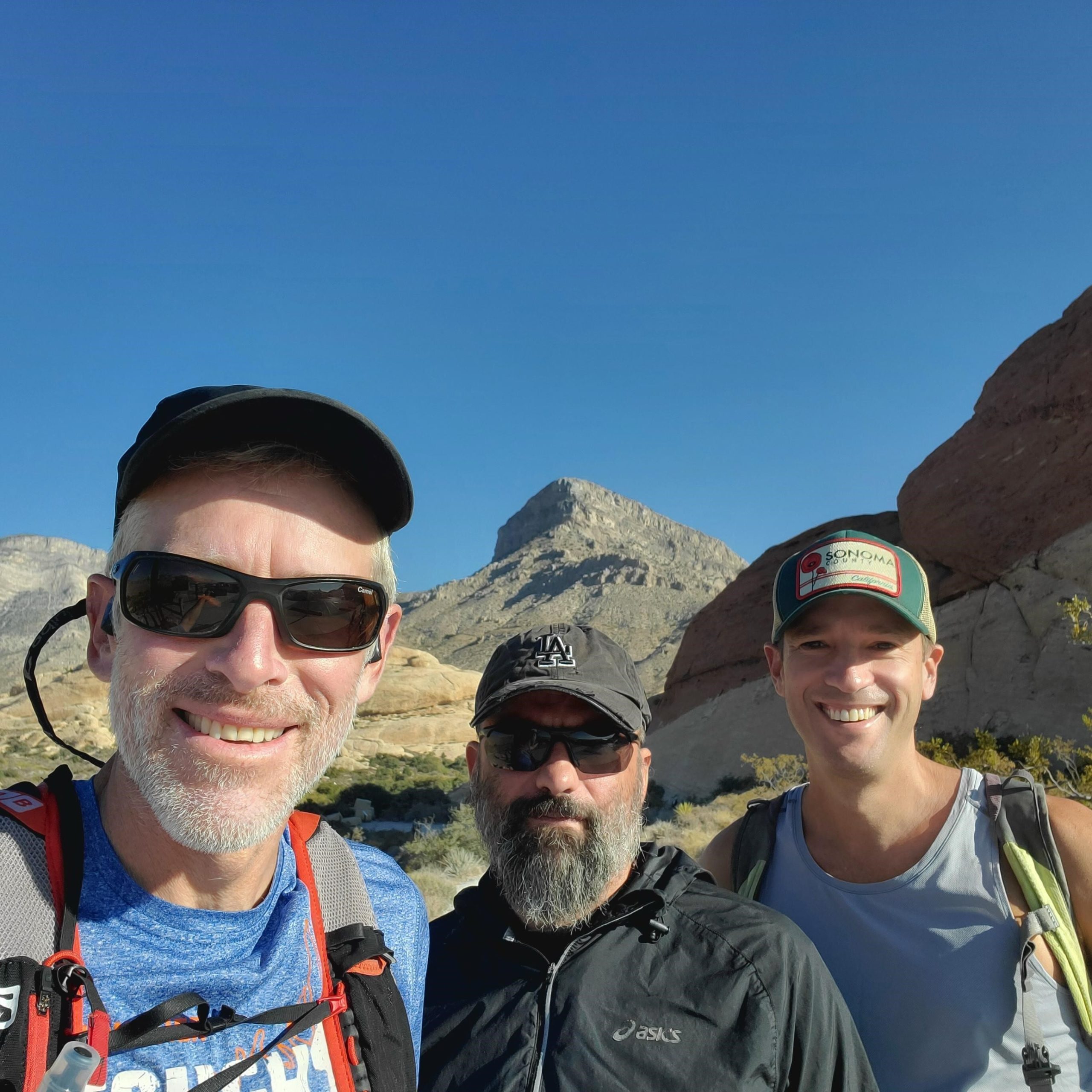 And here we are at the top: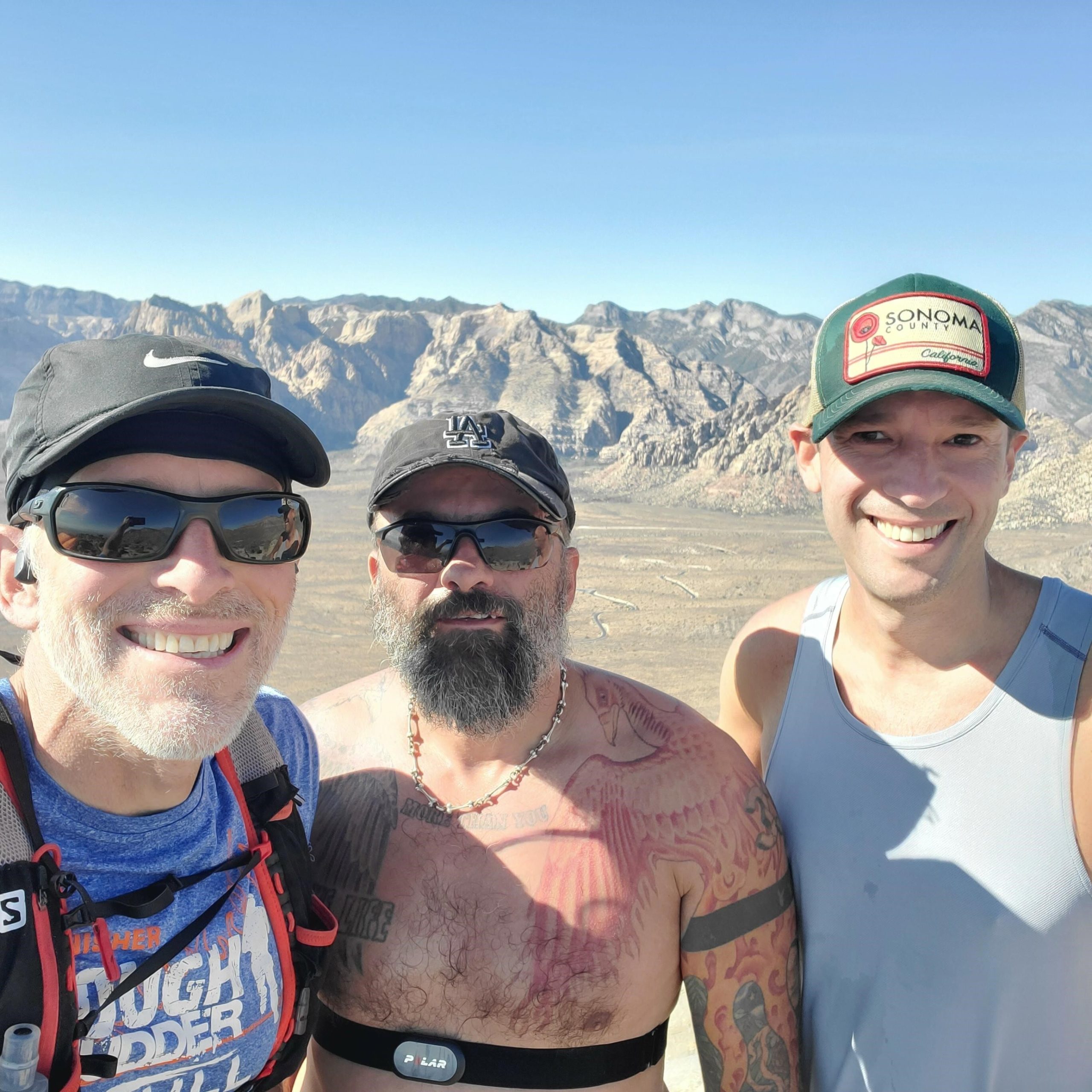 After we finished our hike, my guide Paul and I returned to Red Rock Canyon, and he taught me how to lead climb for the first time, which I described in my Facebook post here.
Best regards,
Whitney