1) I'm not surprised that active managers are increasingly focusing their bets, but I am surprised that portfolios concentrated in their favorite stocks appear to be doing worse than more diversified ones.
One possible explanation is lack of skill... Another is various biases related to overconfidence... And another is that the market's overall returns tend to be driven almost entirely by a very small number of stocks, so a manager is more likely to hold one of them with a more diversified portfolio. To Battle Passive Funds, Active Investors Shun Diversification. Here's the key chart: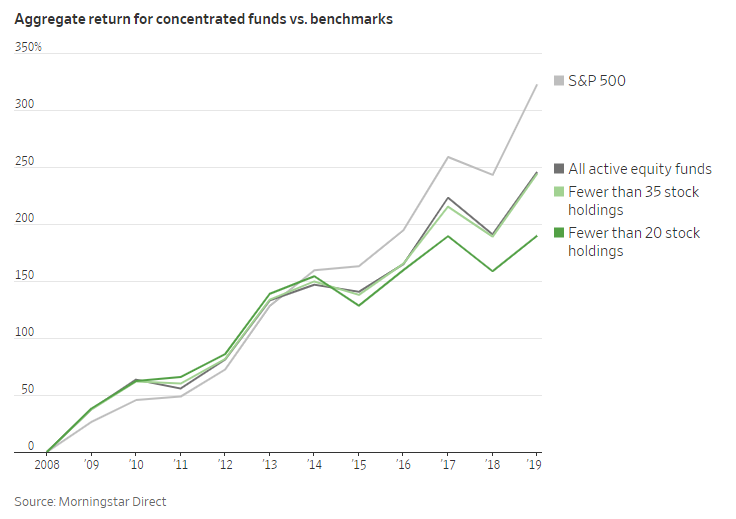 2) On a day when an article on the front page of the New York Times reveals that the Sackler family took $10.7 billion out of Purdue Pharma over the past dozen years, I'm reminded of this news from last month: Federal Prosecutors Launch Criminal Probe of Opioid Makers, Distributors. Excerpt:
Federal prosecutors have opened a criminal investigation into whether pharmaceutical companies intentionally allowed opioid painkillers to flood communities, employing laws normally used to go after drug dealers, according to people familiar with the matter.

The investigation, if it results in criminal charges, could become the largest prosecution yet of drug companies alleged to have contributed to the opioid epidemic, escalating the legal troubles of businesses that already face complex, multibillion-dollar civil litigation in courts across the country. Prosecutors are examining whether the companies violated the federal Controlled Substances Act, a statute that federal prosecutors have begun using against opioid makers and distributors this year.

At least six companies have said in regulatory filings that they received grand-jury subpoenas from the U.S. attorney's office in the Eastern District of New York: drugmakers Teva Pharmaceutical Industries (TEVA), Mallinckrodt (MNK), Johnson & Johnson (JNJ), and Amneal Pharmaceuticals (AMRX) and distributors AmerisourceBergen (ABC) and McKesson (MCK). People familiar with the matter said the subpoenas were in connection with the Brooklyn federal probe.
This is great to see... but far, far too late. They're closing the barn door after the horse has fled. Every element of our government failed us, doing almost nothing as the opioid epidemic grew to devastate large swaths of middle America over nearly two decades. What a total disgrace!
3) In this e-mail and subsequent ones, I'm going to share excerpts from the new book I'm writing, All I Want to Know Is Where I'm Going to Die: The Five Calamities That Can Destroy Your Life and How to Avoid Them (I just finished the first draft, so it should be out by late spring). Here's the beginning of my chapter on Calamity No. 2, "A bad marriage, often ending in divorce"...
Warren Buffett once said that the two most important decisions you make in your life are who you marry and what career you choose.

Truer words were never spoken. I can't even think of what No. 3 is...

Let's focus on No. 1.

Until roughly 10 years ago, divorces among my friends and family were extremely rare – but since then, it's been an epidemic. More than a dozen people I'm close to have gone through this, and in nearly every case, it's been a nightmare.

So initially, the title of this chapter was going to be: "Calamity No. 2: Divorce." But then my wife pointed out that the real calamity isn't the divorce – in fact, that's often the relief valve. It's the many years of misery prior to the divorce – or worse yet, no divorce (i.e., being in a terrible marriage for the rest of your life) – that's the real calamity.

You can see this in these charts based on a global survey showing life satisfaction, for both men and women, in the years before and after divorce:

Women

Men

You can see that for both men and women, life satisfaction is negative in the years leading up to divorce, but then turns positive afterward (with men experiencing much stronger and more rapid effects, both negative and then positive).

Having a good marriage – the single biggest determinant of your lifetime happiness – is a function of two things: marrying the right person and then maintaining a healthy marriage thereafter.

Marrying the Right Person

I love the advice Charlie Munger gave when he was asked about the key to marrying a great person. He said you should look in a mirror and try to improve yourself because great people only marry other great people. So true...

Once you establish criteria to evaluate a potential spouse, ask yourself how you stack up on those same criteria. There are always things to work on, and constantly improving is a great way to attract a wonderful spouse (as well as being successful in life in general).

You never know where you might meet that perfect person, but there are certainly some places in which you're more – or less – likely to do so.

I met [my wife] Susan in September 1990 when Bill Ackman and I crashed the Harvard Law School orientation boat cruise of Boston Harbor. That was a good place to look.

One of my friends met his wife when he volunteered to guide blind runners in the NYC marathon. What a great screening method – anyone he met was highly likely to be very fit and have a big heart.

In contrast, a Navy SEAL told me he met his wife at a strip club where she was performing. Later, as he was thinking of marrying her, he said his friends told him that when he went away on deployment, she'd bang his best friend and empty his bank account. He ruefully admitted that that's exactly what happened... (This wasn't difficult to predict...)

Once you're engaged in active self-improvement and are fishing in the right ponds, you need to have good evaluation criteria. I've been thinking about this for years and have come up with numerous questions – which I've boiled down to a dozen – that I think anyone should ask when considering whether to marry someone.
I'll continue tomorrow with the first question...
Best regards,
Whitney