► Streaming giant Netflix (NFLX) walked away with seven Oscars last night, the most of any studio…
It was an awkward Academy Awards, with a scaled down in-person ceremony featuring mostly indie, art-house style fare, as studios had held back many big-budget releases with movie theaters shuttered for much of 2020 and early 2021.
Netflix came into the night with the most nominations – 36 – and exited with seven trophies. This was a big increase in its haul compared to the prior year, when it walked away with just two. Netflix also had a nomination in 22 of 23 Oscar categories (the only one where it was shut out was Best International Feature).
But its wins were mostly lower-profile… Netflix took home two Oscars each in technical categories for Mank (cinematography and production design) and Ma Rainey's Black Bottom (makeup/hairstyling and costumes), plus two more statues in the short-film categories. Its highest-profile win was for Documentary Feature for My Octopus Teacher.
When it came to prestige wins, the clear winner was Disney (DIS). Its Searchlight Pictures, which it picked up in the Fox acquisition, won three of the top prizes with Nomadland – Best Picture, Best Director, and Best Actress.
Searchlight has been dominant of late, winning Best Picture four out of the past eight years. There were many things notable about Nomadland, including its Asian-American female director (it was only the second time in 93 years that a woman has won the directing prize)… But the most notable thing for stock investors is that it premiered on Disney's streaming service Hulu the same day that it hit theaters, which marks the first time a film that was immediately available for streaming took the top prize.
Disney picked up its other two awards – Best Animated Feature and Best Score – for the existentially-themed jazz film Soul, which aired exclusively on its streaming service Disney+.
Normally, films that don't have even a brief theatrical run before streaming online aren't eligible for Academy Awards, but that rule was changed this year – theoretically temporarily.

While the eligibility rule change may be spun as temporary, it's undeniable that the streamers had their stamp all over the awards show…
In addition to the 12 trophies to Netflix and Disney for films that were either streaming exclusive or day-and-date release for streaming and theatrical, Amazon's (AMZN) Studios picked up two technical awards for its Sound of Metal, and AT&T's (T) Warner Brothers picked up two wins for Judas and the Black Messiah, which premiered on HBO Max the same day it hit theaters, following WarnerMedia's controversial decision to release all its features to its streaming service HBO Max on the same day they hit theaters in 2021.
Elsewhere, tech giant Apple (AAPL) and Hulu had nominations for films exclusive to their services… but walked away empty-handed.
The fact that it's a streaming world now was the elephant in the room during the presentation. Studios and theaters have long enjoyed a symbiotic relationship, but the forced closures have meaningfully disrupted it.
The desire to distribute new filmed content during a pandemic caused dramatic rifts, beginning with the dispute between Comcast's (CMCSA) Universal Studios and theater owner AMC Entertainment (AMC) over Trolls: World Tour and peaking with WarnerMedia's decision to go day-and-date with all its 2021 releases. Other studios, like Disney, have been more passive in their language. They've signaled loud support for the theaters, while at the same time acknowledging in a quiet voice that the theatrical exclusive window may in fact be dead.
No one has more nostalgia for big screens and surround sound than the Hollywood establishment itself, minus of course the corporate executives who are equally – if not more – concerned with delivering on shareholder targets for growth in earnings per share ("EPS"), revenue, and streaming subscribers.
So it's no surprise that the desire to push movie-watching back into theaters going forward was palpable, whether such messaging took the form of an awards presenter calling out the preferred concession stand snacks of nominees or the outright plea from one of the night's biggest winners. In her acceptance speech for Best Actress, Frances McDormand urged viewers…
Please watch our movie on the largest screen possible. And one day, very, very soon, take everyone you know into a theater, shoulder-to-shoulder in that dark pace and watch every film that was represented here tonight.
As one of those dinosaurs who still loves the communal movie theater experience, I empathize with McDormand, who – fun fact – I briefly assisted during a stage manager internship nearly 30 years ago. But as happy as I am for her success (no assistant horror stories here – she was lovely), I'm sad to say I think the genie is out of the bottle on home viewing.
Rumors of the death of the exclusive theatrical window for feature films have been rampant for about 20 years, and such calls time and again proved premature. But this time – I think it is upon us.
After a year of watching everything we want at home, it's going to be impossible to put this toothpaste back in the tube. Day-and-date streaming is here to stay… maybe not for every would-be blockbuster, but likely for the vast majority of films.
Not only has the consumer spoken his or her preference, but shareholders have also spoken – richly rewarding those companies that have made the digital transition, despite the fact that eliminating the exclusive theatrical window takes a huge chunk out of profits… And in the short term, streaming isn't filling that profit hole.

Netflix had a great night last night, but its first-quarter earnings report last week was a bit bumpier…
NFLX shares closed down more than 7% last Tuesday after reporting a big miss in subscriber additions. While revenue grew 24% and was in line with its prior guidance, and EPS of $3.75 beat the consensus of $2.97 handily, global subscribers grew by just under 4 million. This was a big disappointment in light of the company's prior guidance for 6 million net additions.
The quarterly net paid subscriber addition was the lowest for the first quarter in each of the last five years and was also the third lowest of any quarter in the last five years…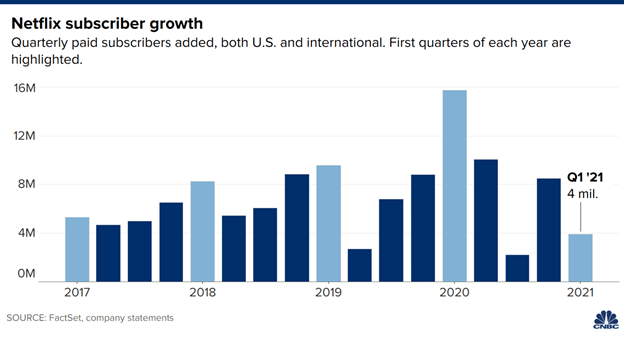 Source: CNBC
The company blamed the miss on the "big COVID-19 pull forward in 2020." The idea that Netflix paid membership growth would decelerate eventually because of this kind of pull forward should be familiar to regular Empire Financial Daily readers… I've been expecting this kind of slowdown to hit Netflix eventually… And I wrote about this prospect in July after its second-quarter results and in October after its third-quarter results.
Both times I recommended readers stay on the sidelines because of valuation and lack of near-term catalysts, given the likely pull forward. Since those calls to sit out NFLX shares on July 17 and October 23, the stock is up 3% and 4%, respectively. The S&P 500 Index is up 30% since July 17 and 21% since October 23.
Netflix is a great company with massive consumer goodwill and is the clear king of the streaming space. It has also made a real investment in churning out TV – and more recently feature film content – that garners critical acclaim. But its stock has counterintuitively been a big underperformer for the past nine months.
Netflix provides a good reminder that even great companies can go sideways… So it's important to think about price, valuation, and short-term catalysts when buying stocks. Identifying a good company isn't enough… You need to buy it at a good price or when expectations for the next few quarters are too low.

Netflix offered one more explanation for the subscriber slowdown…
Management said additions were hurt by a lighter content slate in the first half of 2021 because of COVID-19 production delays. While this was a slight surprise since Netflix had emphasized in prior calls how much product it had "in the can," this problem is nothing to worry about and is decidedly one-time in nature.
Importantly, Netflix maintained that it didn't think competition was a reason for the subscriber slowdown. As founder and co-CEO Reed Hastings commented on the earnings call…
And of course, we are wondering, what, wait a sec, are we sure it's not competition, because obviously there is a lot of new competition, and we've really looked through all the data, looking at different regions where new competitors are launched or not launched, and we just can't see any difference in our relative growth in those regions, which is what gives us confidence if it's intensely competitive, but it always has been.

I mean we've been competing with Amazon Prime for 13 years, with Hulu for 14 years… It's always been very competitive with linear TV too. So there's no real change that we can detect in competitive environment… It's always been high and remains high.
While competition in the streaming sector is no doubt brutal, I think this is more of a problem for the late entrants, like ViacomCBS's (VIAC) Paramount+.
Netflix has seen its share of viewing for original streaming content drop from 65% in the first quarter of 2019 to 50% today. But according to data analytics firm Parrot Analytics, the company's share is still more than 4 times larger than the No. 2 streaming player, Amazon Prime Video, which is notably a service that most subscribers get for free – the purchase of Amazon Prime is motivated more by the free two-day shipping.
Netflix assured investors that despite delays, the pace of the return for favorite shows should pick up in the second half… which means it should be back at the top of its content game when interest in streaming will likely pick up again heading into the cold winter months. Seasonally, subscribers are easiest to come by in the fourth and first quarters, as the temperature drops.
Meanwhile, Netflix has set the bar low for new subscribers… guiding to pick up just 1 million new subscribers in the second quarter.
I expect seasonality in streaming adoption to be even greater than usual in 2021. After a long year of being cooped up, people are ready to get out of their house and enjoy travel and experiences again. This rush to get out and about will coincide with the warm summer months that are always tougher for nailing subscriber additions. Newer services like Paramount+, HBO Max, and Peacock will need breakout, must-see hits if they want to grow over this summer.

A streaming industry slowdown could prove a good thing for Netflix…
After many years of being marginally profitable and burning cash after taking into account its sizable investments in programming, Netflix generated about $700 million in free cash flow during the first quarter. In a vote of confidence regarding future cash-flow generation, Netflix's board approved a $5 billion stock buyback program.
I'm still on the sidelines with Netflix. At this valuation with the slowdown, you can likely get better returns elsewhere. But the company has reached a level of scale that's quite profitable… which its competitors have not.
This slowdown is about a pull forward of demand, not subscribers abandoning Netflix for the competition. If overall industry growth remains slower for a period because of the pandemic pull forward, this may actually net out to be a good thing for Netflix. If the whole industry slows, so will recruiting at its money-losing competitors – leaving Netflix in an even more privileged industry position to pay up for the best talent and content. This will only serve to reinforce its leadership.

In the mailbag, readers react to the update on Hudson Yards and strongly reject the idea of the government aiding the developer in the form of low-interest loans…
I haven't seen any of last night's winners except the moving animated short If Anything Happens I Love You (available on Netflix) and Disney's Soul (which I adore and recommend even if you don't have kids – its themes are mature and universal).
Which other winners or nominees do you recommend that I, along with Empire Financial Daily readers, put at the top of our streaming list? What else have you watched and really enjoyed lately? Share your recommendations in an e-mail to [email protected].

"Hi Berna, The federal government should only consider a low-interest loan to Amtrak and Related if it will advance the work needed for the new tunnel under the Hudson River. A second rail tunnel under the Hudson is a critical infrastructure project for the entire Northeast, not just the NYC area. I'm not as excited about helping Related out." – Ethan S.
Berna comment: I'm with you, Ethan. I believe in investing in crucial infrastructure… But as I have said before, I strongly reject bailouts for anything that isn't mission critical to a functioning economy or defense – whether for real estate developers, airlines, or anyone else. It's capitalism on the way up and socialism on the way down… otherwise known as crony capitalism, and I am not a fan.

"Berna: As you said earlier in your article, '… a classic example of privatization of the profits [and] socialization of the risk.' I know there is precedent for such action but at some point, someone in power needs to say no.
"Today, it's Related, Hudson Yards, and Amtrak. Tomorrow, it's the unfunded pension obligations of this company and that company. Next week, it will be those of state and local municipalities. In fact, I think in the last bailout package, there was a piece of pork for a couple of group pension plans.
"I'm mixing my metaphors here, so to speak, but goodness gracious. Porter Stansberry's prediction of a debt jubilee is coming into focus more quickly than I thought it – or feared – it would." – Mark J.

"Absolutely not! Bad ideas should be allowed to fail and those who invested should lose their investment. And all those who bought the new version of CDOs should lose too. Nobody will bail me out if I buy the wrong house and can't finish the renovation. As you can tell, I have NO sympathy." – Tim P.
Regards,
Berna Barshay
April 26, 2021