► It started when Yahoo News published an article early Monday morning questioning the whereabouts of Alibaba (BABA) founder Jack Ma…
In a story that seemed better suited for a tabloid or perhaps the plot of an evening soap opera, Yahoo highlighted that the founder of the Chinese Internet giant hadn't been seen in public for two months and missed the finale of a reality show he developed, and went so far as to suggest that perhaps the Chinese government had something to do with his disappearance… as Ma had recently been outspoken in his criticism of Beijing leadership.
Even to mention the rumor of such a disappearance – and then to suggest the Chinese government might have had a hand in such a thing – is a big deal. With a net worth of approximately $50 billion, Ma is the 20th richest person in the world and a highly active and far-reaching philanthropist.
He's also the founder and former Chairman and CEO of the $620 billion Alibaba, which is the world's largest e-commerce company by revenue. It's a huge player in artificial intelligence ("AI"), cloud computing, and entertainment. When Alibaba went public in 2014, it was the largest initial public offering ("IPO") at the time (and remains in second place today, just behind oil giant Saudi Aramco).
Ma is also the founder of Alibaba's affiliate fintech company Ant Financial. Ant owns digital payment platform Alipay – which has more than 1 billion users – and runs the largest money-market fund in the world. Ant was supposed to go public last fall and was set to raise $35 billion, which would have been a new record. But in November, at the 11th hour, the IPO was canceled as the Chinese government enacted new regulations that precluded the IPO – reportedly on the order of the Chinese Communist Party leader Xi Jinping. Then, in December, China opened an antitrust investigation into Alibaba.
These crackdowns on Ma's businesses followed statements he made at a conference last October criticizing Chinese banking regulations.
The Yahoo article referenced a video interview from another Chinese billionaire, Guo Wengui, who fled the country in 2014 and is a self-described whistleblower outing Chinese corruption. According to Yahoo, Guo suggested in the 2019 video that "Ma would likely end up in jail or dead in the next year because China wanted to 'take back' Ma's lucrative Ant Group."

Yesterday, sources told CNBC that Ma is fine, but just 'laying low'…
The station's David Faber – who had frequently interviewed Ma over the years – suggested the billionaire was alive and well and in Hangzhou, but was lowering his profile after "running afoul" of the Chinese government with his statements.
BABA shares rallied 5.5% yesterday in reaction to the news.
And yet, the fact that a news outlet could suggest the Chinese government made one of its most prominent citizens just disappear Sopranos-style, and that it would get immediate credible discussion in the press and financial circles – and not be laughed away as implausible – says a lot about people's fears about the growing power of Beijing leadership.
Putting it into perspective – Ma is China's most famous businessman, its second richest citizen, and a globally recognized innovator… It would be like Amazon (AMZN) CEO Jeff Bezos or Tesla (TSLA) CEO Elon Musk just disappearing in a cloud of mystery.
But when it comes to the Chinese government, these fears are well-founded… There's a history of bad fortune befalling successful businessmen and other prominent people who step out of line and get too critical of the powers that be in Beijing.
Last March, former real estate executive Ren Zhiqiang – who was popular on social media and had a history of criticizing the Chinese Communist Party and state media outlets – made negative statements about the government's coronavirus response… and then disappeared shortly thereafter. In September, he was sentenced to 18 years in prison for corruption.
There have been numerous other cases of prominent people being picked up and given long sentences on charges that appear to be politically motivated. Just yesterday, China sentenced Lai Xiaomin, the former Chairman of Huarong Asset Management, to the death penalty for taking $277 million in bribes.

This may seem like a side show – or a plot from the Chinese version of the conspiracy thriller show Scandal – but this is serious business…
China is the world's second-largest economy (after the U.S.)… by a lot. Its GDP is almost 3 times the size of Japan's, the third-biggest economy. It's also the biggest U.S. trade partner and the second-largest holder of U.S. debt (just behind Japan).
Despite the audacious suggestion the Chinese government could have seized and imprisoned – or worse – one of its most well-known and globally respected citizens without so much as an announcement or due process, the Chinese market barely blinked. The Shanghai Shenzhen CSI 300 Index was up Monday and Tuesday, after Yahoo raised the question of where Ma was and before CNBC reported on his whereabouts.
This morning, the CSI 300 Index was trading at its highest point since the fourth quarter of 2007 and is within 8% of and rapidly closing in on its all-time high set in October 2007.
Meanwhile, not everyone believes all is well with Ma. Prominent American hedge-fund manager Kyle Bass called out CNBC's Faber on Twitter, suggesting that sources in China aren't to be trusted…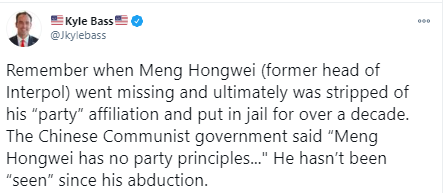 Bass makes good points… The truth is, we really can't know for sure what's going on with Ma right now.
And with the U.S. and Chinese economies so interconnected despite the raging trade war, it's a source of ethical, political, and practical concern that our exports – both of goods and services as well as Treasurys – are so dependent on a counterparty that has historically exhibited little regard for rule of law. If the Chinese government can make one of its most prominent citizens at best shut up and hide and cancel the world's largest IPO without meaningful explanation, how secure are the billions of dollars of investment that listed companies are pouring into the country?
Companies like Starbucks (SBUX) and Nike (NKE) have huge investments on the ground in China, as do gaming companies like Wynn Resorts (WYNN) and Las Vegas Sands (LVS), which have huge operations in the Chinese-controlled Special Administrative Region of Macau.
Other companies – such as Apple (AAPL), Boeing (BA), and Caterpillar (CAT) – source 10% or more of their revenues from China, a country that they could theoretically be kicked out of at any moment, if the government woke up on the wrong side of the proverbial bed.

And the Ma story wasn't the only drama in the headlines this week…
Following an executive order made by President Donald Trump in November, which barred Americans from investing in companies that have affiliations with the Chinese military, the New York Stock Exchange ("NYSE") announced on New Year's Eve that it would de-list the ADRs of three large Chinese telecom services companies: China Telecom (CHA), China Mobile (CHL), and China Unicom (CHU). The delistings were set to take effect sometime between January 7 and January 11. On Monday, all three companies' stocks fell in reaction to the news.
These delistings – along with the cancelation of the Ant IPO – are bad news for investment banks, which have had a lucrative run raising cumulatively more than $140 billion for Chinese companies through U.S. listings… and charging healthy fees along the way. But the delistings could be even worse news for U.S. companies with meaningful operations in China and those that make a big share of revenues exporting goods into China. This latest manifestation in the multiyear trade war could lead to retaliatory actions, such as restricted access to the Chinese markets.
There was also concern about who could be next. Many Chinese companies, such as e-commerce firms Alibaba, JD.com (JD), and NetEase (NTES), have U.S. listings and were left to wonder if they would also be kicked off an exchange.
But late Monday, the NYSE reversed course… and said that after meeting with regulators, it determined it didn't need to delist the three telecom firms. Rumors swirled that the telecom companies found a friend in the Trump administration in Treasury Secretary Steve Mnuchin. Nikkei Asia reported this morning that the NYSE could still change its mind again and go through with the delistings based on its evolving understanding of the implementation requirements and applicability of the executive order.
China has criticized the executive order as an over extension of the concept of national security but has so far failed to meaningfully retaliate with anything except harsh words. With the Trump administration in its final two weeks, China is probably running out the clock and waiting to see the position the Biden administration will take with regard to the November executive order.

And that wasn't even all of it…
Yesterday, President Trump signed another order impacting Chinese companies – this time banning U.S. transactions with eight Chinese software apps beginning in 45 days. The apps on the list included Alipay and Tencent's (TCEHY) QQ Wallet and WeChat Pay. It's up to President-elect Biden whether or not to implement the order.
These payment apps are mostly used in China, but it's unclear whether the order would apply within China, precluding an American company such as Starbucks from accepting payment via the apps.
The app bans are reminiscent of the war the Trump administration waged against popular social media app TikTok, in which it also cited ambiguous national security concerns. That ban is sitting in the courts and was most recently blocked by a federal judge about a month ago. If Biden decides to go through with these bans, it's likely this more recent order ends up in court just like the one involving TikTok did.
And as we go to press, we have breaking news that U.S. officials are now considering banning U.S. investors from buying shares in Alibaba and Tencent. BABA ADRs are giving back most of yesterday's gains with this news and are down almost 5%… and TCEHY ADRs are down more than 3% on the news. Many U.S. asset managers have meaningful positions in these stocks… BlackRock (BLK), for example, has a stake in BABA ADRs worth more than $20 billon. T Rowe Price (TROW), Vanguard, and Fidelity also own large positions.

Between the tariff war President Trump started at the beginning of his term and these executive orders that are coming out at the end of it, Biden will have a full plate of U.S./China issues to address when he takes office…
While he may choose not to enforce some of these executive orders handed down by his predecessor, it's no guarantee that he will take a more dovish overall approach to China relations.
Biden's style of diplomacy may differ from the recent tone set by President Trump, but it's also unlikely that trade tensions will immediately disappear with the new administration.
And that's probably a good thing… If we go back to the drama and uncertainty surrounding what's going on with Ma right now – even if he is indeed perfectly fine and just figuratively muzzled – then it's a reminder of all the potential pitfalls of economic codependence with an entity that plays by a completely different set of rules.
How the trade war develops over the coming months with a new administration will have consequences for all the companies mentioned in this piece and many others, including the scores of U.S. firms that source goods in China, including many from the technology sector.

In today's mailbag, two readers share the luck they have had in the past with making resolutions (and both involve giving up gluten!)…
Does the mystery surrounding Jack Ma make you less inclined to invest in Chinese companies? If you've invested in Chinese stocks before, what has your experience been like? Send an e-mail to [email protected].

"Happy New Year Berna and thank you for the great variety of topics you cover. I did manage to get down to my ideal weight since I retired 9 years early, using the age-old solution of diet and exercise. More specifically, me, my wife, and a group hike around 18 miles a week on 3 different steep trails… and that got me down 18 pounds or 2/3 of the way. I found the first 6 months very tough and the diet change took longer but what did it was accidental in nature. I got allergy-tested and as a bonus some food allergies were noted, including gluten. I cut those foods out and went gluten-free, and the remaining 9 pounds dropped off in two weeks.
"The big worry was giving up beer, but a friend pointed out that Corona beer is actually gluten free. Problem solved! When I mean diet, it's simply eating the right foods more along the paleo diet guidelines and never starving yourself. I got my flat stomach back and I'm in better shape than ever and enjoy the new cuisine greatly thanks to my wife's great culinary skills. I'm also now addicted to hiking which is great! Now if I could only cut back on the extra drinking I picked up during the pandemic!" – L.R.

"In 2015 I stopped eating potatoes, in three months I'd lost 18 pounds. Then my best friend suggested I go gluten free – this was a profound and life-changing experience for me, because within three days I was finally PAIN free, (did you know that all wheat is sprayed with glyphosate two weeks before harvest?) no? you didn't know that? well now you do.
"Long story short, I've been pain free for five years now, oh, I lost a total of 80 pounds as well. To be fair I bought a Garmin fitness watch, set goals, was excited when I met my goals, set new goals, and so on. At age 79 my watch says I'm in the top 10% of my age and gender group. Flattery will get Garmin my everlasting loyalty." – Vincent S.
Regards,
Berna Barshay
January 6, 2021