1) In yesterday's e-mail, I discussed Disney (DIS) and its latest earnings report (as I expected, the stock was up strongly – rising 6.9% yesterday).
Today, let's look at another entertainment company, Sphere Entertainment (SPHR). It owns the widely known, recently opened Sphere venue in Las Vegas.
Three weeks ago I wrote about my experience seeing U2 there, saying that "both the concert and the venue were spectacular!" I'm not the only one who thinks so. Here's what Tesla (TSLA) CEO Elon Musk tweeted: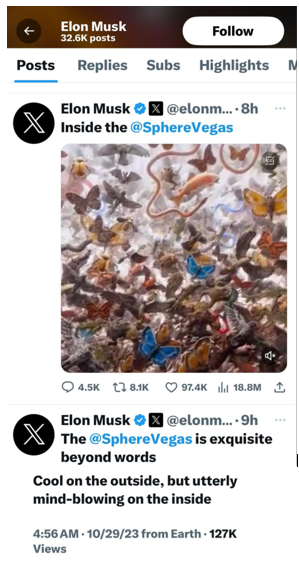 And here's a thread about it by Stanford Business School professor Kevin Mak. Excerpt: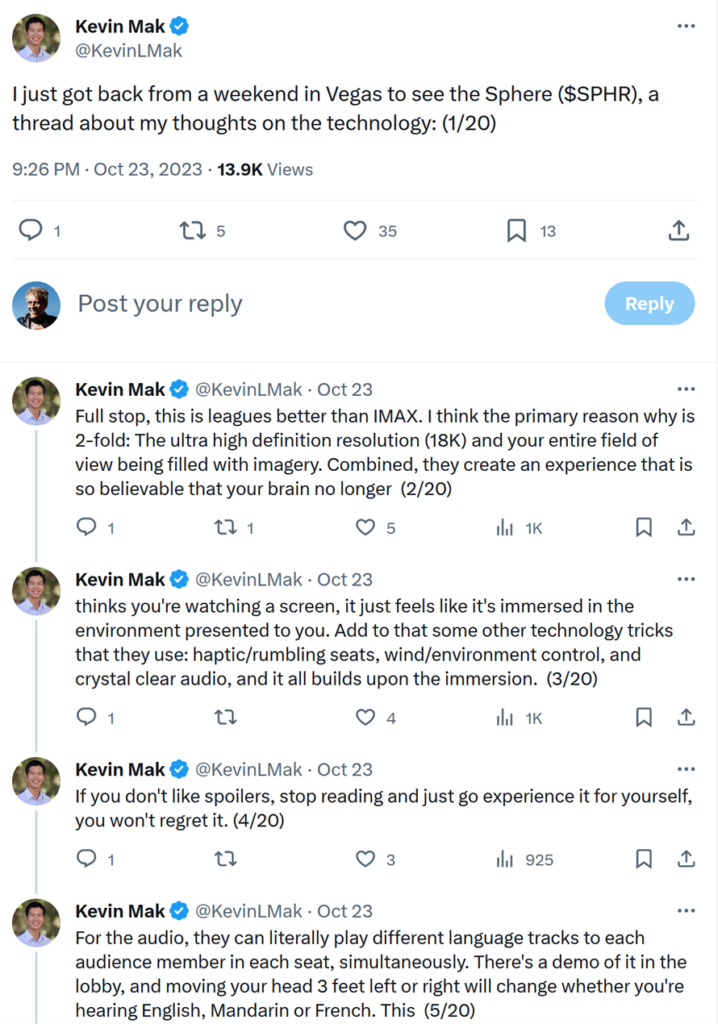 But what about the stock? Here's what it has done since it separated from MSG Entertainment (MSGE) on April 21: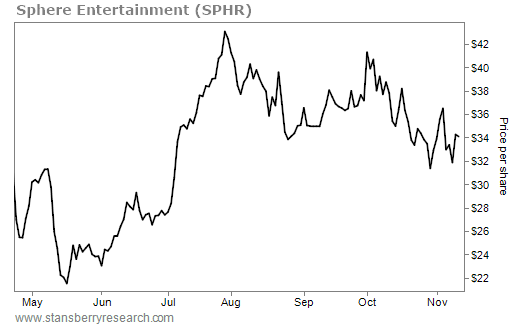 As you can see, SPHR shares rose strongly into the venue opening – a U2 concert on September 29. Despite packed shows, sky-high ticket prices (the cheapest seats for U2 were $500 and up), and rave reviews, the stock has sold off somewhat – a classic Wall Street "buy the rumor, sell the news" phenomenon.
Let's take a look at the company and its financials...
To start, I turned to my favorite investing website, ValueInvestorsClub, and, sure enough, found an insightful pitch for the stock that someone posted on June 20 when the stock was at $28 per share (it closed yesterday at $34.26 per share). While ValueInvestorsClub is a members-only website, because 45 days have elapsed, the writeup is available to the public here.
It describes the business as follows:
SPHR is the holding company for three key assets. First, MSG Sphere is a $2.3 billion (all in construction costs) one-of-a-kind venue in Las Vegas. Second, SPHR owns 17.1 million shares of Madison Square Garden Sports Corp ("MSGS") that we believe is worth approximately $18 per share to SPHR after tax. Third, SPHR is the sole owner of MSGN, a regional network that we value at zero... In addition to the assets described above, SPHR has some additional smaller holdings (e.g., land located in London) that do carry some value, but we have not factored this into our calculations for simplicity.
Here it describes the Sphere:
MSG Sphere broke ground in 2018 and is expected to open in the Fall of 2023 for the first show of U2's residency there on September 29th. When completed, the venue will be able to sit nearly 18,000 people and will be the largest spherical structure in the world, measuring 516 feet wide by 336 feet tall.

The Sphere will be home to concerts and shows utilizing 16K wraparound LED displays and over 160,000 speakers with 4D capabilities. The indoor screen is larger than three football fields. Additionally, it will include 23 luxury suites and an approximately six million cubic feet grand entry in the main atrium. Outside the Sphere is an approximately 160,000 square foot 16K LED display that we think will dominate the Vegas night skyline.

While the project was originally expected to cost $1.2 billion at the onset, changes in design, construction and inflation have elevated the all-in cost to $2.3 billion. Given the timing of the opening (3 months away), we believe the chance of any material changes in construction estimates are small. The building sits on land that was contributed by the Venetian Las Vegas hotel. The ground lease covers approximately 18.6 acres and has a 50-year rent free lease term.

In return, SPHR has agreed to share approximately 25% of its after-tax cash flows in excess of a return threshold that was agreed to at the onset of the project. While the specific percentage was redacted from the Ground Lease Agreement, we believe this return is based on the all-in cost of construction (i.e., $2.3 billion).
And, lastly, here's a summary of why the stock is attractive:
At this point is important to pause and recognize what investors in SPHR are buying. This is a one-of-a-kind building in the number one destination market in the world, which we think will be the #1 immersive experience in the city. Surely something like this is worth at least 50% of its build costs to someone. In fact, the Venetian provided 18.6 acres of ground lease for free, something we believe merits further consideration. Las Vegas Sands (the Venetian's prior owner) is, we think, one of the smartest strategic companies in the gaming space and most likely felt it could generate a better capitalization rate from contributing the property than selling it.

When factoring in (a) the value of the land, assuming a 5-6% capitalization rate, (b) the fact that Venetian was comfortable foregoing any cash flow for six to seven years until the Sphere is up and running and (c) the contribution of land and forgone rent only entitles them to 25% of the cash flow after a hurdle is reached, we believe the Venetian was probably underwriting $400 million or more in EBITDA, potential annually.
On Wednesday, Sphere reported quarterly earnings that generally pleased investors. While revenues for the venue were de minimis because it opened only one day before the end of the quarter on September 30, the company announced highlights that included (quoting from the press release):
U2 opened the venue with the start of its multi-month run at Sphere. To-date, every U2 show has been sold-out;

In light of the strong demand, 11 more U2 shows have been added in January and February 2024, bringing the band's planned number of performances at the venue to 36 in total;

The Sphere Experience – a signature content category – debuted on October 6th, featuring Darren Aronofsky's Postcard from Earth. This original cinematic film has already earned critical acclaim for its captivating visuals and use of the venue's next-generation, immersive technologies;

In early September, Sphere launched its first-ever brand campaign on the Exosphere with YouTube's NFL Sunday Ticket and the venue has since featured a number of additional campaigns with prominent global brands; and
Next week, Formula 1 will begin a planned multi-day takeover of Sphere for the inaugural Las Vegas Grand Prix.
Finally, let's look at valuation...
The company currently has a market cap of $1.2 billion and, adding debt and subtracting cash, an enterprise value of $2.1 billion.
At this point, normally I would calculate a multiple of revenues, earnings, etc... but that's impossible here because the company's main asset, the Sphere venue, just opened, so investors must make assumptions about the future.
Is the venue a fad, or will fans continue to fill it at high prices? What band will follow U2? How much will advertisers pay to put their messages on the outside of the venue? Perhaps most importantly, could the company build additional venues like it in, say, New York, Miami, London, Rome, Tokyo, Seoul, etc.?
One estimate of profitability is in the ValueInvestorsClub writeup above: "we believe the Venetian was probably underwriting $400 million or more in EBITDA, potential annually." If we use this figure, the stock today is trading at about 5 times EV/EBITDA, which strikes me as a crazy cheap price for a business with this much upside optionality.
I'm going to keep studying this company and, if I decide to recommend the stock, as always our paid subscribers will be the first to know!
2) Following up on last Friday's e-mail about the new book about Bridgewater – the largest hedge fund in the world, and its founder Ray Dalio – The Fund: Ray Dalio, Bridgewater Associates, and the Unraveling of a Wall Street Legend, I've downloaded it and look forward to listening to it during my upcoming travels.
Whetting my appetite are these two articles:
a) New York Magazine: 'Ray, This Is a Religion' How the world's largest hedge fund lost two top hires – and was paralyzed by puddles of pee. Excerpt:
There's plenty of weird behavior in the business world, from Mark Zuckerberg's glamour-shot hydrofoiling with an American flag on Independence Day to Goldman Sachs CEO David Solomon's boasting to his underlings that he – and only he – had received a blowj*b the night before.

And then there is Dalio and Bridgewater.

Since founding Bridgewater nearly 50 years ago, Dalio has become one of the world's richest investors (Forbes pegs his net worth at roughly $20 billion). He is widely credited with having predicted and profited from the 2008 financial crisis, which made him famous. Yet the Greenwich, Connecticut, resident professes to be seeking something more important than the mere accumulation of wealth. His main interest, as he wrote in his best-selling autobiography-cum–self-help book, Principles: Life and Work, is to lead others toward "meaningful lives" and "meaningful relationships."

Core to that effort is Dalio's narrative that all Bridgewater employees are on an equal playing field and that any difference in rank or authority is due only to a rigorous system that susses out merit. That system involves employees constantly rating one another, taking real-time polls in meetings on whether a speaker is right or wrong, voting on whom to hire and fire, and being quizzed on internal case studies and investigations.

This corporate culture, featuring a strict and overarching dogma created and enforced by a charismatic leader, has been repeatedly compared to a cult. It's a comparison Dalio rejects. As he told one interviewer, "It's the opposite of a cult. It's independent thinking. It's you knowing that you have the right and obligation to make sense of everything. It is a culture."

Dalio declined to be interviewed for the book from which this article is adapted. This excerpt is based on dozens of interviews with current and former Bridgewater employees, as well as on copies of emails, recordings, internal company documents, and published interviews and articles.

Dalio's lawyer said the Bridgewater founder "treated all employees equally, giving people at all levels the same respect and extending them the same perks."

While Dalio is hardly the first financier to develop a taste for the spotlight, there's no doubt that he's been fabulously successful at selling the gospel of Ray. Over the past ten years, he has become world-famous, appearing on major broadcast and cable networks, popular podcasts, and magazine covers and starring in TED Talks. Inside Bridgewater, Dalio has bragged that Bill Gates, Elon Musk, and Jack Dorsey are all interested in his Principles (none of those three would comment). He has said that Sean "Diddy" Combs asked to be personally mentored. He was interviewed by Gwyneth Paltrow, who suggested he run for president.

The truth is that at Bridgewater, some are more equal than others. And Ray Dalio is the most equal one of all.
b) Vanity Fair: Inside James Comey's Bizarre $7M Job as a Top Hedge Fund's In-House Inquisitor. Excerpt:
They called him the "Godfather."

Before he was FBI director, Jim Comey was general counsel of Bridgewater Associates, the world's largest hedge fund. There he would practice and perfect the knack for drama that later thrust him into the center of the national political scene.

Comey was far from a household name when he joined Bridgewater in 2010. He was best known for his stint as US attorney for the Southern District of New York, and he made no secret to friends of his financial motive for jumping to Bridgewater, which would pay him $7 million per year.

Bridgewater founder Ray Dalio, famed for devising a collection of so-called "Principles," also made no secret of his hopes for the new hire. Dalio's Principles, later adapted into a best-selling book and TED Talks, centered on a philosophy of "radical transparency" that involved tearing into the firm's troublesome corners. They called for videotaped, internal "trials," and investigations of even the smallest problems at the firm; these were often called "diagnoses" to find the "root cause." Staff voted in real-time on disagreements. Dalio told staff that Comey would be like a godfather adjudicating it all.
3) This is an interesting Wall Street Journal article for frequent travelers like me: Fliers Can't Get Enough of the 'Upper-Middle Class' Section of the Plane. Excerpt:
The new hot section on the plane isn't at the very front.

Not quite business class and definitely not coach, premium-economy cabins are hooking travelers willing to treat themselves to extra comfort for about double the price of a coach seat on some flights.

With offerings labeled Premium Plus, Premium Select or Premium Economy, airlines are expanding these sections, which typically come with roomy seats, early boarding, free alcohol and better meals. Airlines say they appeal to travelers with more disposable income, especially on long-haul flights where business-class seats can run thousands of dollars more.

"I refer to it as an upper-middle cabin for the upper-middle class," says Jay Sorensen, an industry consultant and president of IdeaWorksCompany. These sections appeal to travelers on work trips with budget-conscious employers, and vacationers who want some comforts without shelling out for business class.
Best regards,
Whitney
P.S. I welcome your feedback – send me an e-mail by clicking here.