---
Recommended Link:
Is THIS Where the Next Bull Market Will Be?

According to Business Insider, the stage is set for "a great new bull market in 2023, but now where most investors expect." One world-renowned stock expert – a man whose analysis has appeared in the Wall Street Journal, the San Francisco Chronicle, Fortune magazine and more – believes you could pocket 100% to 800% gains as this "invisible" bull market gets underway. Click here to learn more…
---
1) Mark my words...
I think we're going to see a huge turning point in the market – one that could have a big impact, both positive and negative, on investors' portfolios.
Tomorrow, I'm covering a historic unveiling in downtown Houston, Texas later this summer that could create some incredible investment opportunities.
Joining me is Louis Navellier, an industry legend and billion-dollar money manager who has found 18 different 100-baggers in his career.
It's free to join us – get the details right here.
---
Recommended Link:
| In 2012, Whitney Tilson saw the convergence of the Internet, faster data transmission, and a new business model in an entertainment company. He was extremely skeptical, so he flew to California and had lunch with the company's founder and CEO. Whitney soon became a huge believer, going on live TV to tell everyone that the company was a "screaming buy." A year later, the stock was up six-fold... the beginning of a run that ended up being an 8,791% gain in only nine years. He's seeing a similar convergence happening right now in the world of e-commerce. Here's what you need to know to take advantage of this decade's biggest trend. | |
| --- | --- |
---
2) After the close on Friday, Elon Musk in a regulatory filing announced that he's walking away from his deal to buy Twitter (TWTR). In response, Twitter's board chair tweeted: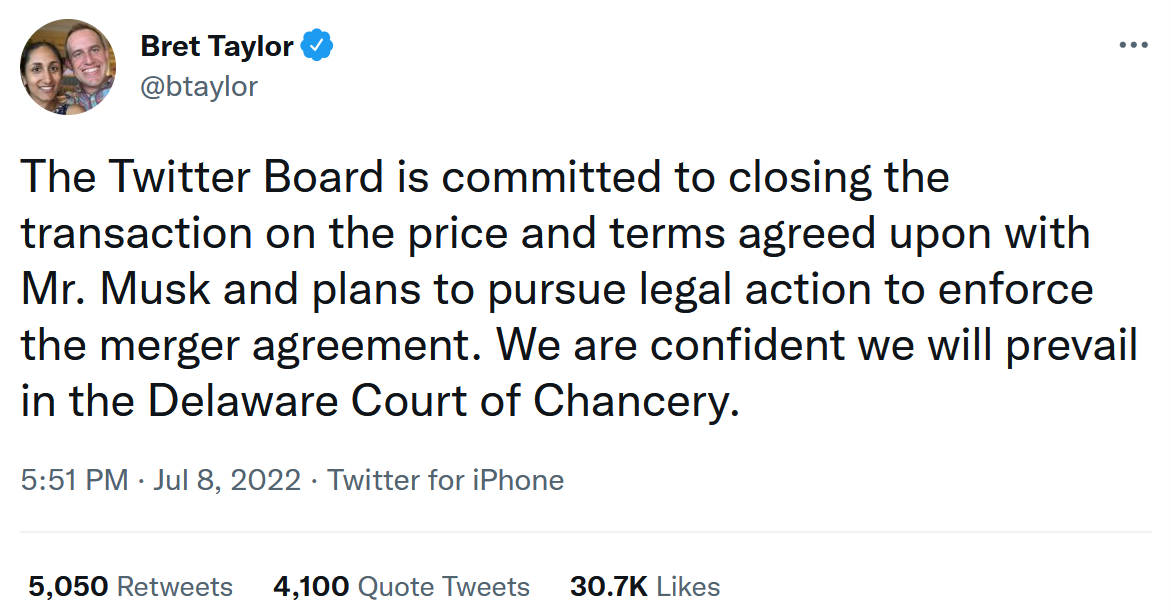 What Musk is doing here makes a lot of sense if he still wants to own Twitter, but at a lower price.
By creating all sorts of chaos and uncertainty and pushing the stock down as much as possible, he's increasing the odds that the company will accept a price per share at, say, $45 rather than, say, $52 (versus his commitment to pay $54.20). It's all very logical – albeit totally scummy.
But maybe Musk really does want out. I had always assumed that he really wanted to own Twitter for ego reasons, but now I'm not so sure.
He may think he can get out with a slap on the wrist (i.e., pay the $1 billion termination fee and that's it). He has always acted like he's above the law... and, so far, he has been right – bullying regulators at the SEC, National Transportation Safety Board, and in California when they wanted to shut down Tesla's (TSLA) plant during COVID-19.
But if Musk thinks he's going to bully a Delaware chancery judge, he's sorely mistaken – especially since he doesn't have a legal leg to stand on. The three reasons his lawyers cite for why he has the right to abandon the deal are laughable, as Bloomberg columnist Matt Levine details in his Saturday column, Elon's Out. Excerpt:
The pretexts in this letter are pretty laughable, and I doubt a court would side with Musk on any of this. He has been too open about the fact that he's messing around; it's impossible to take any of this bot stuff seriously.
Levine thinks a Delaware judge might be intimidated:
The fact that Musk is working in such bad faith here – that he seems so unconcerned with law and the contract he signed – cuts both ways. On the one hand, it will certainly annoy a Delaware chancellor; Delaware likes to think of itself as a stable place for corporate deals, with predictable law and binding contracts, and Musk's antics undermine that. On the other hand it might intimidate a Delaware chancellor: What if the court orders Musk to close the deal and he says no? They're not gonna put him in Chancery jail. The guy is pretty contemptuous of legal authority; he thinks he is above the law and he might be right. A showdown between Musk and a judge might undermine Delaware corporate law more than letting him weasel out of the deal would.
NYU marketing professor Scott Galloway disagrees. In his latest Pivot podcast with Kara Swisher, he argues that a judge is likely to either order "specific performance," meaning that Musk would have to fund his entire $33.5 billion equity commitment and buy Twitter, or slap him with an enormous fine of $10 billion or more.
On this point, I agree with Galloway and disagree with Levine.
I do, however, agree with Levine's conclusion:
I like Twitter's odds – its odds of getting specific performance and making Musk close the deal – in court, but I don't think anything is a certainty at this point. And obviously Musk will make this fight as unpleasant as possible... It is all going to be pretty awful and stupid.
I also agree with this blogger: Musk's Attempt To Get Out Of The Twitter Deal Proceeding Exactly As Predicted; What Happens Next? Excerpt:
Perhaps the most likely outcome is that the two sides will come to some sort of agreement – with the most probable outcome being that Musk agrees to pay some amount for Twitter to drop the case and walk away. The question, though, is what number will satisfy both parties...

All that said, there's a separate question of what happens to Twitter.

Some – who were opposed to the Musk takeover – may look at this as the best scenario, if Musk walks away but has to hand Twitter a lot of cash, that could be useful to keep Twitter going. However, the way these things usually work is that Twitter is now seen as wounded and vulnerable. And I can't see Twitter's current board (or major institutional investors) being able to leave Twitter alone as an independent company like this. As such, my guess would be that some third party now tries to swoop in and buy up the pieces.

It seems unlikely that either Google or (especially) Facebook would be allowed to do so by the DOJ or the FTC, but you could see some other large companies jumping into the fray – including Microsoft (who once wanted to buy TikTok and Discord, and already owns GitHub and LinkedIn) and Walmart (who also wanted TikTok, and still pretends that it wants to be a digital giant, rather than just a commerce giant). There are some more "out of left field" options as well. A large media company (Comcast? Disney?!?) could make a play for it. I think AT&T and Verizon have been chastened and shamed by their internet service failures, but who knows?

Either way, at some point in this process, it seems likely that Twitter's ownership is going to change drastically.
Finally, here's interesting commentary from veteran arbitrageur Alan Greenberg (posted by my colleague Herb Greenberg): A Merger Arbitrageur's Take on Twitter and Musk – Not Over 'Till It's Over. Excerpt:
But what if Musk instead chose Twitter as a diversionary smokescreen...

As a way to justify the sale of billions in dollars of Tesla stock, to fund SpaceX and then – by sleight of hand – to use the imaginary bot trap door to parachute out the imaginary bot-leaking rocket ship called Twitter?

If that was his intention, then conducting real due real diligence would have left him little legal recourse to abandon the Twitter deal and land safely back to Earth.

My initial reaction upon the Twitter merger announcement was that the twisted nature of the fact set was smelling-salt audacious.
In conclusion, I'm: a) very happy we got our subscribers out of Twitter above $50 per share... and b) continue to believe the stock is highly attractive at today's price.
3) I flew home from Italy yesterday after we wrapped up the two-day Value Investing Seminar on Friday with more great presentations. Here are pictures of the speakers, my co-host Ciccio Azzollini, and me: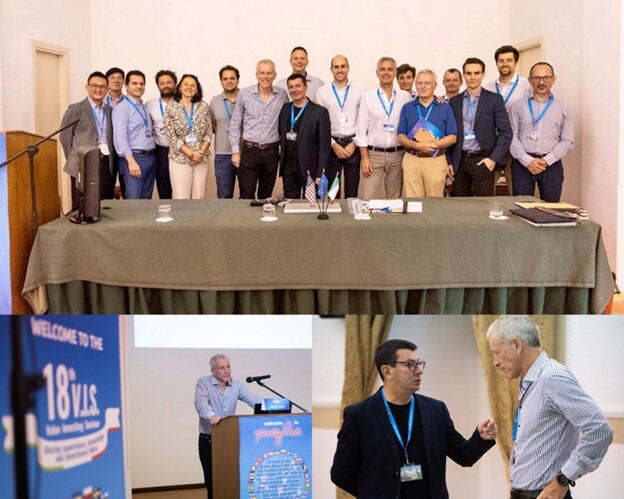 The most interesting stock idea I heard on Friday was Paramount Global (PARA), formerly ViacomCBS, which was pitched by Adi Orzel, a private investor from Israel.
It especially caught my eye because Warren Buffett – or one of his colleagues at Berkshire Hathaway (BRK-B), Todd Combs or (more likely) Ted Weschler – bought 10% of the company, worth a little over $2 billion, in the first quarter. You can see Adi's presentation here, and here are two key slides: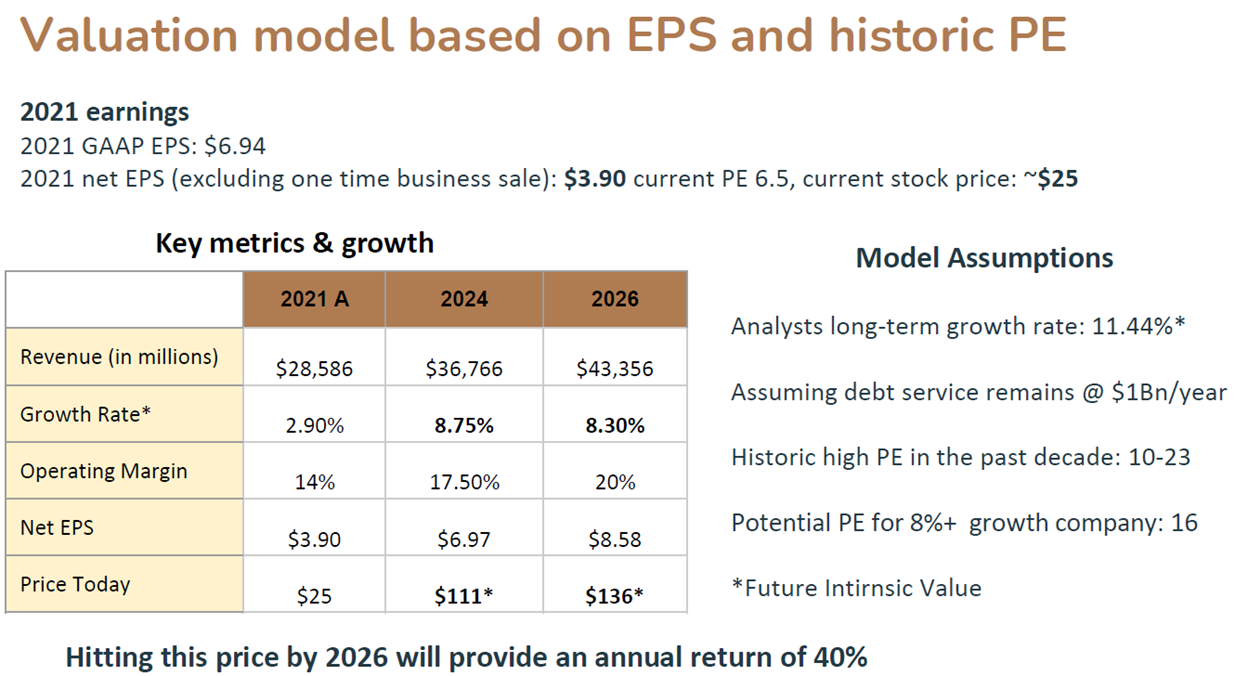 In future e-mails, I'll share other presentations from the seminar.
4) On my 16-day trip, I took seven flights and traveled in three countries: Italy, France, the U.K., and back to Italy.
Overall, I didn't experience the horror stories I've been reading so much about – other than EasyJet canceling my connecting flight from Milan to Sardinia, but that turned out to be fortuitous, as my incoming flight from JFK was late and I would have missed it.
But I do want to share some travel tips...
First, leave lots of time. On the way here, I would have missed my 90-minute connection in Milan. And on the way home, scheduling a two-plus-hour layover at the same airport saved me. Here's the story...
To save a couple hundred bucks, I booked my Milan-JFK flight with an airline I'd never heard of – Neos, an Italian carrier affiliated with a tour operator – which almost turned into a very costly mistake...
When I arrived from Bari and went into the terminal, I followed the signs for transit passengers rather than baggage claim and tried to go to the gate for my Neos flight. But when I got to passport control, they asked for my boarding pass. Oops – I didn't have one! I thought I could get one at the gate, but passport control wouldn't let me through without one – a frustrating dilemma...
I tried to get one online without success (Neos doesn't have an app – welcome to the world of Mickey Mouse airlines), so I had to exit through baggage claim and go back upstairs (by now, more than half an hour had elapsed).
It got worse when I finally found the Neos check-in counter – there was a huge line of passengers with big bags to check and only two agents working, so it was barely moving. I assumed that, since I wasn't checking a bag, I could quickly get a boarding pass, but nooooo...
I ended up in line for an hour and a half, increasingly stressed because, by the time I got to the front and got my boarding pass, it was 12:20 – for a flight scheduled to depart at 12:20! Fortunately, however, there were others stuck in the same line, so Neos was holding the flight (it ended up departing an hour late). Like I said, a total Mickey Mouse operation...
When I finally boarded the plane (after going through passport control again... it was the same agent – we had a good chuckle) and walked to the back of the plane, I saw that, to add insult to injury – the coup de grâce! – Neos had given me a miserable middle seat for the long eight-hour flight (circled in red here):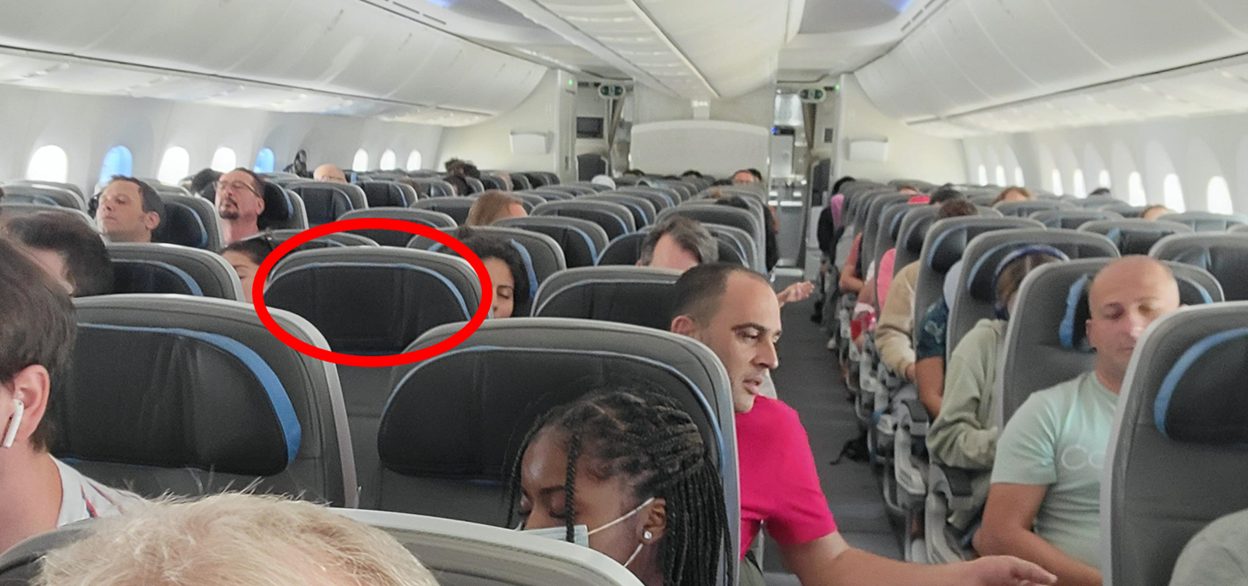 I had the last laugh though...
Because I was one of the last people to board, I knew that any open seat was likely to remain open – and two rows in front of my assigned row, every seat was empty! So, as the flight attendant eyed me carefully, I put my bag overhead, looked at my boarding pass, pretended it said 30D, not 32E, and sat down with all the confidence I could muster – and it worked!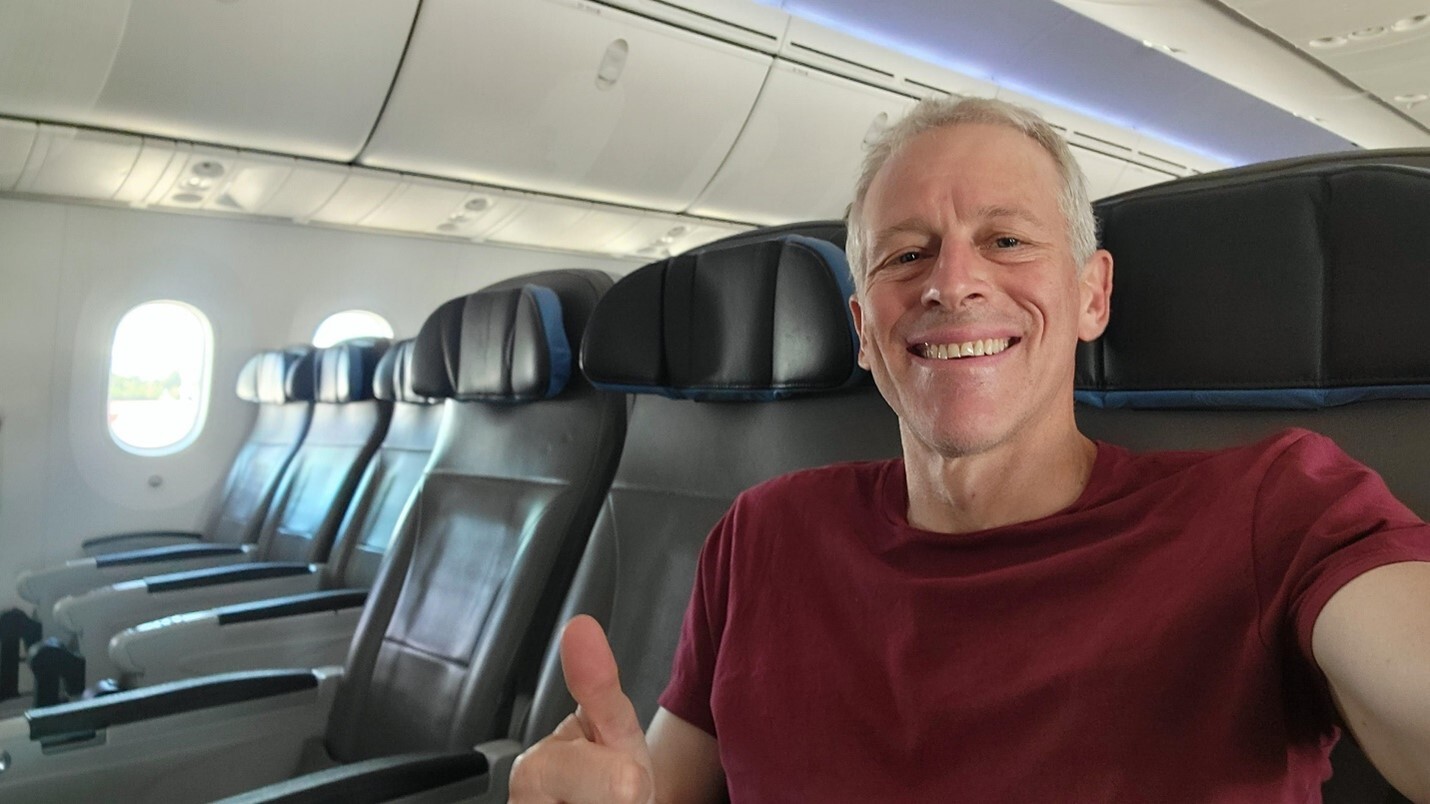 It ended up being a beautiful flight: I was able to spread out, stretch my legs, get a ton of work done, and even watch the Wimbledon final (to Neos' credit, there was Wi-Fi for the entire flight for only $20).
For more travel tips, see the excellent advice in this recent New York Times article: 'A One-Hour Layover Is Not Enough Anymore': A Flight Attendant's Tips on Surviving Travel Now. Excerpt:
Historically, summer is always a challenging time to fly, but this summer is much worse. There have been thousands of cancellations and delays each week, and there doesn't seem to be any relief in sight. I have seen many people miss important things like weddings, cruises, international connections and even funerals. The tears are very real, for very real reasons, and there is nothing I as a flight attendant can do to help.

Travel is good for the soul. It revitalizes us, and allows us to re-center. Sometimes you need to feel sand under your toes, smell fresh pine trees or immerse yourself in the sounds of a new city just to remind yourself you are still alive. But the key this summer is to travel smart. Take as much of the stress out of travel as you can by planning ahead and being prepared. Here's my best advice based on two decades of working at 30,000 feet.

Fly as early in the day as possible 

Download the app of the airline you are flying
Think twice about the cheapest fares
Don't tell a flight attendant they look tired
Best regards,
Whitney
P.S. I welcome your feedback at [email protected].