► Last Thursday, WarnerMedia dropped a bomb on the entertainment industry...
It announced that all 17 films slated for 2021 would be released on streaming service HBO Max and in movie theaters simultaneously.
This was a huge shock for the entire sector, but specifically a massive blow to the movie theaters. As I've written about previously, the theaters aren't only struggling with extended closures during the COVID-19 pandemic... but also with years of eroding attendance levels and constant assaults on the exclusive theatrical window – the roughly 90 days that movies play in theaters before moving on to other formats, like rental and streaming.
It was also a shocker but assumed to be a one-off decision when Warner announced in mid-November that it would release likely global blockbuster Wonder Woman 1984 on its nascent HBO Max service on Christmas – the same day it was slated to hit theaters. As streaming has grown in popularity and large-screen TV prices have fallen (leading to better at-home viewing setups), studios have flirted with the idea of de-emphasizing the theatrical window. And yet, they never had a film as highly anticipated (and expensive) as Wonder Woman 1984 go "day and date," meaning that it will be available for home viewing the same day it arrives in theaters.
The thrice-postponed film is opening during a COVID-19 case surge, causing high reluctance to go to theaters in the jurisdictions where this is even an option. The two largest film markets in the country (New York and Los Angeles) remain shut down. As a reminder, here's the current state of disruption of the theater exhibition industry, courtesy of Variety...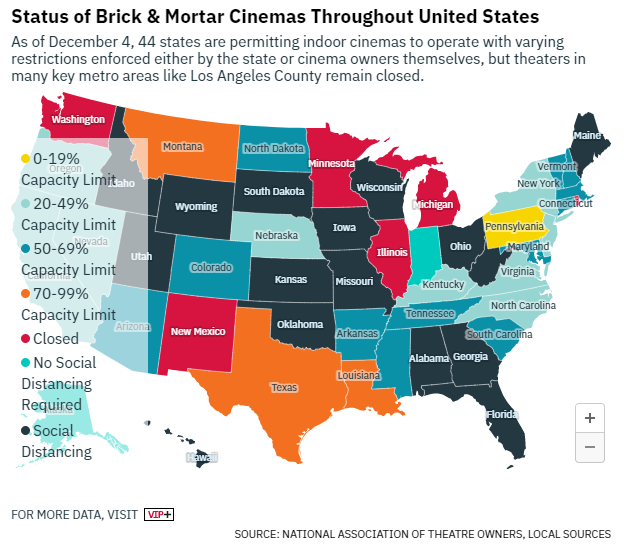 Source: Variety
Even though there was a big opportunity cost to foregoing theatrical revenue, sending Wonder Woman 1984 to HBO Max seemed like a good investment in making the struggling streaming service more relevant and competitive. The general consensus was that we would see more day-and-date releases of smaller films during COVID-19 and probably after the crisis ends... But few thought the experiment in blowing up the theatrical window would go as far as becoming comprehensive and in effect for an entire calendar year.
Warner's announcement also affects highly anticipated 2021 releases such as the Dune remake starring Timothée Chalamet, sci-fi franchise sequel The Matrix 4, and the film adaptation of Lin-Manuel Miranda's In the Heights, all of which were expected to gross more than $200 million domestically (some even greater than that).
While Warner was careful to emphasize these were "COVID rules" and offer lip service to supporting the theatrical window, it felt like a watershed announcement that could have ripples of effect for years to come.
The announcement reminded me of "Marlboro Friday," a day in 1993 when then-Philip Morris – now Altria (MO) – implemented a 20% price cut to Marlboros to fight back against generic cigarettes, which had been gaining share. It was a shock to future earnings power and an admission that the industry structure had radically and permanently shifted. Thursday's WarnerMedia announcement had the same elements of surprise and sea change.
The day Philip Morris cut Marlboro prices, its stock dropped 26%. Warner's announcement had a similarly chilling effect on the movie theater stocks, which dropped between 15% and 22% the day after the announcement.

Could this really be the beginning of the end for watching movies in theaters?
The answer depends on who you ask...
Watching movies in theaters is a 100-plus years old tradition... and in post-COVID times, a segment of the population certainly yearns for the communal experience. But more and more consumers seem happy to watch films at home – even blockbusters made for a 30-foot-tall screen and Dolby (DLB) surround sound. Up to now, the gating factor on home viewing has been that 90-day delay and the desire to avoid spoilers during it.
Without that exclusive window, the value proposition of movie theaters drops precipitously for most films and many movie-watchers. How can you charge $9 or more per person when streaming services have the same product in real-time and let an unlimited number of people consume the same content – and lots of other stuff – for around the same price? On top of the cost savings, watching at home lets you pause for bathroom breaks and avoid marked-up popcorn and sodas.
In fact, in its annual Digital media trends survey, consulting firm Deloitte identified that only 35% of consumers said their preference was "definitely" or "probably" to see new releases at a theater...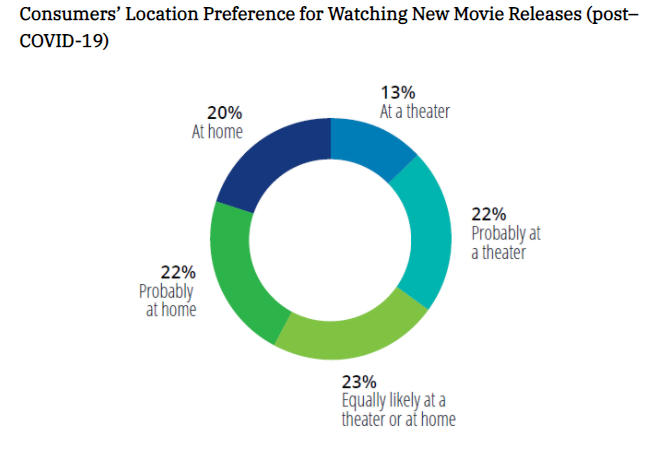 Source: Deloitte
Once given the option to watch at home, a lot of people will choose it. This is why Warner's move to go day-and-date – even if it's "just for 2021" for now – is a watershed event... especially as other studios must consider emulating it now, lest Warner's HBO Max change its relative competitive positioning too much. And as one anonymous film exec told Variety, "If Disney follows this template in any capacity, movie theaters are done."
I agree. Consolidation has left the film market in the hands of a few media conglomerates. Disney (DIS) sits at the top with 38% U.S. box office share in 2019, and Warner was a distant second at 14%. Together, they control over half the market... and if they both send a significant amount of new film product direct to streaming post-COVID, the entire theater exhibition industry will have to restructure into a much smaller industry.
As Deloitte sums up in the report...
After the pandemic is over, it is unclear what role movie theaters will play in consumer entertainment or to what extent the existing system of releases will have been disrupted. There's a role for movie theaters – but maybe not the leading role.
Variety was even harsher in assessing the future of the theatrical window...
Gone, baby gone. The old model, whereby theaters had an exclusive 90-day window to showcase films on their screens has been under threat for over a decade. It is now a casualty of the pandemic. Studios thought the amount of time they had to wait to release movies was too long and they wanted to shorten it only to be met with fierce resistance from exhibitors. Clearly, when it came to coronavirus, they didn't let a crisis go to waste.
Contemplating a world where only the biggest blockbusters attract a meaningful audience at traditional theaters, one anonymous studio executive more harshly commented: "I guess the movie theaters will just be Halloween stores now."
The digital revolution was already here, and the COVID-19 crisis gave execs at WarnerMedia the cover to fully embrace it, smashing the exclusive theatrical window in service of their now-prioritized streaming business.

Theater operators know that Warner's move is an existential threat to their business model...
It's a logical pushback that if Warner really wanted to preserve the theatrical window, why commit to a full year of releasing day-and-date to streaming, given vaccines should be widely available by mid-year at latest? Mark O'Meara, who owns two theaters in Fairfax, Virginia, commented to Variety...
The year-long part was a little befuddling. They're claiming it's a COVID model. I think there's some truth to that. But theaters are closing, and it's getting tougher... I don't think we'll ever get back to three months [exclusive window].
CEO Adam Aron of AMC Entertainment (AMC), the largest U.S. theater chain, responded with fighting words (but little leverage to bring to the fight)...
Clearly, Warner Media intends to sacrifice a considerable portion of the profitability of its movie studio division, and that of its production partners and filmmakers, to subsidize its HBO Max start-up. As for AMC, we will do all in our power to ensure that Warner does not do so at our expense. We will aggressively pursue economic terms that preserve our business.
Warner's decision upended the apple cart not only for the theater chains, but for a whole industry that indexes other deals off the domestic box office. Actors and other talent often have back-end compensation deals that drive off the domestic box, and the rates that cable and broadcast networks – as well as streaming services – pay to show movies often indexes off domestic box office results as well.
The decision to release directly to home viewing spurred a bunch of concerns about potential damage to the art form and whether a shift to home viewing will ultimately lead to shrunken production values as well. Christopher Nolan, director of Batman Begins and Inception, issued a statement that blasted Warner, which owns the studio he has worked exclusively with for almost 20 years...
Some of our industry's biggest filmmakers and most important movie stars went to bed the night before thinking they were working for the greatest movie studio and woke up to find out they were working for the worst streaming service.

This is a bold move by WarnerMedia...
And it's an expensive bet. Analyst Craig Moffett of MoffettNathanson calculated that it will cost WarnerMedia and its parent AT&T (T) $1.2 billion in 2021 revenue. To offset that, HBO Max would have to pick up 8.4 million subscribers... which is almost 70% subscriber growth.
One industry executive told Variety that WarnerMedia had "parted with easily $2 billion in assets, gift-wrapped for HBO Max, that will see absolutely no return."
But it's hard to see how the HBO Max service doesn't gain considerable momentum from the aforementioned movies, as well as other promising films on Warner's 2021 slate. These include a Sopranos prequel, a Suicide Squad sequel, and new movies starring popular actors Denzel Washington and Will Smith.
For AT&T, which has been criticized by many for the Time Warner acquisition and the high debt levels that ensued, ramping up subscribers at HBO Max would go a long way towards silencing its critics.
As expensive as this move is, it seems like a reasonable bet if you judge it by streaming rules rather than legacy media company rules. Netflix (NFLX) didn't get to 195 million global subscribers without burning billions of dollars on exclusive, new content. To think that the legacy media companies would get anywhere close to catching up without burning a lot of cash is unrealistic. And given the value the market has afforded to Disney for its relative success with Disney+, the shift is a justifiable gamble for WarnerMedia, especially since the COVID era makes monetizing movies in theaters likely impossible until 2022.
This morning, AT&T CEO John Stankey revealed that HBO Max added 4 million users since the end of the third quarter and is now up to 12.6 million, crediting original content like the HBO hit The Undoing for the increase. And this improvement in momentum occurred before any of the film content hit.
This could make for a sad ending for the theater companies, however, and I would avoid them all, including AMC, Cinemark (CNK), and Cineworld (CINE.L).
For more on this topic, check out this video interview about the studios and the movie theaters that I did right before Thanksgiving (and the WarnerMedia announcement)... You can see it here on YouTube or on the Facebook page of our sister company, Stansberry Research.

In today's mailbag, a reader writes in with feedback on one of our paid products, and we commiserate over a successful, but sometimes painful, historical stock investment...
If you didn't have the service already, does WarnerMedia's decision to send its 2021 films immediately to HBO Max tempt you to subscribe? Is anyone a fan of the service already? (I really enjoyed The Undoing!) Will anyone miss movie theaters if they end up shutting down permanently in large numbers? (I know I would... but I may be in the minority.) Send an e-mail to [email protected].

"Berna, Since we've communicated before about my successful strategy of concentrating on the sectors of the market which might not be hot (basically not technology) over the past 30 years, especially the past 11, I bring to our attention how that has worked following your investment advisory letter.
"You first came to my attention when my niece's husband, Aaron Clar, read my book, The Perfect Stock Market Diet, and sent me a video of Whitney talking about the stock SodaStream (SODA).
"I was fascinated because in my book I describe my tortuous but very profitable eight-year relationship with that company. Aaron worked with both you and Whitney and claimed that you both were brilliant – and, importantly, good guys.
"I was extremely skeptical of any paid advisory letter. In fact, I had an entire skeptical chapter about Jim Cramer in my book. I think that says it all! But because of my similar struggle with SODA, and Aaron's rave opinion, I decided to subscribe to your Empire Investment Report and Empire Stock Investor newsletters.
"The first recommendation I acted on in June was Alphabet (GOOGL) because, while I had good performance overall, I was very aware that I had very little exposure to technology except through the S&P 500 index. I figured I'd take some outside advice (even if it came from two Harvard-educated people!). It also helped that you came highly praised by Aaron.
"At about the same time, you had a blurb about Capri (CPRI), the upscale handbag company, for an attractive speculation. Naturally, I was familiar with the firm, as an unfashionable stock, but had never taken a long-term position.
"I bought both stocks in early June. Ironically, while I bought Alphabet to increase exposure to and returns from the tech sector, the return on Capri, the pricey discretionary item stock, has left the tech stock in the dust. My return on GOOGL is today 22%, which is great, but at the same time I've had a 90% gain on CPRI!
"This reinforces my philosophy of making money in the unfashionable laggards in the midst of a crazy hot market.
"I love paying for advice that confirms what I believe. It's also great to open myself up to respected and highly recommended professionals. This is a new experience." – Gene N.
Berna comment: Gene, I'm so glad to hear you are enjoying Empire Investment Report and Empire Stock Investor, and also that you can benefit from them after many years as an investment industry professional yourself. Also, please send my regards to Aaron.
Fun fact... I actually got to know Whitney many years ago when we were both doing research on SodaStream. That stock was indeed at times torturous, but ultimately offered a high return. And it was the beginning of years of friendship for me and Whitney, who I'm happy to be working with now... So I guess the challenging moments with SODA were more than worth it in the end!
Regards,
Berna Barshay
December 8, 2020