1) There's still time to sign up for the big event tonight...
At 8 p.m. Eastern time, I'm joining my longtime friend – and now colleague at Empire Financial Research – Herb Greenberg to help him break his latest exposé. As we'll explain, it's a chance to build serious and lasting wealth through one particular type of investment that could soar this year... which a lot of people – clever people – are getting positioned for right now.
We're calling it the 2022 Wall Street Exposé... and it's totally free to attend. Just make sure to reserve your spot if you haven't already – you can do so here.
We'll see you tonight!
2) In my January 4 e-mail, I highlighted my 12 stocks to avoid in 2022, which I labeled the "Dirty Dozen."
As you can see in this chart, 11 of these stocks crashed by 30% to 40% over the next three weeks, with the exception of Donald Trump's SPAC, Digital World Acquisition (DWAC):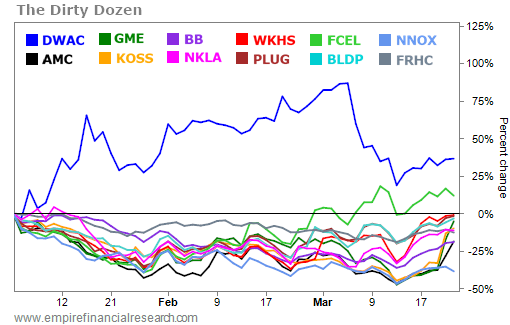 For the next couple of months, these stocks (deservedly) remained depressed, and DWAC even gave back most of its gains...
But since March 14, many of the Dirty Dozen have rallied alongside other growth stocks, especially AMC Entertainment (AMC) and GameStop (GME) (which I still refer to as "GameStink"), which have soared 53% and 81%, respectively.
Here's a table showing each stock's performance since January 4 compared to the S&P 500 Index. As you can see, collectively they're now down in line with the S&P 500: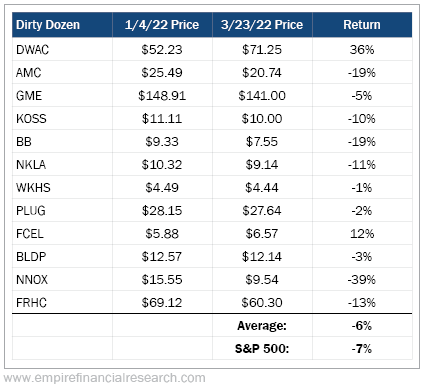 My take: while I think this growth stock rally might have legs, what's happening with the Dirty Dozen is a classic "dead-cat bounce"... so avoid these stocks at all costs, especially the three worst: DWAC, AMC, and GME.
3) Speaking of GameStink, this story by Bloomberg columnist Matt Levine about a fee dispute between the company and Boston Consulting Group (where I worked for two years between college and business school from 1990 to 1992) cracked me up: GameStop Hired Some Consultants. Excerpt:
Wouldn't it be amazing to learn that GameStop's whole turnaround plan – the plan that turned it from an $18.84 stock at the end of 2020 to a $325 stock a month later, the plan that made it a darling of retail investors, the plan that got it a bunch of new high-powered executives to execute its move into online retail and also ugh non-fungible tokens – was written by consultants at Boston Consulting Group? Like if somewhere there was a PowerPoint deck from BCG, from 2020, laying out how to become a meme stock? Before "meme stock" was even a thing? Wouldn't it be great if an internal BCG think tank invented meme stocks, and somehow last year's wild Reddit enthusiasm for GameStop was all secretly created by consultants? That would be very funny and also maybe the most impressive strategy-consulting success story I've ever heard.

But, no, that is not at all what happened. Instead BCG did some other stuff for GameStop that didn't work...

The lawsuit is not totally clear, but as far as I can tell GameStop paid BCG its fixed fees but has not paid all the money BCG thinks it is owed for improving GameStop's profits. (Because the GameStop executives who hired BCG are long gone and the new executives have their own, different turnaround plans.)...

I can see why GameStop's consultants would want a $30 million success fee, since there is, you know, a lot of success floating around GameStop, but I can also see why GameStop wouldn't want to pay them, since very little of that success seems to be due to, you know, pricing strategy. They should send RoaringKitty a $30 million success fee.
4) This is good to see: Most Medical Debts to Be Removed From Consumers' Credit Reports. Excerpt:
The biggest credit-reporting firms will strip tens of billions of dollars in medical debt from consumers' credit reports, erasing a black mark that makes it harder for millions of Americans to borrow.

Equifax (EFX), Experian (EXPGY), and TransUnion (TRU) are making broad changes to how they report medical debt beginning this summer. The changes, which have been in the works for several months, will remove nearly 70% of medical debt in collections accounts from credit reports.

Beginning in July, the companies will remove medical debt that was paid after it was sent to collections. These debts can stick around on a consumer's credit report for up to seven years, even if they are paid off. New unpaid medical debts won't get added to credit reports for a full year after being sent to collections.

The firms are also planning to remove unpaid medical debts of less than $500 in the first half of next year.
I hope this is only the beginning of reforms the Consumer Financial Protection Bureau forces these sleazy companies to make:
The firms are also trying to appease the Consumer Financial Protection Bureau, according to people familiar with the matter, which has made credit reporting a priority under director Rohit Chopra. The CFPB earlier in March said that it planned to hold credit-reporting firms accountable for not taking enough action against companies that report erroneous medical debts.

The agency has taken a hard line on the U.S. credit-reporting system, which plays a huge role in determining who gets credit and who doesn't. Consumers have little control over what is added to their credit reports, which rely on information submitted by lenders, collections firms and others.

The CFPB is investigating how Equifax handles consumer disputes, the company said in a recent regulatory filing. Experian and TransUnion are also under investigation over their handling of disputes, according to people familiar with the matter.
5) This is awesome – best edits ever! Putin Cronies Melt Down After Getting Trolled by Canadian Diplomats on Twitter. Excerpt:
Russian diplomats are publicly feuding with their Canadian counterparts over a recent tweet from Canada's UN Mission.

On Thursday, Canadian diplomats posted an "edited" version of a Russian draft resolution letter on Ukraine with tongue-in-cheek "suggested" changes that did not go over well with the Kremlin's emissaries.

The edits, which were marked in red over the original letter, included notes like "How do you account for the bombing of a maternity ward and the destruction of 200 schools? Please explain," and "Do you think the UN membership actually believes you?"

In response to the tweet, several Russian diplomats lashed out at the Canadians, accusing them of engaging in "kindergarten-level" diplomacy and "Russophobic libel."
You can see the Canadians' edits here. This is the first page: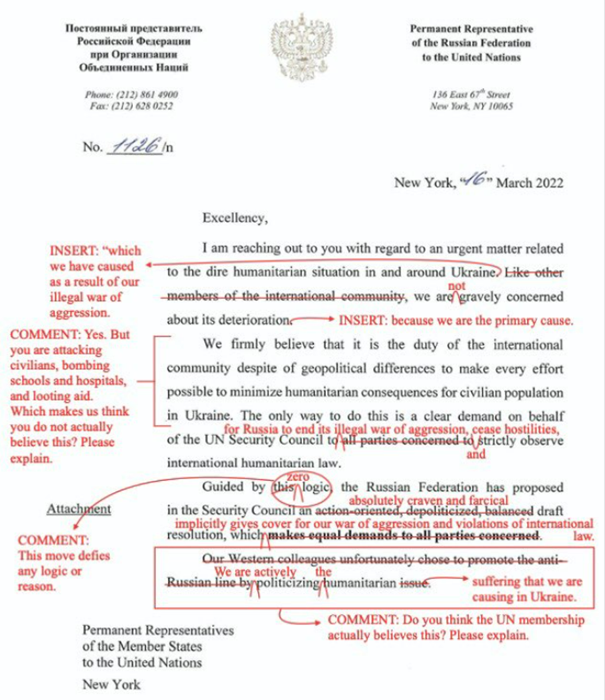 Best regards,
Whitney
P.S. I welcome your feedback at [email protected].