1) Here's the New York Times with a wonderful profile of one of my favorite columnists, Bloomberg's Matt Levine (whose columns on SPACs I linked in last Wednesday's e-mail): A Columnist Makes Sense of Wall Street Like None Other (See Footnote). Excerpt:
In financial news – a medium not known for cultivating eccentric or literary voices – there's no other writer quite like Mr. Levine, a former Goldman Sachs banker whose deadpan style mixes technical elucidation and wit.

Each weekday, Mr. Levine, 42, wakes up at 5 in the morning. He looks at what's going on in the markets, scrolls through emails from readers and plugs into the chatter of early-to-work traders. Then he starts to write. Roughly 5,000 words later on a long-winded day, he files Money Stuff to his editor, and it's sent to subscribers around noon. (His column is currently on a parental leave hiatus, and will return this winter.)

Mr. Levine's favorite subjects include insider trading statutes, bond-market liquidity and the ubiquity of securities fraud, but his columns are never boring. They may be the only entertaining words a financial markets professional reads all day.

Often, a significant chunk of the newsletter is devoted to a legal battle between sophisticated counterparties, or a complex financial product. Mr. Levine deconstructs the topics in a way that is less like a conventional business column and more like he is providing an introductory course on the subject.

If Mr. Levine's column requires the use of a technical term, it is typically accompanied by not just a definition but a full-throated explanation, with practical examples, of how it works. There are footnotes – lots of footnotes. The tone, though, is anything but pedantic. Mr. Levine writes about Wall Street in a way that makes its denizens feel as if he is writing for them. Yet he gives the same impression of personalization to readers who know little about finance. He once took a term that appeared in a lawsuit – a "cash-settled forward purchase agreement for Citigroup shares with downside protection in the form of a put option at the same price as the forward" – and gave it the acronym CSFPAFCSWDPITFOAPOATSPATF. He makes readers feel in on the savage joke that is late capitalism.
2) You just can't make up a headline like this!
This Financial Times article reminds me of a long-running Sports Illustrated blurb, "This Week's Sign of the Apocalypse"… Vatican used charity funds to bet on Hertz credit derivatives. Excerpt:
The Vatican invested some donations for the poor and needy in derivatives that bet on the creditworthiness of Hertz, the U.S. car rental company that defaulted on its debts earlier this year, according to documents seen by the Financial Times.

In 2018, Pope Francis said credit default swaps "encouraged the growth of a finance of chance and of gambling on the failure of others, which is unacceptable from the ethical point of view." The instruments, he said, were "a ticking time bomb."

But three years earlier, part of a €528m Vatican portfolio "derived from donations" bought structured notes containing CDS as part of a bet that Hertz would not default on its debts by April 2020, the documents show. The company filed for bankruptcy the following month, giving the Holy See a narrow escape on the investment, which paid out in full.
3) I enjoyed this blog post, Absolute Success Is Luck. Relative Success Is Hard Work, by James Clear, author of Atomic Habits: An Easy & Proven Way to Build Good Habits & Break Bad Ones. Excerpt:
So what it is? What determines success? Hard work or good fortune? Effort or randomness? I think we all understand both factors play a role, but I'd like to give you a better answer than "It depends"…

Absolute success is luck. Relative success is choices and habits.

There is an important insight that follows naturally from this definition: As outcomes become more extreme, the role of luck increases. That is, as you become more successful in an absolute sense, we can attribute a greater proportion of your success to luck…

There is another way to examine the balance between luck and hard work, which is to consider how success is influenced across time.

Imagine you can map success on a graph. Success is measured on the Y-axis. Time is measured on the X-axis. And when you are born, the ball you pluck out of Buffett's Ovarian Lottery determines the y-intercept. Those who are born lucky start higher on the graph. Those who are born into tougher circumstances start lower.

Here's the key: You can only control the slope of your success, not your initial position.

In Atomic Habits, I wrote, "It doesn't matter how successful or unsuccessful you are right now. What matters is whether your habits are putting you on the path toward success. You should be far more concerned with your current trajectory than with your current results."
4) Speaking of habits, it's something I write about more than two dozen times in my forthcoming book, The Art of Playing Defense. Here's an excerpt from one section:
Develop Good Habits

You can transform yourself into the person you want to be, but you have to decide early because the chains of habit are too light to be felt until they are too heavy to be broken.

– Warren Buffett

Think about that. All the little things you do dozens of times every day – your habits – define who you are, and once these patterns are set, they're really tough to change. Thus, it's critically important to develop good habits early in life.

Buffett tells students to look at the people you work or go to school with and ponder this question: who do you think is going to be really successful in life, not just financially, but in every way?

As you think about this, he continues, what are the characteristics you're focusing on? Are they smart? Do they work really hard and not give up easily? Do they have integrity? Is their word their bond? Are they 100% reliable? Are they well organized? Do they take care of themselves and not take foolish risks? Are they kind and a pleasure to spend time with? Do they make the world a better place?

Now ask yourself: what are they doing that I can't do as well? I think you'll find at least 90% of these traits are things over which you have total control.

So you see, he concludes, you don't need me to tell you what habits you should try to adopt – you already know. There's no secret – they're obvious! The real question is: what are you going to do about it?
5) Susan and I had a lovely 27th anniversary weekend at Total Tennis!
The weather was beautiful, we had a great meal at Cucina in Woodstock, and I met some funny, hard-partying guys from all over the world (Italy, France, Poland, and Lithuania), who all play on a tennis team in New Jersey. Here are some pics: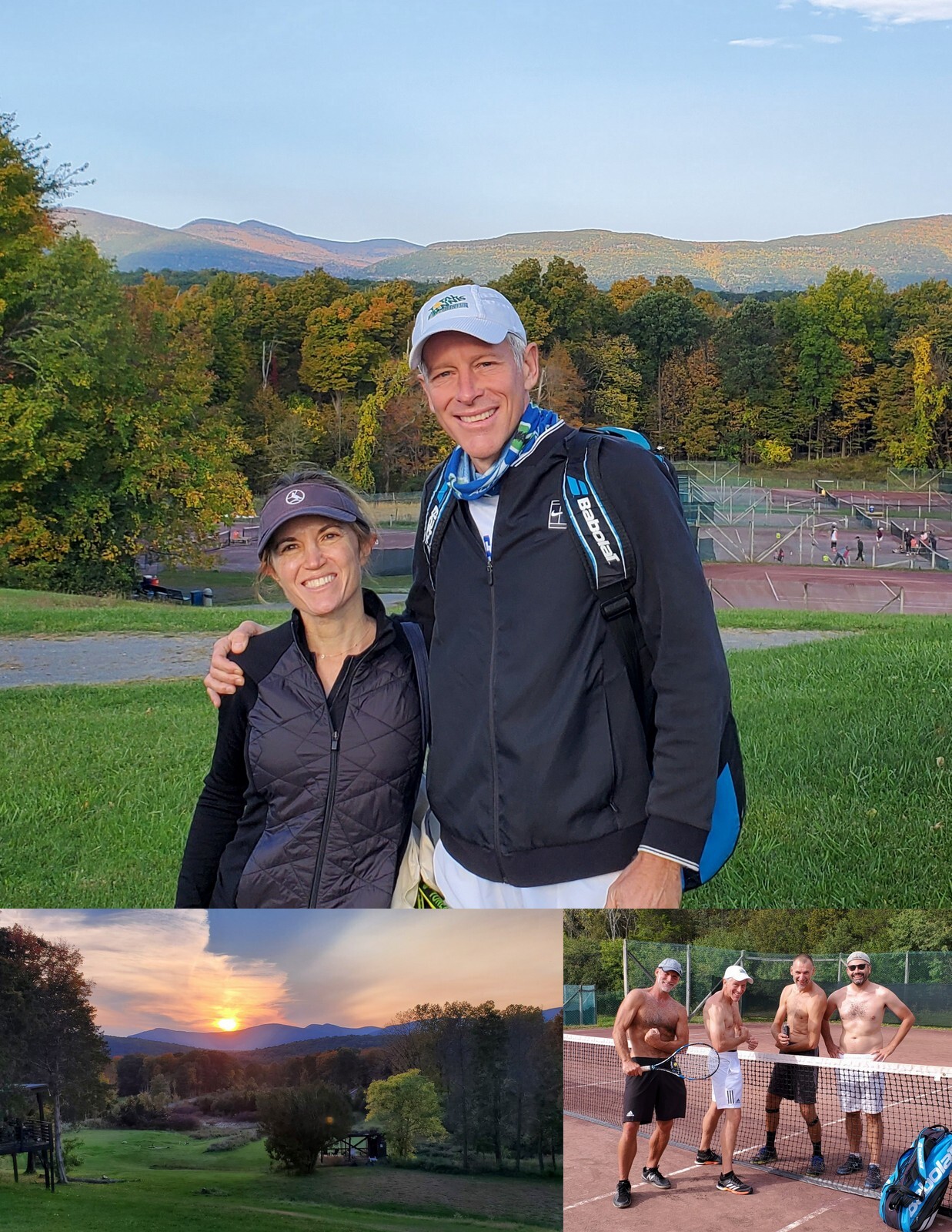 And now, I'm already off on my next adventure…
As you read this, I'm on a flight to Las Vegas, where my guide, Paul, and I will be picking up where we left off after our three weeks of epic climbing in and near Yosemite National Park in June and early July (see my pictures and write-ups here). I'll share more details in tomorrow's e-mail…
Best regards,
Whitney