1) Multiple people have sent me this negative article about Berkshire Hathaway (BRK-B) CEO Warren Buffett: Dud stock picks, bad industry bets, vast underperformance – it's the end of the Warren Buffett era. Excerpt:
But now, after profoundly underperforming the S&P 500 throughout the entire 11-year bull market, it's fair to ask whether Buffett is still, well, Buffett. Even at the company's virtual annual meeting, held in Omaha on May 2, some questions by shareholders, curated by CNBC's Becky Quick, struck this listener as unusually sharp…

No wonder shareholders asked about how Berkshire will fare without Buffett and Munger at the helm.

The right question, however, is how Berkshire is doing with them…

Follow the money – the future money. Warren Buffett is saying, almost in so many words, that an S&P 500 index fund is a better investment now than Berkshire Hathaway's stock. There simply aren't many new tricks this 90-year-old can learn, especially when growth investing, indexing and trillions of dollars of Fed buying power have stolen much of Berkshire's thunder.

More than anyone else, he must know he's had a marvelous run but that the curtain is coming down on the Buffett era. These days, even on Broadway, the show won't go on.
These people have added comments like:
He definitely has lost his fastball… always felt he was overrated. Time to retire.
And:
How about his corporate governance? Disgraceful.
Here was my reply to one of them:
No disrespect, but over the past 25 years, whenever I see articles like this and lots of smart guys echo them, it's been a great buy signal on the stock!
As I showed in my May 4 e-mail, I conservatively peg Berkshire's intrinsic value at $373,000 per A-share, 47% above Friday's closing price of $253,501.
Berkshire continues to be America's No. 1 Retirement Stock in my opinion…
2) Here's a take from my friend Doug Kass of Seabreeze Partners on Buffett's latest moves:
Buffett and Bank Stocks 

Wells Fargo (WFC) investors will likely be relieved (on Monday) that Berkshire Hathaway sold none of its shares according to its just reported 13-F. (There were vague rumors that Buffett was selling).

Berkshire liquidated most of its Goldman Sachs (GS) position, a small portion of its JPMorgan Chase (JPM), but added to PNC Financial (PNC).

On Goldman, in 2008 Berkshire invested $5 billion in a perpetual preferred (which paid a 10% dividend) and included the receipt of (five-year) warrants to buy $5 billion (or 43.5 million shares) of GS stock at $115/share. Goldman Sachs redeemed the preferred in 2011 (and paid an additional $500 million early repayment fee). In 2013, Goldman and Berkshire renegotiated the warrants and GS paid Berkshire $2 billion in cash and Berkshire received 13.1 million shares of Goldman Sachs stock.

The GS sale is not surprising as Berkshire had previously sold over six million shares of Goldman Sachs in the fourth quarter last year. It ended 2019 with about 12.4 million shares of Goldman Sachs.

Early in the first quarter of this year, GS shares traded as high as $250/share and my guess is that Berkshire likely sold the shares in late February or early March after the stock began to sell off from its January highs.
3) And speaking of investing legends, I really enjoyed this 45-minute interview with Stanley Druckenmiller. Here's an article about it: Why Stanley Druckenmiller says the risk-reward of investing in stocks has never been worse. Excerpt:
Stanley Druckenmiller has seen a crisis or two in his storied career.

The famed former hedge-fund manager, who with George Soros famously broke the Bank of England by shorting the pound in 1992, says "the risk-reward for equity is maybe as bad as I've seen it in my career."

The S&P 500 has climbed 28% from the lows of March, even in the face of data showing the economy, at best, plateauing after a severe downturn.

Speaking at a webinar run by The Economic Club of New York on Tuesday night, the chairman and chief executive of Duquesne Family Office says it is just not true that it is profitable to be on the side of the Federal Reserve, which has cut interest rates to nearly zero, swelled its balance sheet and initiated several emergency lending programs. He thinks stocks are at high multiples given the uncertainty of the current environment and looming bankruptcies.

All that said, he does concede the wild card to the market is that the Fed could step up its asset purchases. Druckenmiller says he doesn't understand the point of negative interest rates, which last week briefly became the market expectation in futures markets. A number of Federal Reserve officials – including Cleveland Fed President Loretta Mester on Tuesday night – have said they are reluctant to set negative interest rates.

Druckenmiller says it doesn't make sense that financial markets surge on news about the Gilead Sciences intravenous anti-COVID-19 drug remdesivir. "I don't see why anybody would change their behavior because there's a viral drug out there," he said.

Druckenmiller also revealed he's a big fan of Amazon, saying he gets emotional when the online services giant is attacked.
His super bearish views mirror what I'm hearing across the hedge-fund sector… For more on this, read: Billionaires: Wall Street's 'rich guys' say U.S. stocks are vastly overpriced.
4) I'm a gadget fiend, what can I say? It reminds me of one of my favorite bumper stickers: "He who dies with the most toys wins!" 😉
Consistent with this, I just bought an electric bike and have taken it out for three long rides in the past few days, totaling more than 75 miles – and I'm in love… What an awesome new toy!
Here's a picture of me on it in front of the Great Lawn in Central Park on Saturday: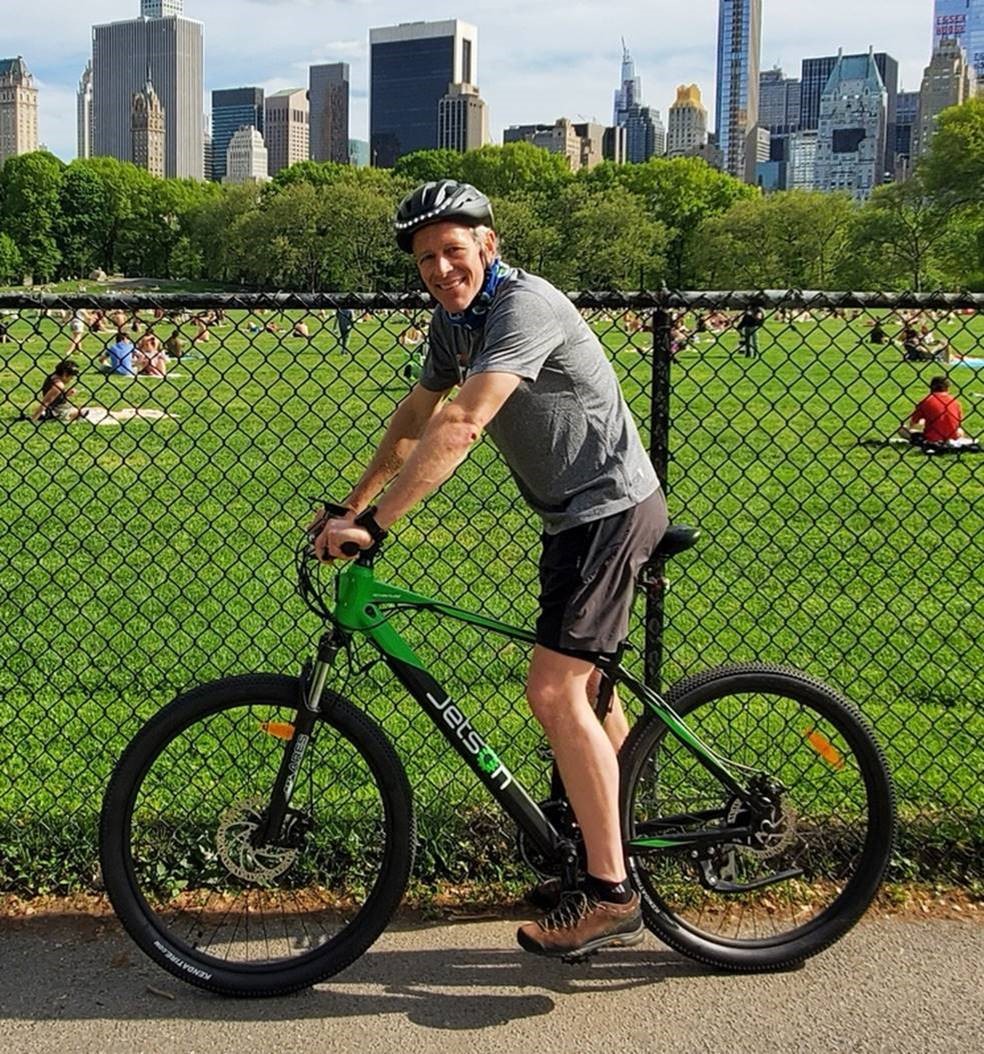 I ride almost every day, so I'm pretty quick… But with the motor assisting, I estimate that I'm 40% faster, using 60% less energy.
As you can see, it looks like a normal mountain bike and not a typical, ugly electric bike with a big external battery. (The battery on this one is inside the tube that says "Jetson" on it, and the 250-watt motor is built into the rear axle area.) Its speed is capped at 20mph, which is decent, but I'd prefer a little higher. It weighs 42 pounds – heavy compared to a regular bike, but lighter than I expected.
There's no throttle – you just pedal it and the motor automatically kicks in if you have the setting anywhere between 1 (minimum assist) to 9 (maximum, which is where I had it most of the time). Given the heaviness of the bike and pedestrian traffic, I was doing a lot of stop-and-go, so the acceleration was sweet!
This isn't going to replace my main street bike for day-to-day use – I like the exercise – but I foresee using it quite a bit under the following circumstances:
A) I often bike to meetings in Midtown (about two to three miles away) in my business clothes, which is fine most of the time… But if I'm in a hurry or it's hot out, I get super sweaty. That's not very professional… You'd laugh if you saw me the many times I've had to dash into bathrooms, frantically using paper towels to dry my shirt and mop up all of the sweat on my face and body!
B) If I'm going a long distance or need to go fast. For example, rather than driving 13 miles over the George Washington Bridge to Tenafly, New Jersey to play tennis yesterday with my friend, I rode my e-bike to save my legs for nearly four hours of tennis. Here's a picture of me on the bridge: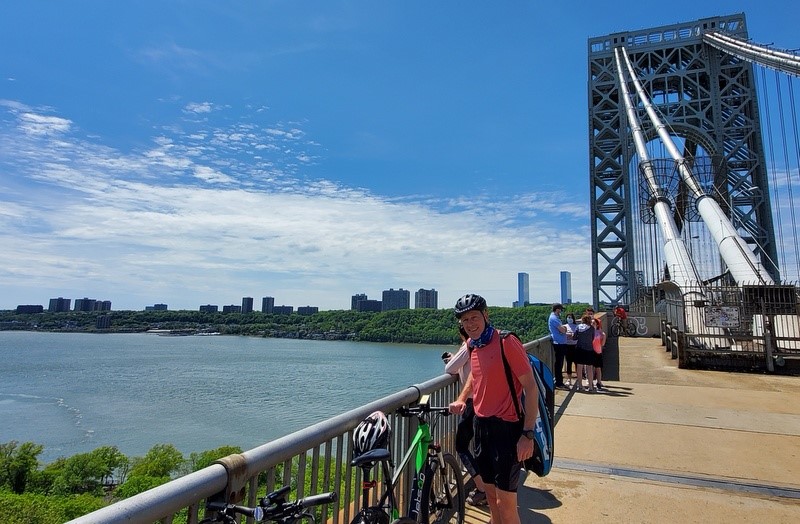 C) If I want to ride with someone who's not a regular cyclist like me, it's the great equalizer. For example, on Thursday I took my friend John, a truck driver for Samaritan's Purse, on a 14-mile tour of the city – here's a picture of him in Times Square: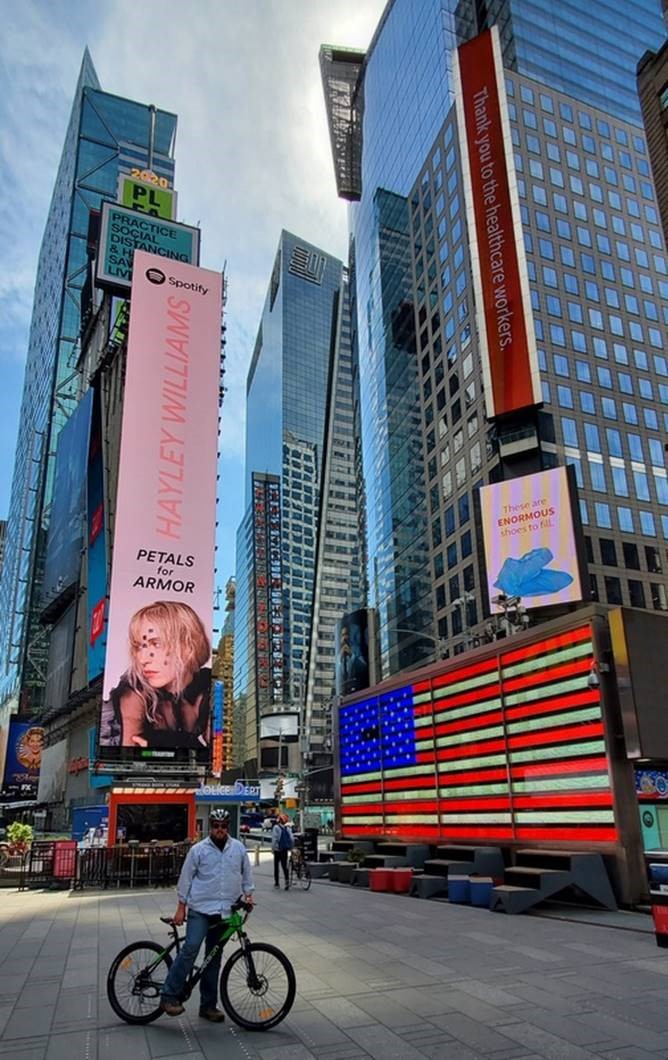 He doesn't ride as much as I do, so he might have struggled to keep up with me on such a long trip… but when I rode my regular bike and he rode the Jetson, it was perfect!
If you're interested in buying an electric bike, this is definitely one to consider. I didn't do a lot of research – I saw it recommended in the latest issue of Consumer Reports, Googled "buy Jetson Adventure," saw that Costco was selling it for $1,300 (here), and bought it. Unfortunately, it's now out of stock at Costco, and I can only find it for $1,500 at various places, including Amazon (here). That's still not a bad price, as most e-bikes I've seen are 2 times to 4 times that cost.
(Note that some of the reviews on Amazon are negative due to reliability issues, so maybe I won't be loving this bike as much in a month. We'll see. That's one of the risks of not buying from a local bike shop, but you'll save a lot of money…)
Best regards,
Whitney