I continue to closely follow the pandemic, sending lengthy e-mails to my coronavirus e-mail list roughly twice a week (if you'd like to receive these, simply send a blank e-mail to: [email protected]). The first three items below are excerpts from the e-mail I sent yesterday...
1) This New York Times article from August 29, Your Coronavirus Test Is Positive. Maybe It Shouldn't Be, has me questioning a lot of things right now...
I had always assumed that pretty much everyone who tested positive, whether symptomatic or not, had the coronavirus and could spread it.
But this article highlights how the standard PCR test we're using is a very crude tool – it simply gives a "yes" or "no" (positive or negative) answer when, in fact, it's critically important to know how much virus someone is carrying.
The disease has been in our country for almost this entire year, so it's not surprising that many people have had some degree of limited exposure, resulting in insignificant amounts of the virus – but they don't actually have COVID-19 and thus aren't going to get sick or pass it on to anyone.
According to the article, it's possible that 85% to 90% or more of all positive tests are people who fall into this category – they would have tested negative had the sensitivity of the test been adjusted downward from 40 cycles to 30 (explained in the article).
So many false positives have huge negative consequences:
People are needlessly frightened 
People are needlessly quarantining
A surge of what may be bogus cases is leading schools to not start (or shut down – think Notre Dame and UNC) in-person classes, and restrictions to remain on businesses (like no inside dining in New York City) that are destroying them
Clearly we need to recalibrate the PCR test to 30 cycles so the only people who test positive actually have COVID-19!
2) So many false positives would explain why, across the U.S. and around the world, cases remain high... yet hospitalizations and deaths never hit the highs we saw earlier this year and are in sharp decline – leading some to say that the pandemic has been replaced by a much-less-dangerous "casedemic."
Here are the global data for cases and deaths per day, with the line showing the seven-day average: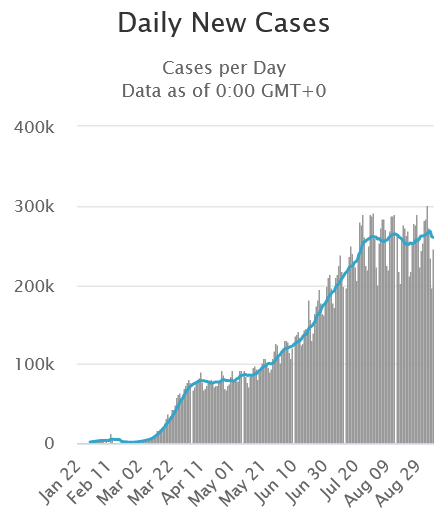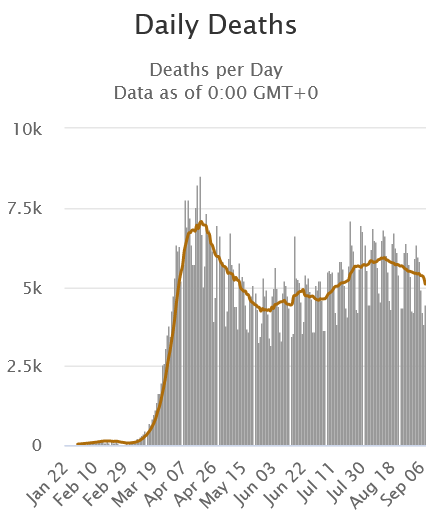 And here are the same data for the U.S.: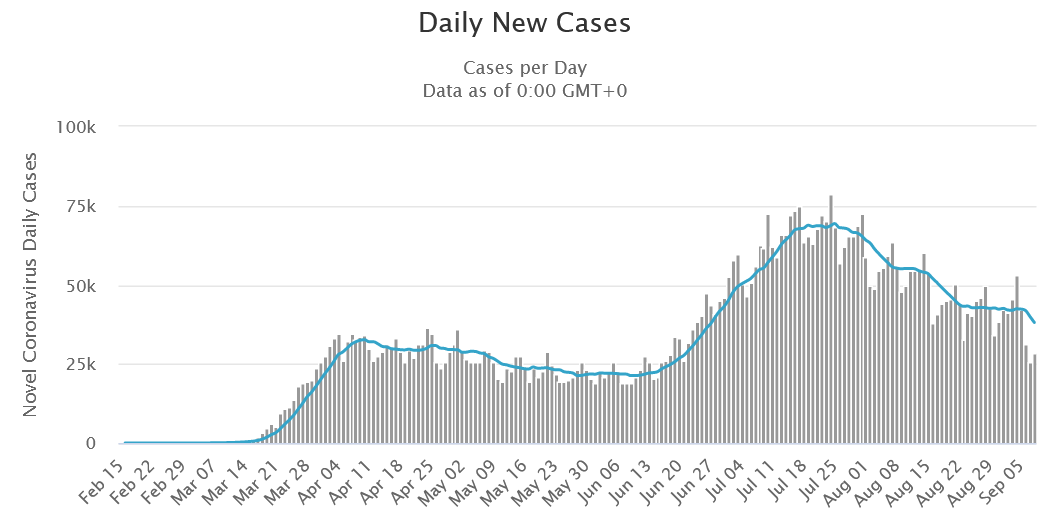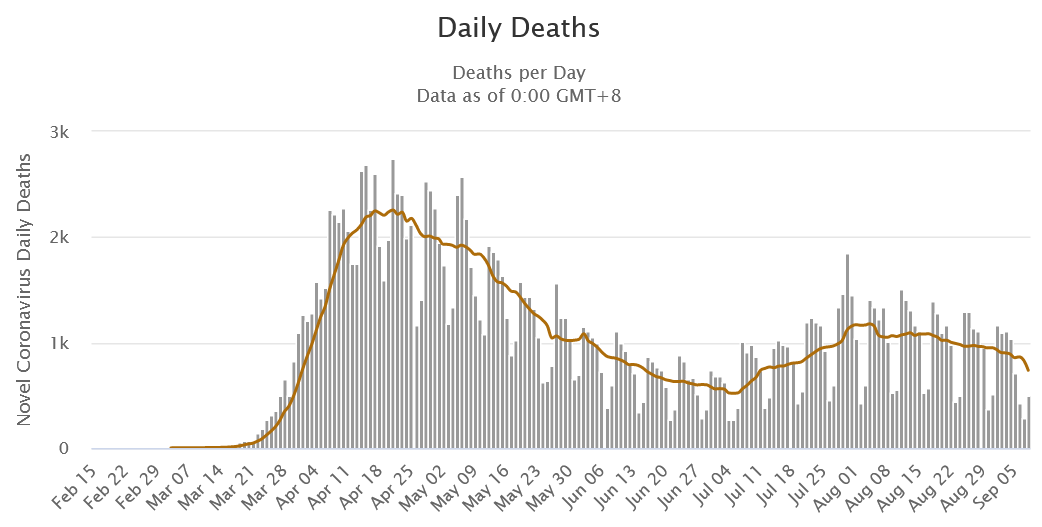 Note the completely different shape of the curves. From their April peak, U.S. daily cases never dropped much, then more than doubled, and today are still higher than their prior peak.
In contrast, deaths fell by nearly 80%, then doubled from this low base (but never got to even half the prior peak), and are now falling sharply.
3) There's a raging debate over whether the Sturgis Motorcycle Rally was a super-spreader event or not.
You may recall that it ran from August 7 through August 16 and drew more than 400,000 bikers from all over the country to South Dakota – a state with a total population of only 885,000! Here's a picture of it: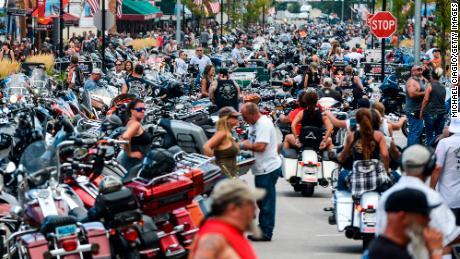 As you can see, there were plenty of older folks, and few people wore masks or practiced social distancing... even in the packed bars.
No wonder many feared a twin disaster of bikers both infecting locals and also bringing the virus back to their homes all across the U.S.
Regarding the former, South Dakota did, in fact, see a rise in the number of cases per day in the weeks after the rally, as you can see in this chart: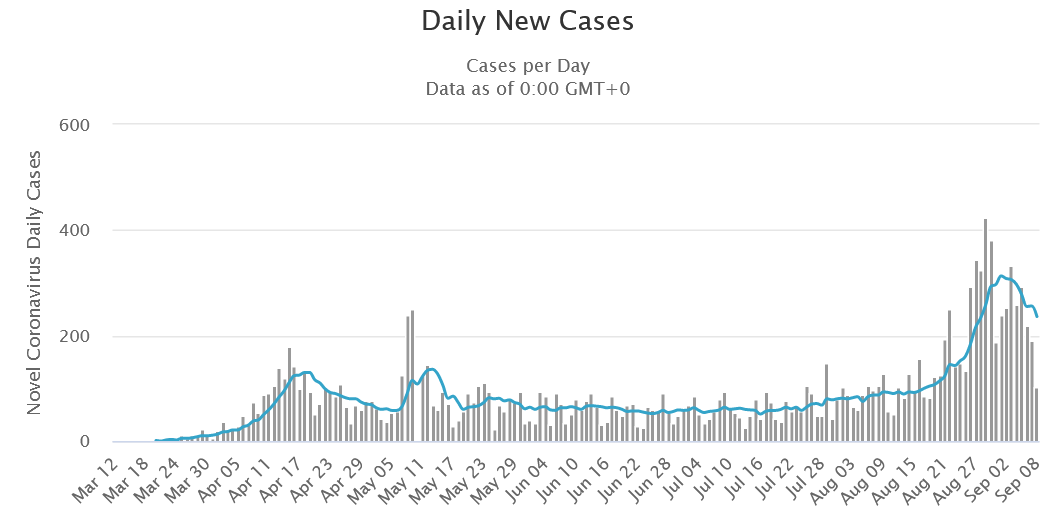 It's not clear that the rally caused this, however, as that part of the country has seen a rise in cases. Here's the same chart for North Dakota, for instance: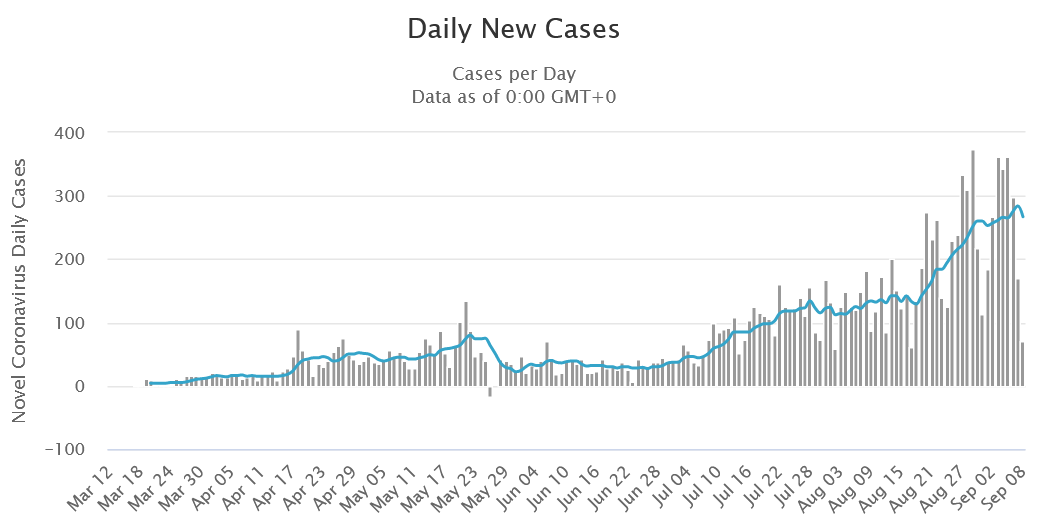 More important, there has been no increase whatsoever in daily deaths in South Dakota, which remain at a mere one to two per day: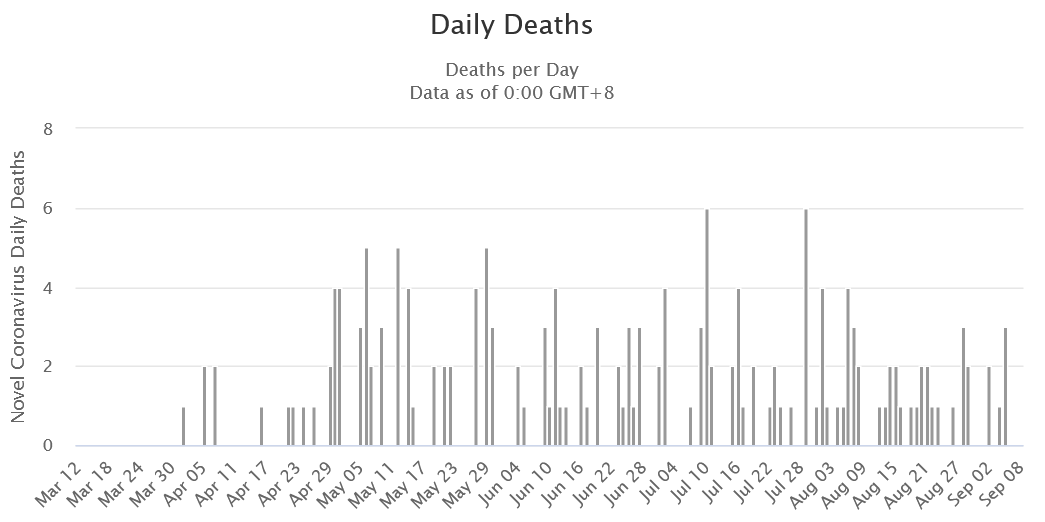 And here's another relevant fact: there has been only one death attributed to someone attending the rally: First COVID-19 death linked to Sturgis Motorcycle Rally reported in Minnesota.
Ah, but what about the bikers spreading the virus all over the country after the event?
That's exactly what happened, according to this study by the Institute of Labor Economics, The Contagion Externality of a Superspreading Event: The Sturgis Motorcycle Rally and COVID-19. It estimates that:
Following the Sturgis event, counties that contributed the highest inflows of rally attendees experienced a 7% to 12.5% increase in COVID-19 cases relative to counties that did not contribute inflows. Descriptive evidence suggests these effects may be muted in states with stricter mitigation policies (i.e., restrictions on bar/restaurant openings, mask-wearing mandates). We conclude that the Sturgis Motorcycle Rally generated public health costs of approximately $12.2 billion.
However, many folks, including statistician Nate Silver, have taken issue with this study and raised so many questions that I discount it. If you want to read more, see these tweets:
In summary, Sturgis had the potential to be a disaster – a huge super-spreader event. That it appears not to have been (bogus study notwithstanding) is great news, and should lead us, as a nation, to be willing to lift restrictions sooner than we otherwise would.
For example, NYC still doesn't allow indoor dining, despite the fact that there's almost no COVID-19 here – cases, hospitalizations, and deaths are minimal, and the positivity rate has been less than 1% every day for more than a month. Governor Andrew Cuomo just announced yesterday that he'll allow the city's restaurants to have indoor dining at 25% capacity starting September 30. This news made the front page of today's NYT, but I think he's being much too cautious.
Yes, there are risks if we open up too quickly.
But there are also huge costs if we remain hunkered down to a degree that's unnecessary. Businesses are dying (see: Nearly Two-Thirds of New York's Restaurants Likely to Close by Year's End Without Government Support) – and so are people, as this recent Wall Street Journal article notes: The Opioid Crisis, Already Serious, Has Intensified During Coronavirus Pandemic.
4) In light of Warren Buffett's lifelong aversion to both initial public offerings ("IPOs") and tech stocks, I was surprised to see that Berkshire Hathaway (BRK-B) is investing roughly $600 million as part of the upcoming IPO of Snowflake, a fast-growing cloud-software and data-warehousing company.
Is Buffett, who just turned 90, losing his marbles?
I think not – for the simple reason that he almost certainly didn't make this investment. Rather, it was likely initiated by executives Todd Combs or Ted Weschler (I'd guess Combs), who will eventually replace Buffett in managing Berkshire's enormous investment portfolio. Both are more comfortable investing in the tech sector – and Buffett certainly isn't going to second guess them, especially for such a small investment ($600 million is a drop in the ocean of Berkshire's stock holdings, which were valued at $207 billion at the end of the second quarter).
Here's a Bloomberg article about this investment: Go Ahead and Call Warren Buffett a Snowflake. Excerpt:
It may be that Team Buffett doesn't want to miss out on the next tech darling, and so it's taking a chance on Snowflake. It is likely whoever pulled the trigger at Berkshire was able look beyond the company's current large losses – including its approximate $350 million in red ink during its last fiscal year – and see Snowflake's bright future.

Buffett turned 90 last month, and Munger is approaching 97. One thing that was clear at Berkshire's last in-person shareholder meeting, in 2019, was that it needs to do a better job courting the next generation of investors, who may have less fascination with Buffett than with tech pioneers like Elon Musk and Jeff Bezos. And considering Tesla (TSLA) and Amazon's (AMZN) five-year return is more than 500%, compared with Berkshire's 63%, they'd be justified. But look out tech kings: new decade, new Buffett – and one, it appears, who is willing to let Berkshire go in new directions. Plus, he needs to spend that $147 billion of cash somehow.
5) I had planned to climb Mt. Whitney, Mt. Russell, and Charlotte Dome in the southern Sierra Nevada mountains in California this week and next, but concerns about the smoke from the wildfires led me to decide on Monday to reschedule my trip to October.
It was a good call, as heavy smoke now blankets much of the state and all national forests are now closed. The pictures are truly apocalyptic... Here's one my cousin sent me from his apartment in San Francisco at 10 a.m. (not p.m.!) yesterday: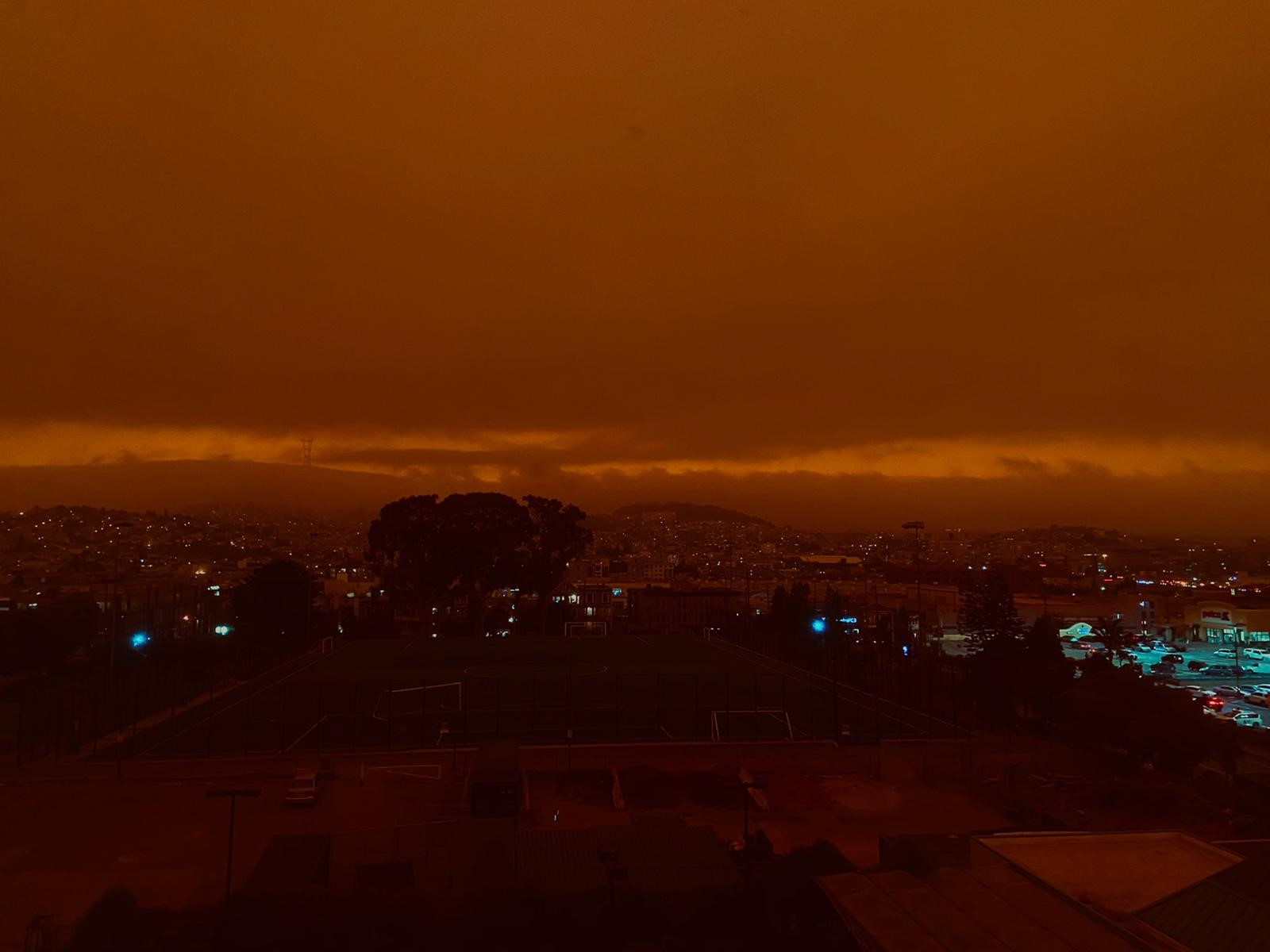 The wildfires are even worse in Oregon. Here's a picture my uncle sent me from his home in Eugene: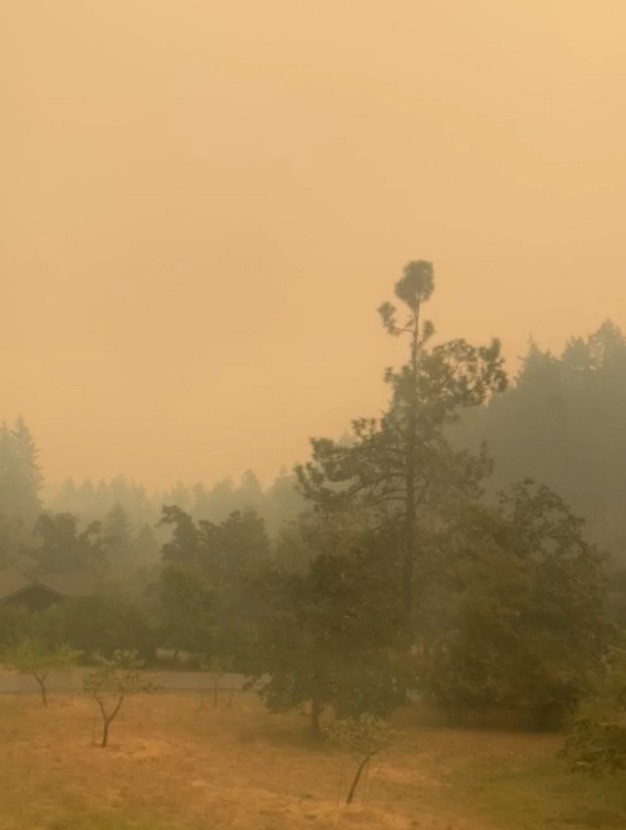 And check out this satellite image of Oregon that the National Oceanic and Atmospheric Administration posted: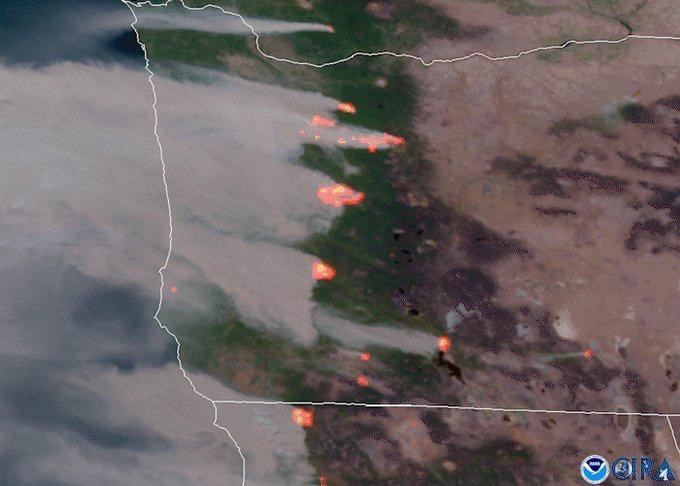 Best regards,
Whitney