1) 75,000 people have now registered for the free webinar launching my new newsletter, the Empire Investment Report, which will take place in two days on Wednesday, April 17 at 8 p.m. Eastern! You can sign up here.
In doing so, you'll immediately get access to my three videos on Berkshire Hathaway, our reports on why we think Facebook (FB) and Amazon (AMZN) are likely to double, and Glenn's report – which is getting an incredible response on Twitter – on why Tesla's stock (TSLA) could collapse (click FREE RESOURCES at the top of the page). And if you enter your cellphone number to receive a text reminder before the webinar, you'll also get our report on Alphabet (GOOGL).
Again, click here to immediately access all of this for free. After the webinar, this content will only be available to paid subscribers.
2) During the webinar, we'll be making a special offer to the charter subscribers of the Empire Investment Report. It will never again be available at a lower price.
It's pricey for a newsletter… But investing is a business in which a single idea can be worth millions of dollars.
I think the first issue alone will pay for the cost of the subscription many times over. I'm recommending a stock that's going to blow a lot of peoples' minds. It's only the fifth time in my career that I'm going long a stock I was once short. The first four resulted in a double in a year… a triple in a year… a 15-bagger in two years… and a 50-bagger in six years.
3) A few folks have asked whether anything is going to change with these daily e-mails once I launch my paid newsletter. In a word: no.
The Empire Investment Report is a monthly newsletter in which I will share my absolute best stock ideas with my subscribers. Over time, my analysts and I will build a portfolio of 2-3 dozen companies we follow closely, always ranking our top dozen or so whose stocks we recommend owning at any given time.
In many ways, it will be exactly what I did for nearly two decades running various funds: do a lot of reading, talking to folks, researching, analyzing, and thinking, with the goal of coming up with one good investment idea a month. The only difference is that, instead of manifesting that idea by acting on it myself on behalf of the handful of high-net-worth investors in my fund, I'll share it with my subscribers so they can buy it for themselves.
4) Continuing the series of articles I'm publishing leading up to the webinar, in this one, One of the Biggest Pitfalls for Investors, I discuss value traps and the eight characteristics that can help determine whether a business is permanently impaired (likely making its stock a value trap), or ripe for a turnaround (a classic value investment). Excerpt:
At first blush, value traps look just like any other value stocks…

But it's misleading… You see, unlike genuine value stocks – in which the business turns around (and the stock follows) – these businesses are in a terminal decline.

While such stocks seem cheap on the surface, you'll never make any money with them…

If you buy them cheap enough, you might be lucky and break even. But with most value traps, you can lose a ton of money… As the business declines, the stock follows it down.

I've been caught in more value traps than I care to remember. But my pain can be your gain. I don't want you to fall victim to this phenomenon, so in today's Digest, I'll discuss the telltale characteristics of these stocks… and help you learn how to avoid them and dramatically improve your investing results.
5) I thought these two charts were interesting. I had no idea so much debt had built up among small-cap stocks: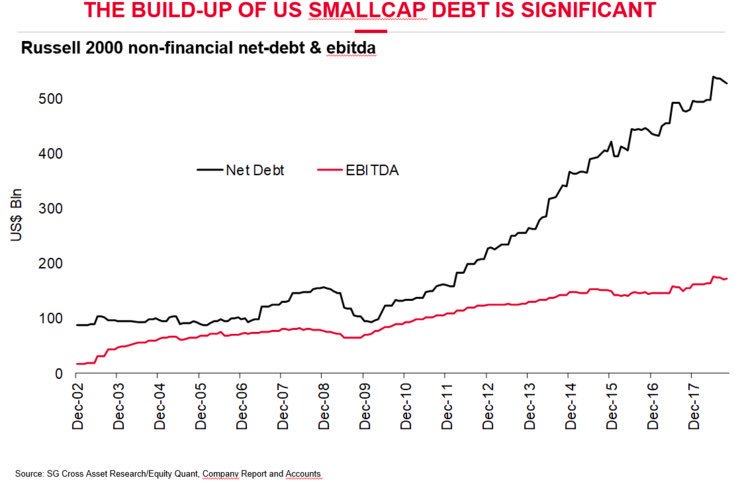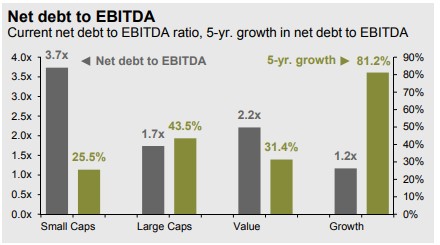 Best regards,
Whitney