1) Wayne Duggan, a contributor to U.S. News & World Report, drew from one of my e-mails last month to identify these 7 Stocks to Sell to Survive a Bear Market. Excerpt:
In a bear market, quality companies weather the storm best and ultimately survive to thrive during the next bull market. Unfortunately, companies with poor fundamentals and deteriorating businesses are typically the most vulnerable stocks. These companies can be the first to lose business and market share when customers get tight with their spending. In addition to the risk of bankruptcy, these stocks also tend to take the biggest hits when investors trim the fat to shore up their portfolios. Here are seven stocks to avoid in the next bear market, according to former Kase Capital hedge fund manager Whitney Tilson.

• Community Health Systems (CYH)
• JC Penney (JCP)
• AT&T (T)
• IBM (IBM)
• Children's Place (PLCE)
• Conn's (CONN)
• Hertz (HTZ)
2) Duggan also quoted me in this article: Management Turnover Adds Even More Uncertainty for Uber Stock. Excerpt:
Former Kase Capital hedge fund manager Whitney Tilson recently summed up his thoughts on these IPOs very bluntly. Tilson said he has never participated in a tech IPO and doesn't plan to any time soon. In fact, Tilson went as far as to say the U.S. market is currently in an IPO bubble.

"Mathematically speaking, they've done studies and it's the single worst place to invest," Tilson said. "There is no surer way to lose money in any strategy than buying hot IPOs."

Tilson's comments echo the sentiment of one of his biggest influences, value investing guru Warren Buffett.

The general idea with these tech IPOs is that they tend to happen when company insiders believe the market value is highest. Value investors know when a stock is at its highest point, it's time to sell, not buy. IPO investors are buying many of these stocks at the absolute worst time. Not only is the valuation at a relative high point, IPO underwriters and the financial media hype these stocks so hard that the market gets whipped into a frenzy…

According to Reuters, eight out of the 10 largest tech IPOs of all time generated a negative overall return of between -25% and -71% in their first year of trading following their IPOs.
3) An interesting perspective in the New York Times: When Dead Companies Don't Die. Excerpt:
What explains the longest, weakest recovery on record? I blame the unintended consequences of huge government rescue programs, which have continued since the recession ended.

Before 2008, more open trade borders and better internet communications promoted strong growth by leveling the playing field, inspiring the Times columnist Thomas Friedman to declare that "the world is flat."

Once the crisis hit, however, governments erected barriers to protect domestic companies. Central banks aggressively printed money to restore high growth. Instead, growth came back in a sluggish new form, as easy money propped up inefficient companies and gave big companies favorable access to cheap credit, encouraging them to grow even bigger.

If the world was flat and fast before 2008, today it's fat and slow.
4) My friend Doc Eifrig is hosting a free webinar tomorrow evening at 8 p.m. Eastern time about his Advanced Options advisory.
Options are a form of leverage and therefore magnify returns – which is great when you're right, but a disaster when you're wrong… so BE CAREFUL!
Over the years, I've had good success buying long-dated, in-the-money, LEAP call options on a handful of low-volatility stocks like McDonald's (MCD), Home Depot (HD), AB-InBev (BUD), Canadian Pacific Railway (CP), and Berkshire Hathaway (BRK-B). But otherwise, I mostly lost money on options.
If you don't know what you're doing, options will kill you – so most investors should avoid them entirely.
But if you're interested in learning more about them and some less-risky strategies like bull and bear spreads and calendar spreads, there's no better teacher than Doc, who has a great track record. He was a derivatives trader at Goldman Sachs and spent a decade on Wall Street before switching careers, becoming a board-eligible eye surgeon, and then finally switching careers again into the investment newsletter business. (Here's a link to his bio.)
Click here to sign up for Doc's webinar tomorrow night at 8 p.m. Eastern time.
5) To any of my readers in Albuquerque, New Mexico, I'm visiting your fair city this weekend (arriving late Thursday and departing late Monday) to compete in the National Senior Games. The Games take place every other year and are for people aged 50-plus – competitors are split into five-year age brackets: 50-54, 55-59, etc. There are 20 events, ranging from mainstream ones like tennis, basketball, track and field, cycling, and swimming, to more obscure ones like pickleball, power-walking, and shuffleboard.
My cousin and I are playing singles and doubles tennis and doing the triathlon. Here's a picture of us: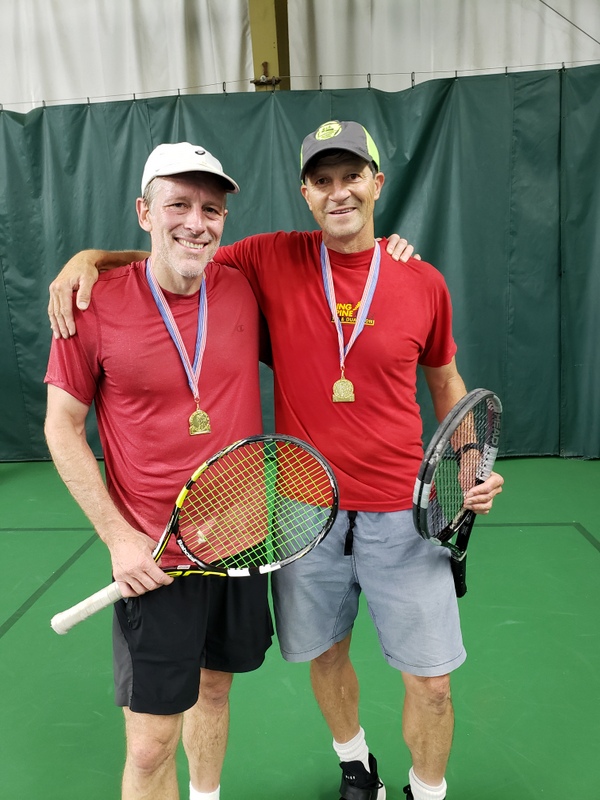 If you're out there and you'd like to grab lunch or a coffee, please send me an e-mail.
Best regards,
Whitney