1) Following up on yesterday's e-mail about Berkshire Hathaway's (BRK-B) 13-F regulatory filing, which showed the stocks it bought and sold during the third quarter… I also like reviewing the activities of other investors I respect, so I read with interest the summary of the activities of 57 investment firms, mostly hedge funds (see the full list here).
While plenty of stock moves caught my eye, such as the legendary Seth Klarman of Baupost buying into the initial public offering ("IPO") of Pershing Square Tontine Holdings (PSTH), I want to focus my comments here on the amount of activity – in particular, how many stocks did each manager trade during the quarter?
This is important because, as my colleague Enrique Abeyta has correctly observed, the best way to achieve long-term investment success is to either trade a lot or almost not at all. Pick one extreme or the other, but for sure don't get caught in the muddled, messy middle…
For each of the 57 managers I examined, I counted the number of stocks they traded during the quarter – new positions, exits, additions, and reductions – and put together this chart, which shows the 12 least active managers: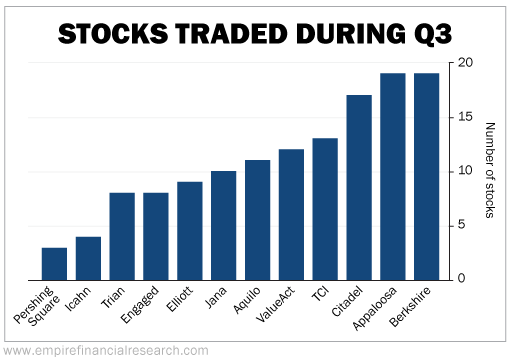 I think it's fascinating that two veterans, Bill Ackman and Carl Icahn, traded fewer than half the number of stocks of any other manager – and far fewer than the 19 stocks Warren Buffett, Todd Combs, and Ted Weschler traded at Berkshire Hathaway. Of course, Ackman and Icahn manage smaller, more concentrated portfolios… but it still seems like they're more closely adhering to Buffett's famous "20-slot rule" than even Buffett himself!
2) This post by blogger and portfolio manager Ben Carlson has some good financial lessons in it: Is the Ford F-150 Partially Responsible for the Retirement Crisis? Excerpt:
I understand why it can be hard to save more for many families.

Some people simply don't make enough money. Others are bogged down with student loans. And then there are those who have seen their careers or businesses upended by the Great Financial Crisis and pandemic.

But there are certainly people out there who spend far more than they should on their vehicle(s) and it is inhibiting their ability to get ahead financially. Adam Ozimek, an economist at UpWork, shared some similar thoughts on Twitter recently:

Ozimek's hurdle rates for buying a $40k car are a touch higher than mine but the point remains there are plenty of people driving expensive cars who don't have enough savings elsewhere.

I know I shouldn't judge other people's spending habits but I'm constantly looking at all of the decked-out trucks and SUVs on the road and thinking to myself, "I wonder if that person maxes out their 401(k)?" or "Do they have an emergency fund set up because you can't spend that Land Rover in a pinch?"

The difference between the monthly payment on a $45,000 vehicle and a $20,000 vehicle is basically enough to max out your IRA in a given year. The monthly payment difference between a new $70,000 truck and a $20,000 used model would be enough to fund nearly 60% of the way towards maxing out your 401(k). And a new vehicle depreciates the minute you drive it off the lot while your retirement savings grow over the long-term.

Driving an inexpensive car is one of the biggest levers people can pull to free themselves up financially to save more.
3) This is an interesting study: Graduates of Elite Universities Get Paid More. Do They Perform Better? Excerpt:
In a recent study, we tested the relationship between the university rank and performance of graduates. We tracked the performance of 28,339 students from 294 universities in 79 countries…

After controlling for age, gender, and the year of study, we found that graduates from higher-ranked universities performed better, but only nominally and only on some dimensions of performance. Specifically, the overall performance improved by only 1.9% for every 1,000 positions in the Webometrics global university rankings. When comparing the performance of candidates whose universities rank further apart – a graduate from a top university versus a "global average" university – the performance differential jumps to 19%.

The 19% difference in performance between the top and the average seems significant, but keep in mind that this is for graduates from universities that are 10,000 university ranking positions apart. At a given organization, candidates are likely to be selected from within a much narrower pool, perhaps from universities whose rankings differ by a couple of hundred positions. In this more realistic case, the predicted difference in performance would be closer to 1%…

While job candidates from more prestigious universities may slightly outperform their peers, data from PayScale and the U.S Department of Education show that these graduates are also more expensive to hire. For example, the average early career salaries of graduates from the top 10 colleges ($72,160) in the United States are 47% higher than those with degrees from the ten colleges within the City University New York ("CUNY") school system ($48,960), many of which are ranked within the top 100. At the 6-year mark, that gap jumps to 108%.

Is the extra cost worth the investment? To answer this question, employers need to carefully consider the worth of the increase in performance for the firm. For some companies, the difference between a hypothetical graduate from an "average" vs. "top" university may be well worth the extra pay. Yet, for others, the added cost may not result in a positive return on investment and, thus, may not be justified.
Best regards,
Whitney